Kentucky offensive lineman Eli Cox is an ESPN Midseason All-American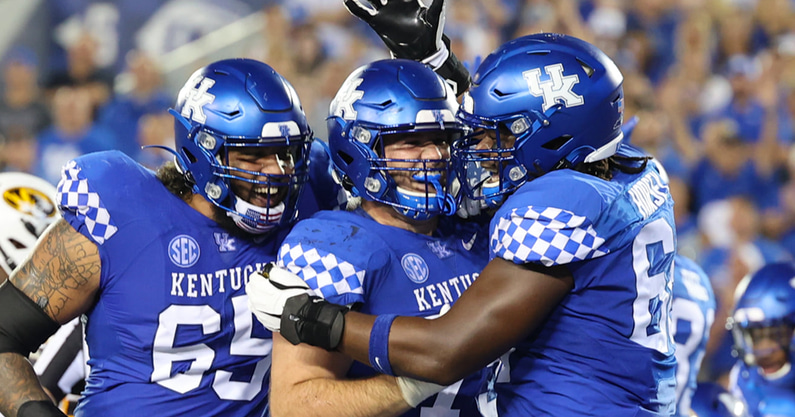 Eli Cox earned some high praise from the Worldwide Leader in Sports early Wednesday morning with a spot on College Football's 2021 Midseason All-American Team. Kentucky's redshirt sophomore right guard was named one of the two best guards in the country for his play midway through the season, according to ESPN.com's Mark Schlabach.
Read what Schlabach wrote about Cox's inclusion among the midseason All-Americans.
Guard: Eli Cox, Kentucky

In his first season as the starting right guard, Cox has helped solidify Kentucky's "Big Blue Wall," which has paved the way for the SEC's leading rusher, Chris Rodriguez Jr. Thanks to its punishing ground game, Kentucky is 6-0 for the first time since 1950 and just the second time in the past 111 years. Described as the strongest pound-for-pound player on the team, Cox had seven knockdown blocks, 15 blocks at the point of attack and didn't miss an assignment in last week's 42-21 victory against LSU. Overall, he has graded at 80.8 percent with 15 knockdown blocks this season. He also recovered a fumble in the end zone, which was the winning touchdown against Missouri.

ESPN.com's College Football's 2021 Midseason All-American Team
If we're being honest, approximately no one had Cox as an All-American performer before the season began. Maybe Chris Rodriguez, Darian Kinnard, or Wan'Dale Robinson, but the first-time starter from Nicholasville? The unranked prospect out of West Jessamine?
Cox's All-American start has been a surprise and it's awesome. He's scoring touchdowns, winning SEC Offensive Lineman of the Week, and making a name for himself as the future of the Big Blue Wall. Plus he's a homegrown talent. Go Cats and Go Eli.