Kentucky has offered '22 5-star wing Leonard Miller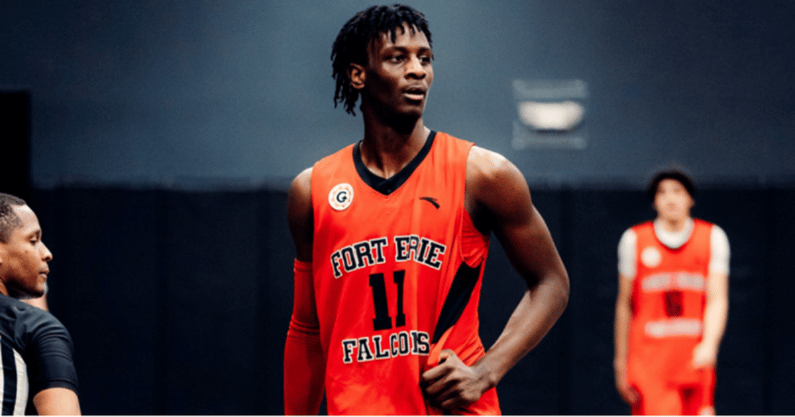 When Leonard Miller arrives in Lexington this weekend for an official visit, he'll do so with an offer already in hand.
According to On3's Joe Tipton, Miller has received a scholarship opportunity from head coach John Calipari and the Kentucky Wildcats. It was reported this week that the 6-foot-10, 210-pound wing out of Ontario, Canada will be on campus in the coming days for a visit. Miller is ranked as a five-star prospect by On3 and is considered the No. 11 overall prospect from the class of 2022.
Illinois State transfer Antonio Reeves will also be on Kentucky's campus this weekend.
Miller and his 7-foot-2 wingspan exploded onto the scene as a high school senior, averaging 32 points per game at Fort Erie International Academy to lead the Grind Session and Canada in scoring. The lefty was then invited to the Nike Hoop Summit last weekend, finishing with 11 points on 4-9 shooting and 2-4 from three to go with five rebounds, two assists, two blocks, and one steal in 18 minutes for Team World.
The five-star wing previously cut his list down to ten options, with Kentucky, Gonzaga, Kansas, Oklahoma State, TCU, Alabama, Providence, Auburn, Overtime Elite, and the G-League Ignite making the cut.
Kentucky has emerged as a serious option among colleges, though the pro route is seen as the preference. He could also enter the NBA Draft this summer.
"The pro route is a big option for me; it is very visible right now," Miller told On3. "I just have to keep working for that to happen. There are a lot of people telling me the NBA Draft or the G-League could be possible. Eventually, I want to get drafted, so if that comes about this year, I will want to test that. If the G-League reaches out to me and wants me to come in and be with them, that will be something that we take very seriously."
Kentucky is going all-in on Miller as a piece for next season's roster.
Discuss This Article
Comments have moved.
Join the conversation and talk about this article and all things Kentucky Sports in the new KSR Message Board.
KSBoard