Untimely penalties were big factor in Kentucky's sloppy execution against Ole Miss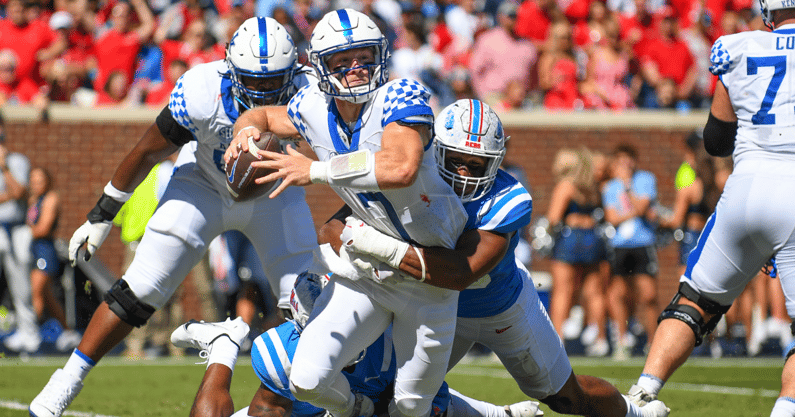 Kentucky let a win slip through their fingers on Saturday afternoon in Oxford. Most notably, Rich Scangarello's offense had numerous self-inflicted blunders.
The Wildcats had the ball on three separate occasions in the fourth quarter inside the Ole Miss 40 down three points. Kentucky was unable to score on any of those possessions. Each drive was killed by a first down pre-snap procedure penalty to stymie momentum. Despite playing a clean game with only four penalties, the mistakes came at the worst possible time for the Wildcats.
"We cut down on penalties. I think we had four," Mark Stoops told reporters on Monday. "But here's the deal at the end of it, the last three drives we had a penalty on each drive."
First, it was a Jeremy Flax false start that got Kentucky to first-and-15 immediately after a huge kickoff return by Barion Brown. There was then a false start from Jager Burton to push Kentucky to first-and-15 after the Cats moved inside the Ole Miss 30. Finally, there was an illegal shift at the Ole Miss seven following another explosive play from Brown that negated a touchdown pass.
Kentucky's offense was very sloppy in some critical moments. It leaked into pre-snap issues in the fourth quarter, but the unit's sloppiness was an issue all game. Kavosiey Smoke dropped a screen pass on the edge of the red zone on what could've been a first quarter touchdown on the team's second possession. The Cats took an unacceptable safety in the second quarter after moving the ball to their own 13 after being backed up.
Overall, the execution was poor in the big moments at Vaught-Hemingway Stadium.
"It's just the execution of things like that. And that's routine," said Stoops. "When you have a routine played dialed up, set, do it, and you gotta make the routine look routine."
Kentucky must get things figured out this week and be more efficient in the big moments when South Carolina rolls into Kroger Field on Saturday night.
College football has a targeting problem
Kentucky did not get any 50/50 calls to go their way in the fourth quarter versus Ole Miss, and that is not why the Wildcats lost the game. However, some missed calls made a sizable impact.
Most notably, Ole Miss safety AJ Finley hit Kentucky quarterback Will Levis with the crown of his helmet in clear helmet-to-helmet contact on the first takeaway produced by the Rebels. Despite the collision, the play was never reviewed by the SEC booth official. Mark Stoops did not address that specifically on Monday, but it's clear there is some frustration brewing on the overall lack of transparency regarding targeting.
"It's very confusing on the national level on what we're allowed to do as defensive players and what you're not allowed to do," Stoops said. "That part of it with the targeting and with all that is very confusing. Very confusing at the national level. I thought we were getting away from some of the stuff for the protection of even the defensive players. The way we tackle and hitting with the crown of your helmet. I thought it was supposed to be out. But it's very hard because of the national rules on that."
"I thought we were making some progress to getting rid of that, but it doesn't seem like it anymore. That's a national thing that we gotta look at."
On replay, the hit looked like textbook targeting, but the officials didn't believe so. Quite often, it seems that targeting is a moving target with way too much judgment needed to make a call that happens at full speed. Unfortunately, Kentucky was at the wrong end of a call on Saturday.