KSR's Takeaways from Oxford and the Grove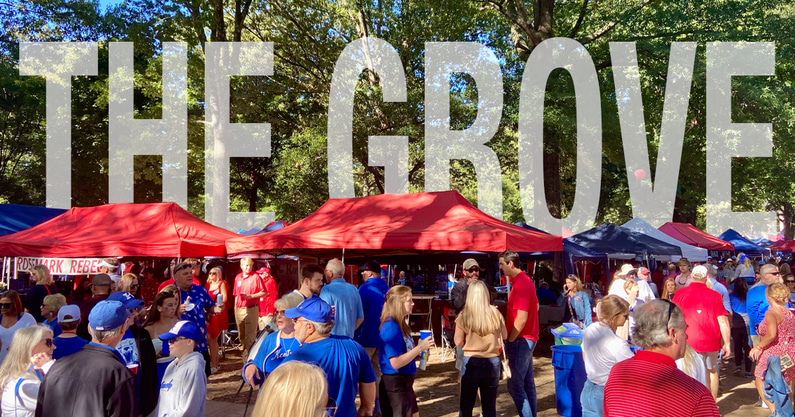 There's a famous Ole Miss saying: "We may not win every game but we'll never lose a party." Drew Franklin and I put that mantra to the test this weekend in Oxford. After covering games from press boxes and our couches for over a decade, Drew and I declared the Ole Miss road trip "KSParents Weekend" and left the site in the capable hands of our younger counterparts. Trips to the Grove only come around so often (it's been 12 years for Kentucky fans), so as KSR's longest-tenured writers (BTI doesn't count), we wanted the full fan experience.
The Grove lived up to its reputation
TYLER: I've covered several Kentucky Basketball games in Oxford but the only other time I've been there for a football game was in 2000 when I was 16 years old. We stayed in Memphis the night before and arrived late due to traffic and therefore missed the true Grove experience. When the schedule came out and this game was on it, I vowed to be there, booking an absurdly overpriced room eight months in advance. Even with the early kickoff, the Grove did not disappoint. At 8 a.m., my husband and I fell in step with fans making the 20-30 minute walk to campus from the square. As we got closer, wagons and rolling coolers joined the caravan carrying children, centerpieces, flowers, food trays, and silver and china. We really should have brought our backpack cooler. Rookie mistake.
"Sensory overload" doesn't begin to describe the Grove. I'd only been there during basketball season when it was barren, the ground pocked with bottlecaps. On a gorgeous fall morning, it was transcendent. Giant oaks shade a second canopy of tents that create a ten-acre maze. Small signs provide some direction, but we quickly discovered the best thing to do is to just wander until you see a friendly face; it doesn't take long. In the two-and-a-half hours we spent in the Grove before the game, I ran into old friends, made new ones, and even found some family members. A small world, hundreds of miles from home.
By now, you've heard how many Kentucky fans made the trip; it truly was remarkable. By my estimate, there was one Kentucky fan for every three to four Ole Miss fans in the Grove, each looking around with a sense of giddiness and excitement. It was crowded — and dusty — but I'll take that over a parking lot any day. Even the port-a-potties were fancy.
The pregame show was a great start to the day
DREW: Many of Big Blue Nation's early arrivers found the KSR Pregame Show's 8 AM broadcast from the steps of Barnard Observatory just north of the Grove where Matt Jones, Max Duffy, and I spent an hour previewing the game for an energetic crowd. Once we were done there, we jumped headfirst into the sea of blue that covered each side of each pathway throughout the wooded tailgate area.
The walk into the stadium was one to remember
TYLER: The only thing that topped the Grove was the walk into the stadium. The BBN was in rare form, with "CATS" and "Go Big Blue" chants popping off left and right. The cheers got downright deafening as we entered the stadium gates; it felt like Kentucky fans were literally taking over the stadium. The excitement of the season and for the moment reached a crescendo at kickoff.
…and then the game happened. You remember it, so we won't go into detail. Shoutout to Section K and all of the Kentucky fans in the stadium for staying positive and loud. At the end, it really felt like we had it.
Ole Miss alums were very welcoming; the college crowd was a little more hostile
DREW: In my many interactions with out-of-college Ole Miss fans and locals around town, I found everyone to be very hospitable and kind toward Oxford's guests in blue. Thursday night before the town got too busy, several people offered up a welcoming handshake and an "enjoy yourself" as we moved around the square, then I found the home crowd to be very generous and friendly around the Grove before and after kickoff on Saturday. I'm not sure many of them even knew about the game.
There were a handful of incidents with the younger testosterone in red and blue. You know the type; drunk college kids jawing at anyone wearing Kentucky gear. Most of them ended up fighting each other at the game, though.
Overall, Ole Miss fans were great hosts to an opposing fan base that tried taking over the whole town.
Kentucky really is missing out by not selling beer
TYLER: Ole Miss' stadium is nothing special; in fact, it's pretty terrible. That said, they sell beer to the general public, and on Saturday, probably made enough money off it to build an entirely new facility. Pretty much every (adult) fan I saw had a tallboy per hand, sometimes two. SEC rules are supposed to limit customers to two beers per transaction and cut sales off at the end of the third quarter. Ole Miss officials clearly didn't get that memo. One fan walked by me with two 12-packs he'd bought off of one of the carts. Toto, I have a feeling we're not in Mitch Barnhart's stadium anymore.
DREW: The stadium beers were so popular among Kentucky fans, Twisted Tea was the only cold option during my first-half beer run because everything else had been sold. Hard iced tea wasn't exactly what I had in mind for my first career SEC beer but I ordered the allotted two tall boys and happily made my contribution to Ole Miss Athletics.
I'm too old for cover charges
TYLER: As a married 30-something, I don't really get out to the bars like I did in my 20s, so I had kind of forgotten cover charges existed, at least when there's not a band involved. So, imagine my surprise when the first bar we went to upon arrival on Friday was charging $40 just to get in the door. From there, the fees only went up. Famed college bar The Library was charging $150 to get in on Saturday night. No thanks.
I paid the cover charge
DREW: As a soon-to-be-married 30-something excited to be in Oxford with longtime friends, I tested the ol' fastball with a three-day marathon, including multiple daytime stops at the famed Library. But only once did I pay the insane nightly cover charge and I got it at the very discounted rate of 60 American dollars Saturday night, more than I'm proud to admit but, hey, I waited 12 years to be back so I left it all on the field.
City Grocery shrimp and grits make everything better
TYLER: After a loss like that, you need some comfort food. Oxford's got plenty of it. After napping off some of our morning beers and sadness, my husband and I ventured back out to the square to dine at City Grocery, where I indulged in their famous shrimp and grits. That, cornbread, and a nice red wine helped soothe my soul, at least for a little bit.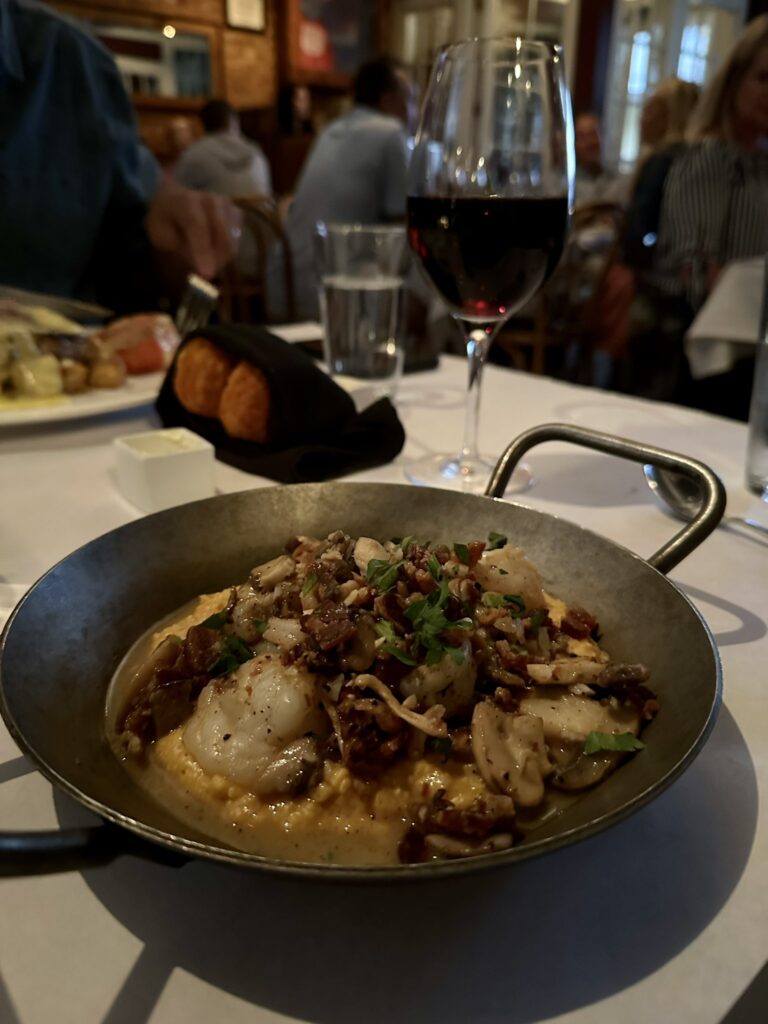 We'll be back
…Hopefully sooner than 12 years from now.