Kentucky Opens NCAA Baseball Tournament Against Ball State on Friday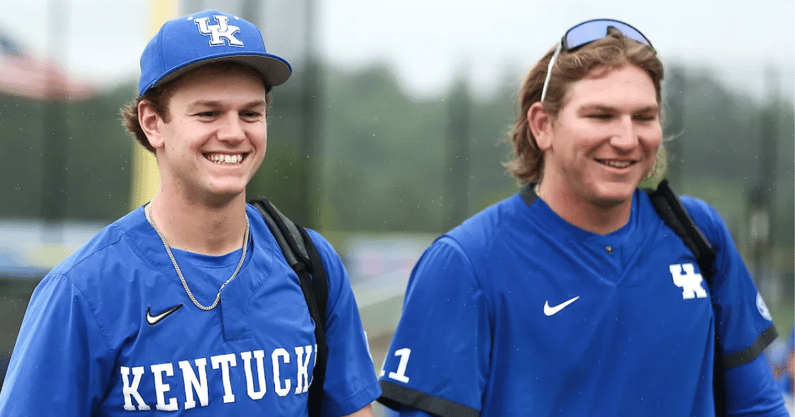 For the first time in nearly six years, Lexington will be hosting postseason baseball this weekend.
The Lexington Regional is scheduled to take place from June 2nd-June 5th (if necessary) and features the 'Cats, West Virginia, Indiana, and Ball State. Kentucky and Ball State will kick things off on Friday at noon EST on the SEC Network. West Virginia and Indiana will play their first-round matchup later that night at 7:00 p.m. EST (ESPN+). The losers of those games will meet in the elimination game at noon on Saturday, whilst the winners will look to move on to the Regional Finals on Sunday. Big weekend in the 859.
But first, the 'Cats will focus on winning their first-round matchup against the Cardinals, which they've had problems doing in the past. Kentucky hosted Ball State in the first round of the Lexington Regional back in 2006, falling to the Cardinals 3-1. With their backs against the wall however, the 'Cats fended off Notre Dame in the elimination game then got their revenge against State to move onto the Regional Finals, where they fell to College of Charleston 7-4.
Hopefully, the 'Cats will have better luck in this go-around, as they look to advance to the College World Series for the first time ever.
Ball State Impact Players
Without the heroics of senior Adam Tellier, the Cardinals wouldn't even be in this position. With two outs in the top of the ninth in the MAC Championship, Tellier came up to bat with the bases loaded against the nation's leader in saves, Kent State's Mitchell Scott.
On a 1-1 pitch, Tellier belted a walk-off grand slam to propel the Cardinals to the NCAA Tournament for just the fourth time in program history. The heart of the Cardinals' lineup delivered all season for State, as Tellier, Decker Scheffler and Ryan Peltier all finished with more than 70 hits on the season. Kentucky had just one player with 70 hits this season (Jackson Gray). Scheffler and Peltier were both named to All-MAC First Team, while Tellier was selected to the Second Team alongside starting pitcher Trennor O'Donnell. Peltier was selected to the All-MAC Defensive Team as well.
O'Donnell was phenomenal for State this season, boasting a 2.98 ERA over 84.2 innings pitched. He finished with a 5-3 record and a stellar 92:68 K/H ratio. Starting catcher Hunter Dobbins was named to the All-MAC Defense Team alongside Peltier. The Cardinals and Wildcats had two common opponents this season in Indiana (who is also in the Regional) and Indiana State. Ball State went 0-2, falling to Indiana 16-13 in an offensive explosion and to Indiana State 11-1. The 'Cats however went 4-4, run-ruling the Hoosiers 12-2 and sweeping the Sycamores back in early March.
Ball State finished the regular season at 36-21 (19-11) and is led by former Michigan head coach Rich Maloney, who is in his second stint as head coach (1996-2002, 2013-present). Maloney is a four-time MAC Coach of the Year and has won six NCAA Tournament games (with one Super Regional appearance).
Kentucky Impact Players
The Wildcats had a disappointing showing in the SEC Tournament last week, but that didn't affect them at all in the eyes of the NCAA Tournament Selection Committee. The 'Cats were rewarded for their stellar RPI (number two in the country) and strong Strength of Schedule (number one in the country), as they were awarded their first Regional since 2017.
"It's one thing to put [a schedule] together but it's another thing to go out and execute it," coach Nick Mingione said on Monday. After complaints of not scheduling enough quality opponents in the past, Mingione and his staff sought to appease those complaints this season, and they didn't disappoint.
"That's why I'm so thankful for our team and what they've been able to do."
The 'Cats are led by All-SEC Second Team selection Émilien Pitre, Jackson Gray, and All-SEC Defensive Team selection Hunter Gilliam.
Gray used a strong back half of the season to overtake the team lead in batting average (.363), hits (70), and total bases (112). Gray's six triples lead the entire SEC. Pitre was named to the All-SEC Second Team after his breakout season, in which he hit .337 with 65 hits and 46 RBI. Gilliam was the Wildcat leader in home runs (11) and RBI (63). They don't need the power that other teams use, as they remain extremely comfortable with their small-ball ways. The 'Cats ranked sixth in the country in sacrifice bunts this season (53) and are second among tournament teams (Eastern Illinois).
Coach Mingione has many arms that he can deploy this weekend, but he will probably go with either Logan Martin or Zack Lee on Friday. Lee was Kentucky's golden arm this season, so they may hold him back for their matchup against West Virginia/Indiana in the second round. Martin has had some injury problems this season, but still finished with a 4.24 ERA over 23.1 innings pitched this season. Lee was phenomenal over his final five starts of the schedule, finishing with a 3.58 ERA over 60.1 innings pitched with a 64:53 K/H ratio.
Kentucky finished the regular season at 36-18 (16-14), their best record in six years. When the first pitch is thrown on Friday, the 'Cats will be playing in just their fifth NCAA Tournament game under Nick Mingione. The previous four all came back in 2017 when the 'Cats made a run to the Super Regional where they fell to Louisville 5-2. No better time than the postseason.
With Kentucky Proud Park sold out, Lexington should be buzzing with baseball fever this weekend. Pack KPP.
Discuss This Article
Comments have moved.
Join the conversation and talk about this article and all things Kentucky Sports in the new KSR Message Board.
KSBoard