Kentucky opens season at No. 11 in USA Today Coaches Poll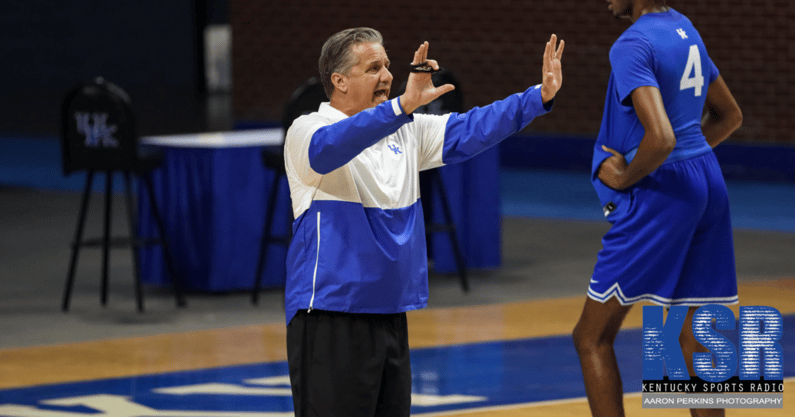 The Kentucky men's basketball team will open the season ranked No. 11 overall in the USA Today Coaches Poll after coming in at No. 10 last week in the preseason Associated Press Top 25. 
Gonzaga comes in ranked No. 1 in the nation, followed by UCLA (No. 2), Kansas (No. 3), Villanova (No. 4) and Texas (No. 5). From there, Michigan (No. 6), Purdue (No. 7), Baylor (No. 8), Duke (No. 9) and Illinois (No. 10) round out the top 10.
1. Gonzaga
2. UCLA
3. Kansas
4. Villanova
5. Texas
6. Michigan
7. Purdue
8. Baylor
9. Duke
10. Illinois
11. Kentucky
12. Oregon
13. Alabama
14. Houston
15. Arkansas
16. Memphis
17. Tennessee
17. Ohio State
19. Florida State
20. North Carolina
21. Maryland
22. Auburn
23. Connecticut
24. St. Bonaventure
25. Virginia
Kentucky will start the season ranked among the nation's top 11 in the Coaches' Poll for the 13th consecutive season under John Calipari.
Seven Kentucky opponents were ranked in the AP Top 25, and six will begin the year among the top 25 in the USA Today Coaches Poll. Nonconference foes Kansas (3), Duke (9) and Ohio State (17) comprise a formidable slate that leads into one of the nation's toughest conference schedules. That does not include Notre Dame, which is receiving votes in the poll.
Southeastern Conference members Alabama (13), Tennessee (17) and Auburn (22) were also ranked among the top 25 with LSU just on the outside receiving votes. Kentucky plays Alabama and Tennessee twice, and will visit Auburn. All told, UK will face eight opponents ranked in the preseason top 25 of the Coaches Poll. 
Kentucky was picked by the media to win its 50th SEC regular-season crown.
Calipari's squad will return 42.1% of its minutes, 41.9% of its scoring, 39.0% of the rebounds, 42.4% of the assists and 60.6% of the 3-pointers from a season ago. For comparison, the only two Calipari-coached Kentucky teams that returned more minutes and more points (in terms of percentages) than the 2021-22 team is slated to return were the 2011-12 national championship squad and the 2014-15 Final Four team that started the season 38-0.
Adding the Wildcats' four transfers to the equation, Kentucky's current 2021-22 roster includes 13,385 minutes, 5,203 points, 1,917 rebounds, 1,132 assists and 543 total 3-pointers in college basketball production.
Junior guard Sahvir Wheeler was named to the All-SEC First Team by both the media and the coaches and was a Bob Cousy Award preseason watch list selection. Graduate guard Kellan Grady and junior forwards Keion Brooks Jr. and Oscar Tshiebwe were tabbed to the preseason All-SEC Second Team by both entities. Grady was also picked to the preseason watch list for the Jerry West Award, while Tshiebwe is among the early-season candidates for the Kareem Abdul-Jabbar award.
UK returns to action with an exhibition game vs. Kentucky Wesleyan on Friday at 7 p.m. on SEC Network. Kentucky's regular season opens Nov. 9 in New York vs. Duke in the Champions Classic.