Kentucky, Oregon battling for Mookie Cook: "He's got two tough choices"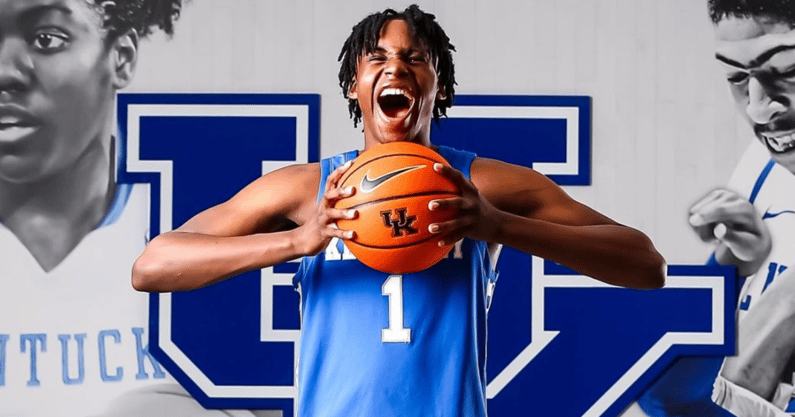 Five-star junior Mookie Cook is a coach's dream. A two-way threat with an endless motor, the 6-foot-7, 200-pound wing prides himself on defense, creating for his teammates and making winning plays.
To open the Hoophall Classic in Springfield, MA this weekend, Cook finished with a team-high 16 points on 6-7 shooting and 3-4 from three to go with six rebounds, two assists, one block and one steal in AZ Compass Prep's 68-46 blowout victory over National Christian.
Even in his team's 22-point win, the five-star prospect felt he could do more.
"I feel like I played a good overall game," Cook said Saturday. "I feel like I could have contributed more on the defensive end, crashing the boards more and looking out for my teammates."
It's a winning mindset for a winning player playing for a winning program, one that won 30 games last season and made it to the semifinals at GEICO Nationals. It's why Cook will have his choice when it comes time to make a decision on his basketball future.
Among those choices?
"Oregon, Kansas, Texas Tech, Memphis, Kentucky, UCLA and Gonzaga," Cook said of the schools recruiting him the hardest right now.
Two options, though, have emerged as top contenders to land the five-star wing in Kentucky and Oregon.
John Calipari and Jai Lucas are leading the charge, but UK is getting extra help from its top freshman on the roster, TyTy Washington. The standout guard is an AZ Compass Prep product, starring for the 30-win Dragons in 2020-21. Washington remains hands-on with the program and has taken Cook under his wing as he looks to further his own basketball career.
"That's big bro," Cook told KSR. "Of course, he came through AZ Compass, he's always there when he comes home, in the gym working out with us. That's big bro. He's breaking records, just broke John Wall's assist record, doing big things. He's a diaper dandy. … (TyTy is) a superstar, man."
Washington was Cook's host during his official visit back on October 29, giving him a first-hand look at what it's like to be a freshman in Lexington.
"It was dope," Cook says of his visit. "Kentucky, the fans showed mad love, talking to Coach Cal is always — I mean, he's a legendary coach. The visit was dope."
Cook's family spent time with Washington's family during the trip, leaning on them for advice on the process. The two parties discussed the fit at Kentucky compared to other schools Cook is considering.
"When Mookie came on his official visit to Kentucky, we were at the game, at the gym, hung out with the family," Washington's father, Tyrone, told KSR. "We gave our opinion about Kentucky and about other schools also. But Kentucky is Kentucky, they don't need any help getting a kid. They haven't asked us. At Kentucky, you need to understand it's not high school. I think Mookie is one of those kids who gets it."
Cook won't make a final decision based on Washington's time in Lexington, but it's admittedly an added bonus. The five-star wing has been watching very closely and has been impressed with what he's seen — as one could expect.
"Mook, he's a kid who is just level-headed in every situation," AZ Compass Prep head coach Ed Gipson told KSR. "Like, 'Will this work for me? Or will it not work for me? How can I have success here or how can I have success there?' Mook has been good for a minute, he's always had a lot of people on him. So for him, he wants to make sure whatever school he goes to, he's prepared.
"For him, you see TyTy having success out there — early on, he was like 'TyTy doesn't seem like himself,' but now you see the progression. Now he's saying, 'Man, I like it out there.'"
Kentucky's pitch speaks for itself, one that has the 6-foot-7 wing intrigued.
"It just speaks for itself, Kentucky is Kentucky," Cook told KSR. "They want me to come there and have a great legacy. … All of the other NBA guys that have been there. If I go there, it feels like I have to live up to that legacy of being in the NBA. … That's always been a dream school."
But Kentucky isn't the only team contending for his services. In fact, the hometown Oregon Ducks are right in the thick of things.
"He's from Portland, Oregon," Gipson told KSR. "The University of Oregon, that's a big draw. If Mookie Cook steps on campus, even when he goes on his visit out there, that's going to be a real thing. You know what I'm saying? Everybody would go crazy about it."
There are other high-profile options, many where he would find great success. At the end of the day, though, Gipson believes it will be tough to beat the Wildcats or Ducks.
"He's got two tough choices to make," Gipson told KSR. "He's got a bunch of other schools, but I know those two schools have been heavy on him."
We know the core options among colleges, but what else? Could the pro route become a realistic one at some point?
It's not out of the realm of possibility.
"I haven't had those contacts yet, but if those come, I'll look into it," Cook told KSR. "All of this is fit for me. If I feel like I can go there and strive right now, I'll go do that."
As for the when, there's been recent buzz that a reclassification to 2022 could be on the table. With Kentucky loading up on guards and wings in the senior class — Skyy Clark, Cason Wallace, Shaedon Sharpe and Chris Livingston are all signed — a jump would undoubtedly favor the Ducks over the Wildcats.
When asked about that buzz, though, Cook said there was nothing to it, at least as of today.
"As of right now, nah," he told KSR.
No matter where he lands or when he decides to take that next step, the school or pro option of his choice will be adding a certified dog to the roster. They'll be adding a player who prides himself on defense, one who models his game after arguably the two best two-way players in the NBA in Paul George and Kawhi Leonard.
In fact, part of the criteria he's looking for in his decision is finding a program that matches his energy on that end of the floor.
"(I'm an) all-around two-way player," he said. "I just try to stop the person in front of me. … The main thing is defense, I want to go to a team that strives on defense. You're not going to win games if you just try to outscore each other like the NBA. You have to get stops. I want to be on a team that prides itself on defense, playing the right way moving the ball."
Gipson says Cook is also looking for a place he can show off his talents under the bright lights and develop.
"For him, it's about being able to play on the big stage," Gipson told KSR. "He wants someone to coach him who will hold him accountable and will help him develop and get better. Even when he came here, I knew Mookie wasn't a finished product. I said, 'Mookie, it's about your energy, the effort you put in day in and day out. If you bring that, everything else will fall into place.'"
When could a decision come? Cook tells KSR he will commit before his senior year, with a list cut coming "soon."
Should he end up at Kentucky when that time comes, Tyrone Washington says the Wildcats will be getting a "very, very special" player.
"Mookie, I think in two years, he's going to be very, very special," Washington told KSR. "… When he puts it all together, Mookie is going to be super, super dope. If he gets to Kentucky around a coaching staff and other great players Kentucky will recruit, I think Mookie will surprise a lot of folks."
Personally, he hopes his son's success coming from the West Coast will encourage him to follow the same path.
"With TyTy breaking the stigma of West Coast kids not being able to play in the SEC and at Kentucky," Washington told KSR, "I think Mookie when — and I'm just thinking out loud — when Mookie gets to Kentucky, he's going to continue to show West Coast kids got game.
"… When that time comes, Mookie is going to do what's best for Mookie. Hopefully that's at Kentucky."