Kentucky Owns The SEC In The NBA Draft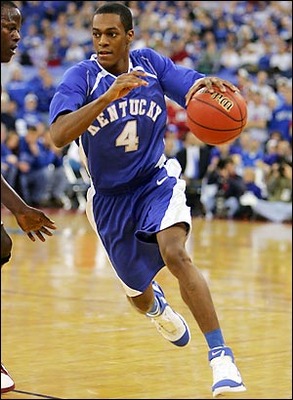 Jason King of ESPN.com is gearing up for the NBA Draft later this month by taking a look at
the top 10 players with the most successful NBA careers from each conference.
The series is only looking at players in the modern 2-round draft era so don't be upset about Frank Ramsey not making the cut. Today, King's focus was on the SEC and features several former Cats. Occupying the number 2 spot was:
2. Rajon Rondo, Kentucky: The point guard never really found his groove at UK, but he's currently one of the best -- if not the best -- at his position in the NBA. Rondo, a constant triple-double threat, has averaged more than 11 assists in each of the past three seasons and led the league in that category the past two seasons (although it should be noted that he was injured in 2012-13 and played just 38 games). A four-time NBA All-Star and 2008 NBA champion, Rondo's best days could still be ahead.
Rondo lands just behind Shaq in the rankings and it's pretty hard to argue with his spot. Rondo will probably go down as one of the all time great steals of the NBA draft after going 21st in 2006.
While Rondo's demeanor has often created trade rumors his production has made him an invaluable asset.
Here's to hoping King is right about his best days being ahead but it will be hard on the All-Star after his season ending ACL tear earlier this year.
6. Antoine Walker, Kentucky: A three-time All-Star, Walker averaged 12.2 points for a Miami Heat squad that won the NBA title in 2006. He averaged 17.5 points and 7.7 rebounds in 11 NBA seasons, including some monster seasons with the Celtics. Walker played his final season in 2007-08 for Minnesota. Several comeback attempts failed and Walker filed for bankruptcy in 2010, largely because of gambling problems and a series of bad investments.
The next Cat to make the list is the master of the shimmy himself, Antoine Walker. The sixth overall pick from 96 had a solid NBA career and is
now offering Financial advice via youtube videos.
King ranks Walker high for his role on a championship team but if it we're me I'd probably flip him with this next guy:
7. Jamal Mashburn, Kentucky: Mashburn averaged 19.1 points and 5.4 rebounds in 10 NBA seasons. He was an NBA All-Star in 2003, the same season he earned third-team all-league honors. Mashburn averaged 20 or more points in six of his 10 seasons, including a career-high 24.1 points for Dallas in 1994-95. Mashburn retired in 2006 after missing the previous two seasons with knee problems.
Had Mashburn played in a different era it wouldn't be hard to see him being listed as a perennial all-star. While he was still a great player Mash will never be listed along with Jordon, Ewing, Malone, Reggie Miller or any of the other unbelievable talents that dominated the 90s. That's not a knock against Jamal either, who had great production throughout his career. I'm just saying if he came into the Association  in 96 like Walker he would have been a bonafide superstar.
9. Tayshaun Prince, Kentucky: Prince recently completed his 12th NBA season by helping the Memphis Grizzlies to the Western Conference finals, where they lost to San Antonio. Prince played the previous 11 seasons in Detroit, where his strong defensive play and 3-point shooting helped the Pistons win the 2004 NBA championship. Prince averaged a career-best 14.7 points the following season.
Rounding out the list for former Cats is Tayshaun Prince. Price has been Mr. Consistency during his 12 year career and is still going strong today. Prince deserves a spot on this list but it's hard to see him being on the list five years down the road. Especially once the Cal players reach their NBA primes.
John Wall, DeMarcus Cousins,  Knight, Davis, MKG all look poised to have long and strong careers ahead of them.
Don't be surprised to see this list with nothing but Kentucky guys and Shaq.