Why Kentucky was a "Perfect Fit" for Destin & Keaten Wade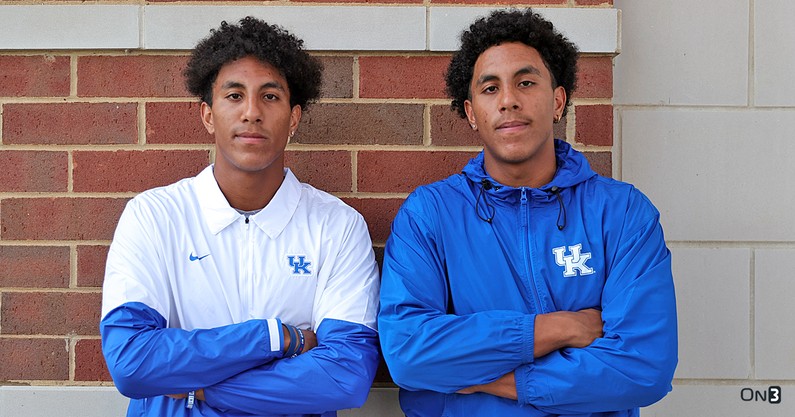 The first football recruiting home run in the 2022 class was a package deal. Destin and Keaten Wade turned down their home state school of Tennessee to become Kentucky Wildcats. A terrific tandem, Kentucky set themselves apart from other schools by not separating the twins from the recruiting pitch.
Keaten Wade is the higher ranked prospect of the two. The 6-foot-4, 225 pound athlete is one of the nation's top edge rushers, ranked as high as No. 177 overall by Rivals. Destin Wade is an incredible athlete at quarterback, but you will not find him inside the top 300 of recruiting rankings.
Some schools may have recruited one twin harder than the other. That did not go unnoticed. In a conversation with On3's Chad Simmons, the Wade twins shared why Kentucky was the "perfect fit."
"I would say it was more of a joint decision than an individual one," said Keaten Wade. "Kentucky fits both or our needs. From the coaches to the style of play to the family aspect, it is a perfect fit for us.

"Some coaches at different schools talked to me, some talked to Destin, but we always went over things together. Kentucky knows us and our parents really well, and we see it as a perfect fit."

On3+
The Wildcats took a family approach to recruit the entire Wade family. It worked like a charm.
Destin and Keaten Wade propelled Summit High School to its first state title in 2020. In pursuit of consecutive titles, they're off to a great start. A cancellation sidelined the team in week two, but in week one Destin Wade had three touchdown runs of 75+ yards as Keaten Wade punished opponents in the backfield.
There's more from Destin and Keaten Wade in Chad Simmons' lengthy On3+ profile. For more great recruiting features, get a one-year On3+ subscription right now for only $10.