Three Kentucky players included on PFF's Big Board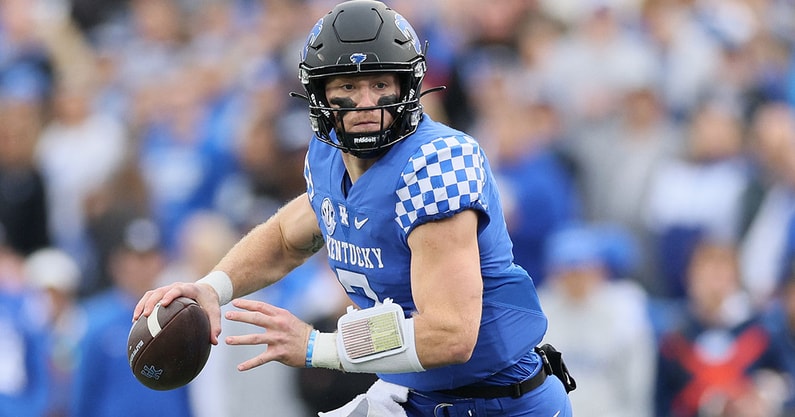 With the Senior Bowl finishing up on Saturday, draft season is officially here. Over the next two-plus months, all eyes are pointing towards Kansas City for the three-day extravaganza that has turned into the best non-sporting event of the season. KSR will be there the whole way and our draft coverage has already been kicked off.
Over the next few weeks before the NFL Scouting Combine arrives on Feb. 26, mock drafts and player rankings from the draft community will litter our timelines as things begin to become more clear once athletic testing data is available to be matched up with the film. Things are about to get heated up.
On Saturday, PFF released their first big board of this draft cycle and three Kentucky players made an appearance.
3.) Will Levis
187.) Chris Rodriguez Jr.
248.) Carrington Valentine
Despite a late rise from Keidron Smith that earned him an invite to the Senior Bowl, the former Ole Miss transfer did not make this list. PFF ranked their top 330 players following the all-star circuit as NFL organizations are now starting to get dialed in on the talent pool available in this year's draft.
For Kentucky, Will Levis is a lock for the first round while both Chris Rodriguez Jr. and Carrington Valentine appear to be Day 3 picks at the moment.
PFF is high on Will Levis
There is a real-world in April where Will Levis becomes the No. 1 overall pick in the 2023 NFL Draft. There are major questions surrounding Bryce Young's size and C.J. Stroud's overall game. Meanwhile, Levis has all of the physical tools in the world and has the highest ceiling of the bunch because of those physical attributes.
If the Chicago Bears are able to trade down from that top spot, a QB-needy team could decide to roll the dice with Levis. PFF is a believer in the potential of the Kentucky quarterback.
"Levis fought to keep his head above water week in and week out against SEC competition," writes PFF. "He'll be battle-tested for the NFL. Levis played through turf toe for much of the 2022 season but earned a 90.6 overall grade when healthy under former Los Angeles Rams offensive coordinator Liam Coen in 2021."
Let the games begin as Levis will be Kentucky's highest draft pick at quarterback since Tim Couch in 1999.