Kentucky players buying in following "crisis" after loss to South Carolina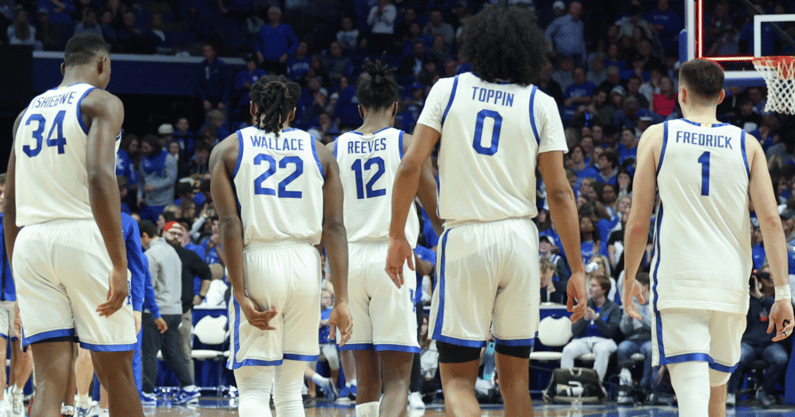 Chin Coleman, an assistant coach on Kentucky's men's basketball staff, said at the beginning of the week that the Wildcats don't need everyone to be great on a game-by-game basis, but they certainly need everyone to be good in order to keep having success. When the five players with the most minutes all score between 10-16 points while another played his best game in two weeks, that's exactly what Coleman was talking about, and that's exactly what happened in Nashville.
Kentucky didn't necessarily have any "All-Stars" on the court during Tuesday night's impressive 69-53 win over Vanderbilt, but every single player who stepped on the floor did what was asked of them — they were "All-Stars" in their own respective roles, and it led to arguably the most impressive result for UK all season long.
"Now you're seeing, they're worried about one thing: our team," Kentucky head coach John Calipari said after beating Vanderbilt. "I know what my job is in my role, and I'm gonna do it and be an All-Star in my role."
The roles now appear to be solidifying.
Antonio Reeves continued his as the team's go-to scorer with 16 points against Vandy, adding even more confidence to his offensive approach with every passing game. Oscar Tshiebwe did what he's done for nearly two years now, finishing with a "standard" stat line of 15 points and 13 rebounds. Jacob Toppin is doing more with less, instead of the other way around like he was early in the season.
CJ Fredrick hit shots and flexed his playmaking skills. Cason Wallace has been handed the keys to run the show but isn't overstepping his boundaries. Most importantly, former starter Sahvir Wheeler has accepted coming off the bench and helped spark Kentucky's big run that shut down the Commodores' hopes of a comeback.
Not a single one of them played great, but all of them damn sure looked good.
So what changed? And how did it happen in just a couple of weeks? According to Calipari, it started with the embarrassing loss to South Carolina on Jan. 10 — a loss just two weeks ago that brought upon a crisis within the program. One that led to player and team meetings being conducted in the aftermath where guilt was admitted across the board and self-reflection was mandatory.
As Calipari explained it Tuesday night, "crisis brings about change."
The guys who were once (somewhat understandably) more concerned with themselves coming into a new environment with new teammates were now focusing on how they can help the program win. Getting embarrassed at home by a South Carolina team considered to be among the worst in all of Power 5 basketball can do that.
"I like this team. I'm saying it, I told you before, we just had to get on the same page," Calipari said. "Let me tell you what's a natural progression from a basketball team when you bring new guys together. A natural progression is they worry about themselves first. Because they're trying to establish who they are, which means you're thinking more inward, so you're not doing the team outward stuff you need to do.
"We couldn't even do a scouting report early. We couldn't, because everyone was worried about themselves. It's natural. I'm not downing anybody. It is a natural progression at every level. Not just here at Kentucky."
That natural progression appears to be entering its prime at the ideal moment. Kentucky has now rattled off four straight wins after the now-infamous loss to South Carolina. The program is back on the right path despite being an NCAA Tournament afterthought just two weeks ago. Everyone is on the same page for what feels like the first time all season.
"Everyone is starting to figure out what they do and they're starring in their role," CJ Fredrick said postgame. "We're not trying to do things that we can't do and we're starting to realize that each and every single one of us brings something different to the game. And we're all coming together in that aspect and playing off each other. Just having a lot of fun with each other."