Kentucky returns to CFP Top 25, bowl status remains unclear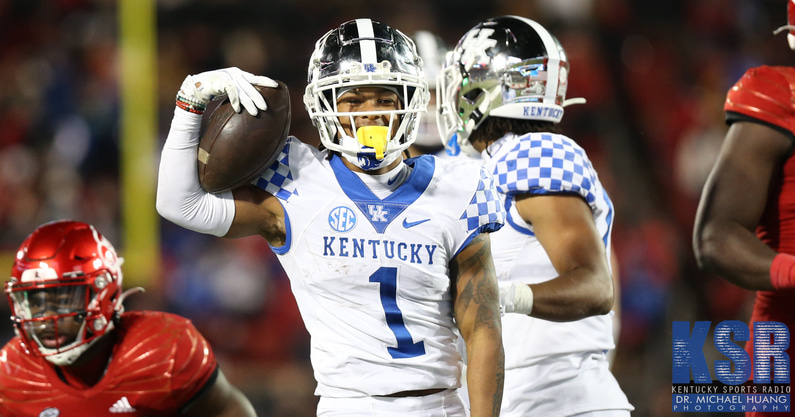 After taking a few weeks off, Kentucky returned to the top 25 on Tuesday night when the playoff committee released their penultimate College Football Playoff rankings.
The Wildcats have entered the chat but trail one key SEC foe.
At No. 23 overall, Kentucky comes in ahead of No. 25 Texas A&M but is just one spot behind No. 22 Arkansas. Why is that important? Bowl scenarios are to be determined, and the league could be splitting hairs between these three teams when selecting destinations.
Return to Citrus
In the SEC standings, Kentucky sits at 9-3 (5-3). That is a better overall record than both Arkansas and Texas A&M who sit at 8-4 (4-4) in the SEC West. That would seem to matter, but the Citrus Bowl is not clear on who the game would select.
"The Citrus Bowl in Orlando (vs . Big Ten), a longtime SEC bowl, will have the first selection of available SEC teams after any conference schools have qualified for the College Football Playoff, New Year's Six, or the Allstate Sugar Bowl."
In theory, the Citrus Bowl could pick any of the three. Since this is a higher-tiered bowl just behind the New Year's Six, the top team should get the slot.
Would that go to highest-ranked (Arkansas) or best record (Kentucky)? We likely won't find out until Sunday afternoon.
Outback Bowl should be the floor
If the Citrus Bowl decides to roll with Arkansas, the Wildcats should have an edge when the bowl drops down to the pool of six. Once there, Outback Bowl would be the top option, and the Wildcats would have a higher ranking and better record than the Aggies.
That should hold some weight. In 2019, Tennessee was able to beat out Kentucky for a Gator Bowl bid due to the conference record. That should work in Kentucky's favor in 2021.
Chaos scenario
If things truly get wild and the Citrus Bowl decides to choose violence, the Aggies could be an option as the folks in Orlando would get to host a huge Texas A&M fan base for the first time. That would create a problem for the Wildcats.
Neither Arkansas nor Kentucky has been to the Outback Bowl for a while, so each would be a quality candidate. If the folks in Tampa decided to go with the higher-ranked team, the Wildcats would be knocked down a peg.
Due to recent trips to Charlotte and Jacksonville over the last two bowl trips, Kentucky would be left to decide from Music City Bowl, Texas Bowl, and Liberty Bowl. Thanks to the location and no trip since 2017, a quick drive to Nashville would probably win out.
Obviously, that would be the worst-case scenario for the Kentucky football program. We'll all have to play the waiting game until Sunday afternoon.