Kentucky Pleased with Offensive Progress, So Pleased Stoops is Cursing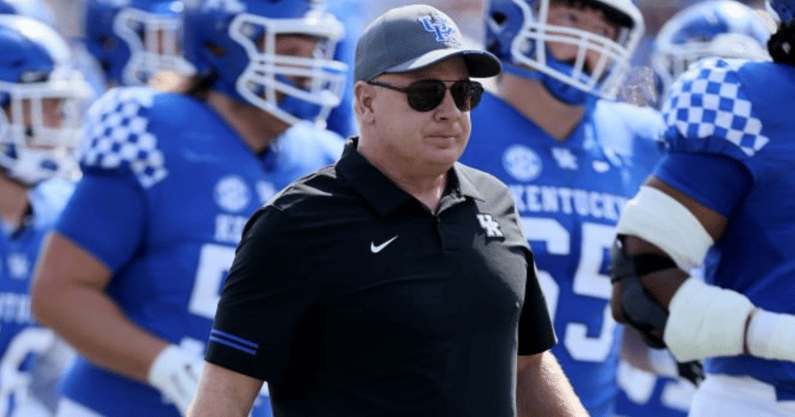 Mark Stoops' postgame press conference took a turn few expected, and it wasn't just because he uttered a word the FCC won't let you say on radio.
At the start of week four, Mark Stoops challenged the Kentucky offense to clean up its act. By taking a quick glance at the scoreboard, one might think the Wildcats did not satisfy that goal in an 8-point win over Northern Illinois. As a matter of fact, Kentucky offensive coordinator Rich Scangarello left Kroger Field with a smile on his face.
"I just felt like we found our groove as a staff, as far as communication, not panicking, understanding things don't always go your way," Scangarello said after the 31-23 win. "The first half felt eerily similar to more like an NFL game. We just had very few possessions. It was three possessions and a two-minute drive. There were long drives and those are fun games to call and be a part of.
"Not every game's going to be a blow out. You never know how they're going to play out. It was good for us, it was good to feel a little bit of heat like that, overcome it, play well in the end and find a way to win."
Kentucky averaged 6.7 yards per play, totaling 406 yards of offense, with 303 coming through the air. A majority of those came on three big third down passing touchdowns. Kentucky was 10-of-16 on the money down, including touchdowns of 40, 69 and 70 yards. For years the offseason was filled with questions about the Wildcats' explosiveness. It's arriving at the perfect time: right as the run game is struggling to consistently produce.
"We're all striving for perfection. You know, and maybe we're not there yet. But we wanted to be explosive and we're certainly getting that, so that's a plus," Mark Stoops said after the win. "You've got to be who you are and right now we have a very talented quarterback. You know, we have some explosive wide receivers and we're creating some big plays. 
"Yes, I think we want to be a little more consistent in the run game. See, everybody appreciates the run game now. Five years ago, y'all didn't appreciate shit."
The expletive threw the crowded media room into an awkward silence.
"I'm joking, I'm joking," Stoops said. "Everybody relax."
The Kentucky offense does not look like its old self, and that's not necessarily a bad thing. And there's good news: Chris Rodriguez is back. If the talented running back can turn some of those 1-yard runs into 10-yard runs, Mark Stoops may not need to curse in a postgame press conference anytime soon.