Kentucky preparing for a challenge against "different" Vanderbilt team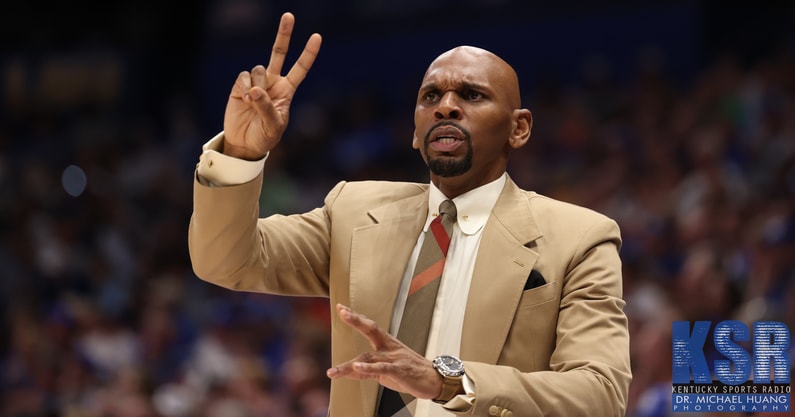 The Vanderbilt Commodores aren't what their 10-9 record may indicate. Starting out the year with back-to-back losses vs. Memphis and Southern Miss, followed by later losses to Saint Mary's, VCU, Grambling State and NC State, it's easy to overlook Jerry Stackhouse's squad after an abysmal non-conference slate.
To open SEC play, though, the Commodores have been competitive against the conference's best. After a five-point home win vs. South Carolina — they aren't included in the "best" conversation, obviously — they lost by three at Missouri and nine in Knoxville before defeating Arkansas by 13 at home (97-84). They followed it up with a 12-point loss to Alabama, but defeated Georgia by three on the road.
A 3-3 SEC record isn't pretty, but they're fighting against quality competition. Certainly won't be a pushover when they take the floor against the Kentucky Wildcats on Tuesday.
What does UK expect in its true road matchup? Well, something a bit different than it has seen the last, say, three seasons. From 2019-22, it was the Scottie Pippen Jr. show, with the 6-foot-3 guard averaging 17.5 points per contest over the course of his three-year career at Vandy, including 20-plus PPG the past two seasons. There isn't just one player at the top of the scouting report you have to focus on taking out of the game — it's now a by-committee approach.
"Vandy is playing really good right now. It's a little different than what they were last year," Kentucky assistant coach Chin Coleman said Monday. "They had, obviously, a dynamic scorer in Scottie Pippen Jr. They play more together, very systemic."
Vanderbilt now relies on creativity with their actions to get open looks, maximizing off-ball movement with shooters — as many at five on the floor at any given time. Limiting production at the 3-point line is at the top of Kentucky's scouting report.
"A lot of their offense comes off of their system, off of the actions that they run. They do a great job of creating shots for their team. They have a ton of shooters," Coleman added. "At one point on the floor, they're gonna have five guys that shoot threes, which is going to be a challenge for us. They run a lot of misdirection stuff, comeback actions to get those shots."
Get caught sleeping and the Commodores will make you pay.
"We've got to be attentive," he said. "We can't fall asleep, can't rest and relax because they're constantly moving, constantly screening, constantly putting you in misdirection actions so they can get an open shot. So we've got to really be attentive to our defensive schemes and try to take away the three."
Vanderbilt will be missing its leading scorer and rebounder in Liam Robbins. Freshman center Lee Dort, a consensus four-star prospect out of high school, will also be out for the Commodores.
That doesn't mean Kentucky will be taking its competition lightly — Vandy still has threats capable of getting the job done in Nashville. The Wildcats are prepared for it.
"We hear that they may be down a couple of players, but that's really not the concern," Coleman said. "We just got to make sure that we're doing our job in terms of keeping those guys in check and keeping them limited from the three-point line."
Kentucky and Vanderbilt will tip off at 9 p.m. ET on SEC Network.