QB Transfer Big Board 1.0: Four names stand out early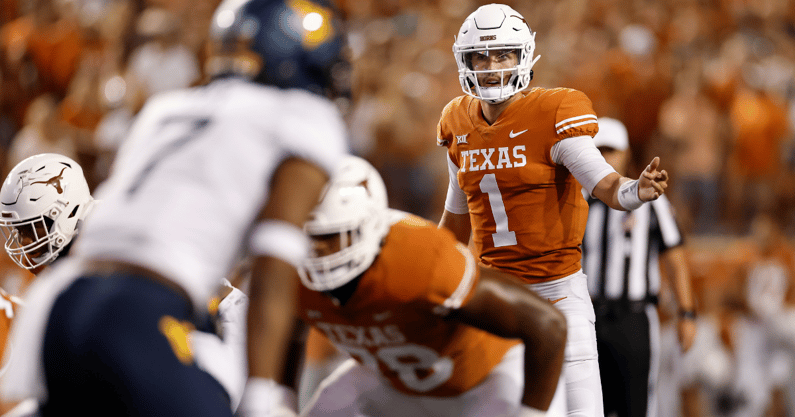 It's only Wednesday, but a lot has happened since Kentucky beat archrival Louisville on Saturday at Kroger Field. Mark Stoops is getting right to work this offseason.
On Monday, running backs coach John Settle was relieved of his duties after two seasons in Lexington. On Tuesday, offensive coordinator Rich Scangarello became a one-and-done at Kentucky as Stoops decided to conduct a third consecutive offensive coordinator search.
Subscribe to the KSR YouTube Channel for press conferences, interviews, original shows, fan features, and exclusive content.
We have already touched on potential candidates and will be here every step of the way this offseason at KSR to cover all of the integral staffing decisions that Stoops will make over the next month. However, talent acquisition is the biggest part of any move over the next month.
Kentucky will be an active participant when the transfer portal window opens on Dec. 5. Players will leave Lexington, but the Cats could easily land 12 or so transfer this offseason. Most notably, there is help needed at quarterback.
Throughout the offseason, we will be monitoring the transfer portal to see what names go in and who could make sense for Kentucky. So now feels like a good time to break out our first big board off the offseason. There are currently four quarterbacks who have moved on from their programs that make some sense for Kentucky.
We will keep this post updated throughout the season. Let's now dive into some of the possibilities on Nov. 30.
Hudson Card (Texas)
Top-100 recruit out of Austin (Texas) Westlake
Committed to head coach Tom Herman after his sophomore season in 2017
5 career starts
65.5% completion rate (127/194), 7.9 yards per attempt, 192 non-sack rushing yards (6.4 yards per rush), 12 total touchdowns, 2 interceptions in 16 career games
Will be a redshirt junior in 2023 with three years of eligibility remaining
Scouting Report: Good athlete with off-script playmaking ability that can create plays out of structure. Plus accuracy. Very good on the move. Must improve playing from the pocket. Does not have a power arm but has enough juice to test defenses vertically.
Hudson Card (6-2, 201) continued the Lake Travis pipeline of quarterbacks that includes Garrett Gilbert, Todd Reesing, and Baker Mayfield. After taking a redshirt and sitting behind Sam Ehlinger, a coaching change was made at Texas early in his tenure.
Steve Sarkisian has come in and recently landed huge five-star recruiting wins in transfer Quinn Ewers and class of 2023 prospect Arch Manning. That has created a tough situation for Card. The blue-chip prospect lost a position battle to Ewers during the season but did receive playing time when Ewers was lost with a shoulder injury early in the season. Card started three games and posted solid numbers.
As of right now, this should be considered the top QB prospect available in college football free agency. Card has starting experience and some high-ceiling potential with multiple years of eligibility remaining. Multiple Power Five programs will be involved.
Cade McNamara (Michigan)
Top-300 recruit out of Reno (Nev.) Damonte Ranch
Flipped commitment from Notre Dame to Michigan as a junior in 2018
16 career starts
Numbers as a full-time starter in 2021: 64.2% completion rate on 23.4 throws per game, 7.9 yards per attempt, 43.2% passing success rate, 15 touchdowns, 6 interceptions
Will be a redshirt senior in 2023 with two years of eligibility remaining
Scouting Report: A true leader at the quarterback position who played a big role in Michigan winning its first outright Big Ten title since 2003 last season. Best suited to play in a run-heavy scheme with a high volume of play-action. Conservative with the football and limited as a vertical passer. Good decision-maker with accuracy and quick release. Does not provide much of a run element but has shown the ability to make plays off-script.
Cade McNamara (6-1, 206) suffered a serious knee injury back in Week 3 and underwent surgery in November. That led to him losing the QB1 job in Ann Arbor to former five-star recruit J.J. McCarthy. That had led to McNamara looking for another home.
The former Elite 11 quarterback was Michigan's full-time starter in 2019 and led the Wolverines to their first-ever College Football Playoff appearance. Building a reputation as a strong leader, McNamara was a quality game manager who made some big throws for Michigan in some big games.
The scheme will be huge for McNamara at the next spot as he is likely going to be at his best in a system where an efficient run approach opens up passing opportunities. The veteran has proven to be a capable Power Five starter who makes good decisions and appears to have the leadership qualities that can win over a locker room.
However, the recent knee injury could make McNamara unavailable for the spring and that is something pursuing programs must consider. The Athletic's Bruce Feldman has reported that Iowa is a team to watch.
Hank Bachmeier (Boise State)
Top-300 recruit out of Murrieta (Calif.) Valley
Committed to Bryan Harsin and Boise State over California, Colorado, Minnesota, and Oregon State during senior season
29 career starts
61.5% career completion rate (536/871), 6,605 passing yards, 7.6 yards per attempt, 41 touchdowns, 19 interceptions
Will be a redshirt senior in 2023 with two years of eligibility remaining
Scouting Report: A highly productive QB in the Mountain West that led Boise State to a lot of wins under multiple play-callers. Tough quarterback that will hold his ground and make throws under pressure. Produces very good velocity on short-to-intermediate throws but struggles to drive the ball on vertical concepts. Plays with high confidence and excels in quick game. Ton of playing experience. Very limited as a rusher.
Upon his arrival at Boise State, Hank Bachmeier (6-1, 210) immediately earned the QB1 role and led Boise State on a furious comeback to win his first-ever start. However, has battled injuries and saw a dip in production after Byran Harsin's left for Auburn.
Bachmeier decided to leave Boise State after four games in 2022 after a brutal start. From that point, the Broncos made a change at offensive coordinator and finished the year undefeated in conference play. However, Bachmeier will receive Power Five interest due to his experience and ability to excel in the short-to-intermediate passing game.
An RPO-heavy offense might be the best fit for the Boise State transfer. Bachmeier has little rush value and has had some issues driving the ball vertically. However, the quarterback produces good velocity and has flashed confident decision-making when allowed to play fast.
Brett Gabbert (Miami, Ohio)
Low three-star recruit out of St. Louis (Mo.) Christian Brothers
Picked Miami (Ohio) over multiple MAC offers
30 career starts
58.8% career completion rate (450/765), 6,259 passing yards, 8.2 yards per attempt, 45 touchdowns, 14 interceptions
Will be a redshirt senior in 2023 with two years of eligibility remaining
Scouting Report: The undersized pocket passer excelled as a four-year starter at Miami (Ohio) in an RPO-heavy scheme. The RedHawks asked Gabbert to take vertical shots and he delivered constantly. There is not much mobility and durability is a question, but the veteran quarterback flashed arm strength that can stretch the field.
We all know Kentucky has to find at least one quarterback in the transfer portal this offseason. But the Cats need to consider adding two since it looks like the program is about to have another high school signing class without a quarterback.
If the program does go this route, the Cats will have to look to the Group of Five and FCS level to find another option. Kentucky saw a candidate in Week 1.
Miami (Ohio) quarterback Brett Gabbert (6-0, 205) entered the portal earlier this week after four seasons in Oxford. The St. Louis native has battled injuries two years in a row but has played a lot of football and has flashed moments of being a vertical playmaker behind center.
A lot of this evaluation will have to do with scheme fit, but a move like this could make some sense for Kentucky.