Kentucky Quarterback Will Levis Grows in Loss to Georgia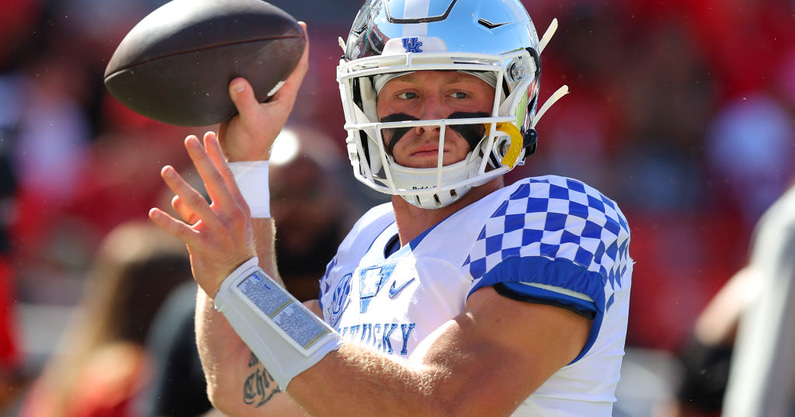 To have a shot at knocking off top-ranked Georgia, Kentucky needed Will Levis to play his A-Game. The Wildcat quarterback played well at Sanford Stadium.
"Not well enough to win," Levis retorted in his postgame remarks.
"I could have made some better plays to put us in a better position to win. I think everyone agrees that they could've stepped up and done some things that would have helped change the game, but I just gotta improve."
Fresh off a five-touchdown performance against LSU, Levis threw two touchdown passes against a Georgia defense that had only allowed one touchdown threw the air in its first six games. The Dawgs shut down Chris Rodriguez and Co., forcing Liam Coen to dial up more than 42 pass plays. Despite a handful of drops, Levis completed a season-high 32 completions for 198 yards. It's the most completions by a Kentucky quarterback in an SEC road game since Jared Lorenzen at Georgia in 2001.
"It was fun for me to go out there, go against a defense like that and just try to make plays. I thought I threw the ball pretty well. There's definitely some positives to take from it and we just gotta improve after we watch the tape," said Levis.
"I really thought he competed his tail off and played exceptionally hard and gave us an opportunity with certain throws in tight windows," Mark Stoops said after the game. "I think there's still quite a bit to build on, a lot of good things that he can build on from this. This defense is going to make a lot of quarterbacks uneasy. It's a tough unit."
Lessons Levis Learned in the Loss
In the immediate aftermath of the loss there aren't a ton of positives to discuss. One thing did stick out to Levis.
"How to be a leader. In games when you're down like this you can't hold your head."
Kentucky had three straight three-and-outs before the Wildcats put together a 13-play, 75-yard drive that cut the Georgia lead to 14-7 right before half. Despite having a field goal blocked that all but ended the game, Levis did not let the UK offense hang its head. They responded with a 22-play touchdown scoring drive.
"We need to approach every drive, every play, as if the last one didn't happen," said Kentucky's quarterback. "We're going to go against good defense in the future. I'm sure we're gonna get down at some point in the future and we're going to have to be able to respond, have heart and put the ball in the end zone on that next drive."
After a shaky performance or two, Levis is confident and coming into his own as the Wildcats enter the second half of the season.