Kentucky ranked 23rd in updated Coaches Poll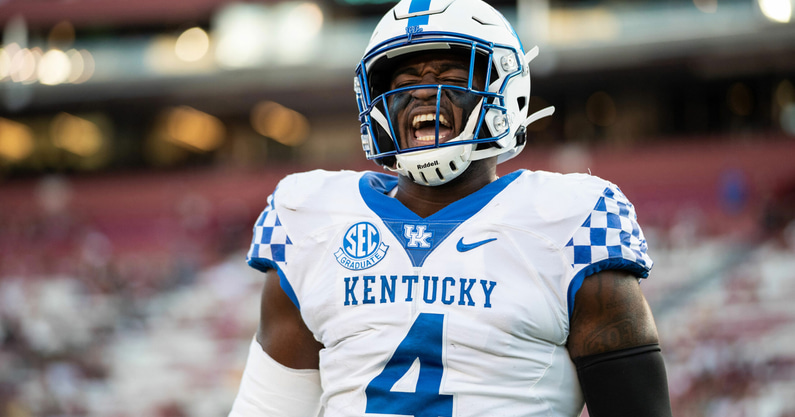 Next weekend's matchup against Florida has a chance to be something special for the Kentucky Football program.
Not only will the 4-0 Wildcats host the Gators in what will be a nighttime kickoff on ESPN at Kroger Field, but both teams will also be ranked among the top 25. Following Kentucky's close 16-10 win over South Carolina (2-2) on Saturday night, the updated Coaches Poll ranked UK at No. 23 overall, a four-spot jump from where they were ranked after Week 3.
Kentucky is one of eight SEC schools currently ranked in the Coaches Poll Top 25. Alabama (No. 1), Georgia (No. 2), Florida (No. 9), Arkansas (No. 11), Ole Miss (No. 12), Texas A&M (No. 13), and Auburn (No. 22) round out the ranked intraconference members. LSU is also receiving 36 votes.
After narrowly beating out FCS opponent UT-Chattanooga last Saturday, Kentucky was bumped up to 27th overall in the Coaches Poll and showed enough to the voters against South Carolina to warrant another jump.
With Florida moving up two spots, the No. 9 Gators will come to Lexington next weekend for the biggest home game of the season thus far for Kentucky. It's going to be rowdy…
Coaches Poll Top 25
Alabama
Georgia
Oregon (+1)
Oklahoma (-1)
Iowa (+1)
Penn State (+2)
Notre Dame (+3)
Cincinnati (+1)
Florida (+2)
Ohio State (+2)
Arkansas (+7)
Ole Miss (+1)
Texas A&M (-8)
Michigan (+5)
Brigham Young (+1)
Michigan State (+5)
Coastal Carolina (+1)
Oklahaom State (+4)
Clemson (-12)
UCLA (+4)
Fresno State (+4)
Auburn (+1)
Kentucky (+4)
Baylor (+18)
Wake Forest (+14)
Others receiving votes: Texas 101, Boston College 91, NC State 70, San Diego State 69, Maryland 59, Wisconsin 56, SMU 54, Virginia Tech 39, LSU 36, Iowa State 31, Army 23, Arizona State 12, UTSA 11, Liberty 11, North Carolina 10, UCF 9, Oregon State 7, Appalachian State 3, Louisiana 3, Louisville 2, Indiana 2, Wyoming 1
Dropped from rankings: Iowa State 14, Wisconsin 15, North Carolina 20
[UPDATE – 2:10 P.M. EST: Kentucky remains unranked in the AP Poll, receiving 26 total votes which places them at No. 31 in the country.]