Kentucky is a Rare SEC Road Favorite (BTI's Rants and Ramblings)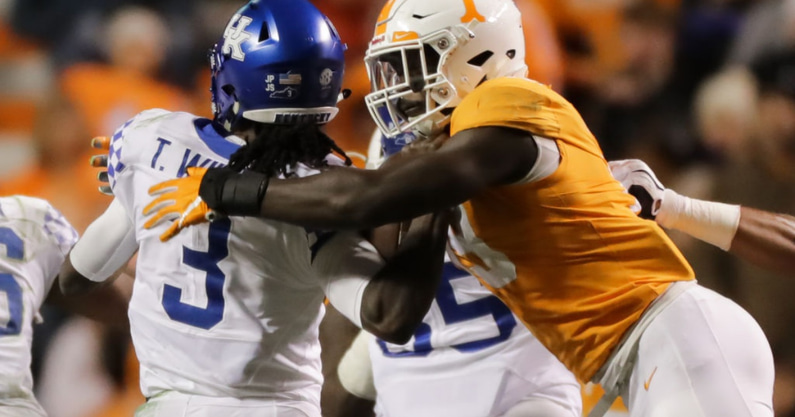 Kentucky heads into Saturday's game at South Carolina as a five-point betting favorite and that is fairly well earned. UK is 3-0, looked sharp for much of that, clearly has some good talent on the offensive side of the ball, and South Carolina is in a rebuild. But the simple fact that Kentucky is a favorite on the road against an SEC opponent should raise the eyebrows of many in this fanbase. Since 2006, Kentucky has only been a favorite in an SEC road game six times. Six times in 60 total games. Only three times in 45 non-Vanderbilt games.
Take a look back at some of the rare UK SEC road favorite games and channel those good memories into this weekend's clash with the Gamecocks:
Dicky Lyons Amazing Catch
2006: Mississippi State
Spread: -1
Result: Kentucky 34, Mississippi State 31
This game was a complete mystery to me until I started digging into the vault. UK came into the game 3-4 and Rich Brooks tenure was truly on the rocks. But the win catapulted UK to 4 straight wins, a win over Georgia, and a bowl win and Brooks was able to cement his place as a UK legend over the next few years. Lyons Jr. catch also goes unremembered I feel like for much of the fanbase so I am happy to have found it again.
The Vanderbilt Collection
2007: Vanderbilt
Spread: -3.5
Result: Kentucky 27, Vanderbilt 20
2009: Vanderbilt
Spread: -3.5
Result: Kentucky 24, Vanderbilt 13
2019: Vanderbilt
Spread: -9
Result: Kentucky 38, Vanderbilt 14
Death. Taxes. Beating Vanderbilt as a favorite on their home field. I would imagine UK gets another shot at the Commodores as a favorite this season so keep this post handy when it comes time to bet. The Cats do well in this situation historically as the betting favorite.
Always a Tennessee Heartbreak in There
2018: Tennessee
Spread: -5.5
Result: Tennessee 24, Kentucky 7
This game was a real joy, wasn't it? We should have known with our history against the Vols that coming into that game as a favorite was never going to work out in our favor. And with our best team in 40 years we laid the biggest of eggs against one of their worst teams. No offense? Check. Hail mary against UK? Check. Poor coaching? Yup.
UK was the Betting Favorite in that Game?
2020: Missouri
Spread: -3
Result: Missouri 20, Kentucky 10
Kentucky has probably never been more overmatched against a lesser opponent than in this game. It took all of about 5 minutes of game action to see that Kentucky being a betting favorite was a huge mistake and the Cats were not mentally ready and Missouri was playing with some extra enthusiasm.