Kentucky reaches out to St. John's transfer David Jones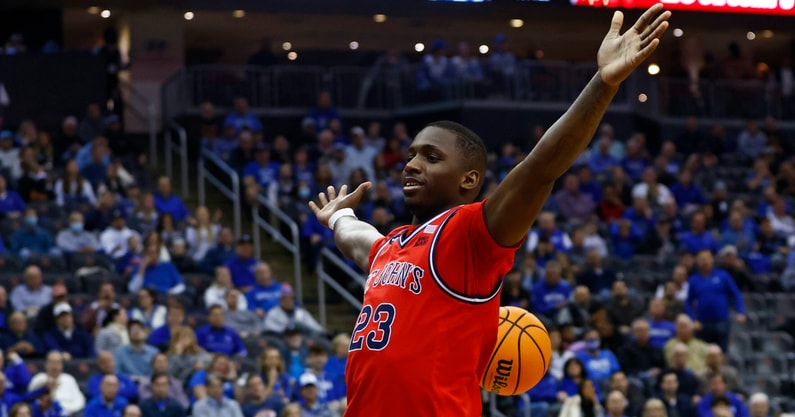 Remember the name David Jones? Kentucky has kicked the tires on the 6-foot-6 forward out of the Dominican Republic on numerous occasions dating back to high school as a member of the 2020 recruiting class.
He took an unofficial visit to Lexington back in February 2020 before ultimately committing to DePaul six months later on August 31. The former four-star recruit enrolled the following January and stayed two seasons with the Blue Demons, playing just nine games in year one before exploding in year two. He went from averaging 5.1 points and 2.7 rebounds as a freshman to 14.5 points and 7.4 rebounds as a sophomore, shooting 44.5% from the field and 30% from three as one of the program's go-to offensive weapons.
Jones then hit the portal in April 2022, Kentucky again expressing early interest before deciding it wasn't a fit with the likes of Oscar Tshiebwe, Jacob Toppin, Daimion Collins and Chris Livingston expected to take significant roles. He wound up at St. John's, going on to average 13.2 points and 6.8 rebounds while shooting 39.2% from the field, 30% from three and 78.5% at the line in 25.7 minutes per contest.
Now, he's back in the portal looking for a new home. And you guessed it, Kentucky has explored a potential fit yet again, this time led by John Calipari.
The Wildcats are joined by Kansas, Memphis, Arkansas and Ole Miss to express interest in the versatile forward, Travis Graf of MADE Hoops and Cats Illustrated reported Wednesday morning.
Rick Pitino lands Greek guard at St. John's
As Jones explores his options in the portal, former Kentucky coach Rick Pitino just put a bow on his first St. John's roster, adding 11 players in 55 days for the upcoming 2023-24 season. Now, he's using his past connections to build for the future.
Pitino joined the Red Storm after a stint with Iona, his return to college basketball. Before then, he coached Panathinaikos B.C. in Greece, along with the country's national team. Now, he's added highly-touted Greek guard Lefteris Liotopoulos of DEKA Academy in the class of 2024. He chose to play for Pitino at St. John's over Virginia, Stanford and Princeton, among others.
"I understand the fact that I would probably get more offers in the next few months, but it would be hard for me to refuse Rick Pitino's offer, because he's a legend in basketball," Liotopoulos told The Post following his commitment. "He's a Hall of Fame coach. I was watching him coach Panathinaikos. He's a great coach, a very successful coach.
"In the last two months, he has been calling me and watching my games. I'm very honored for this."
Who has Kentucky contacted in the portal?
The Wildcats currently sit at seven scholarship players with freshmen scheduled to begin the move-in process next week. Kentucky will play live games in Toronto to open the month of July, six weeks after the team arrives on campus.
The withdrawal deadline for those testing the NBA Draft waters is May 31, a week from today. Oscar Tshiebwe, Antonio Reeves and Chris Livingston could all return, but there are mixed reviews on all three — there's a better chance UK loses all three than returns all three (and maybe even two, for that matter).
Point being, Calipari has to act quickly to fill out a roster that includes just five freshmen and two sophomores. Who are some of the available names Kentucky has publicly reached out to?
A new wave of grad transfers will become available following the withdrawal deadline next week, so options aren't gone completely. But certainly not a ton of traction after missing out on Hunter Dickinson and Keshad Johnson.