Kentucky reaches out to Tennessee star transfer Julian Phillips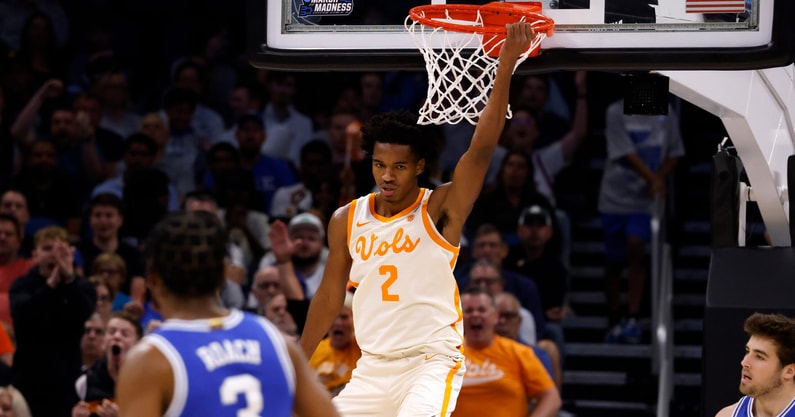 As Chris Livingston's future in Lexington remains in doubt, Kentucky continues to search for a potential replacement, this time in the form of a former McDonald's All-American. And it's a familiar face, someone the Wildcats faced within the conference this past season.
Tennessee freshman transfer Julian Phillips, who is currently testing the NBA Draft waters, has been contacted by John Calipari and the UK coaching staff.
Travis Branham of 247Sports listed the Wildcats among over two dozen programs in communication with the former five-star recruit.
"Phillips' first and foremost priority remains on the draft. As of today, Phillips is leaning towards staying in the draft (the deadline to withdraw is May 31) following a very strong outing at the combine," Branham reported Thursday. "… Even though his intentions are to focus on the draft, schools haven't stop trying to pursue the former Volunteer. Phillips' camp has been in contact with more than two dozen programs, including: Alabama, Arizona, Arkansas, Auburn, Baylor, Boston College, Central Florida, Cincinnati, Dayton, Florida State, Georgia Tech, Indiana, Kansas, Kansas State, Kentucky, Memphis, Michigan, Mississippi State, Nebraska, Oklahoma, Ole Miss, Oregon, Penn State, South Carolina, Texas, Texas A&M, Texas Tech, Villanova, Virginia and Wake Forest."
According to Rob Cassidy of Rivals, Kentucky joins Memphis, Cincinnati, Texas, Arizona, Auburn and Kansas State as schools "worth monitoring closely."
Phillips averaged 8.3 points, 4.7 rebounds and 1.4 assists while shooting 41.1% from the field, 23.9% from three and 82.2% at the line in 24.1 minutes per contest. He was named to the 2023 SEC All-Freshman Team and also SEC Freshman of the Week back on Jan. 23.
He entered the transfer portal on May 11 with the intention of keeping his name in the draft.
The 6-foot-8, 198-pound forward out of Blythewood, SC was a consensus five-star recruit out of high school, listed at No. 13 overall and No. 4 among small forwards in the On3 Industry Ranking. He originally chose the Volunteers over offers from Auburn, Clemson, USC, Florida State, LSU, South Carolina, Kansas, Alabama, Texas Tech, Xavier, Ole Miss, Virginia Tech, Florida, Indiana and UCLA, among others.
Will Kentucky make a push for the former Burger Boy? If he decides to pull his name out of the draft, it's at least on the table.