Kentucky reportedly showing interest in UNC transfer Puff Johnson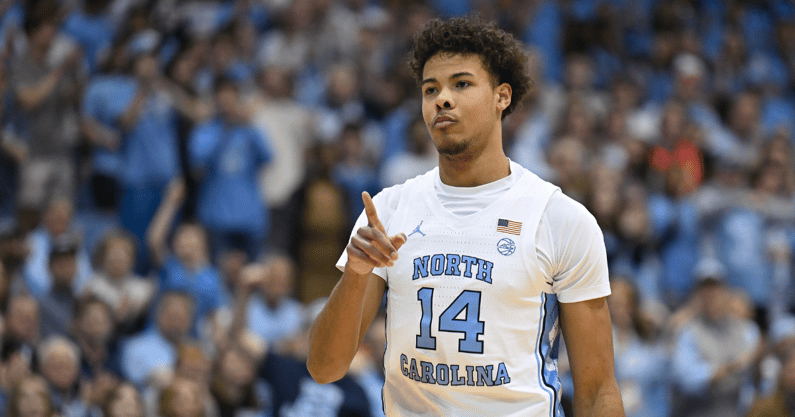 With so much roster turnover expected ahead of the 2023-24 season, Kentucky is going to pay close attention to the ever-expanding transfer portal. On Sunday, a new name popped up on the Wildcats' radar.
According to CBS Sports' Jon Rothstein, former North Carolina forward Puff Johnson is "receiving interest" from Kentucky. The 6-foot-8 rising senior put his name in the transfer portal on Wednesday after spending his first three college seasons with the Tarheels. Johnson was a rotational piece for North Carolina, starting just two of the 65 games he appeared in while averaging 3.1 points and 1.9 rebounds in 11.4 minutes per outing.
Johnson hails from Moon Township, PA, the hometown of Kentucky head coach John Calipari. He also began his high school career at the same program that Calipari attended, Moon Area High School, before transferring to prep school. Johnson's older brother, Cam Johnson, currently plays for the Brooklyn Nets.
Along with UK, Rothstein reports that Johnson has also heard from the likes of Indiana, Arizona State, TCU, West Virginia, Pittsburgh, Oklahoma, LSU, Butler, Seton Hall, and several others.
Coming out of the 2020 class from Hillcrest Prep (AZ), Johnson was considered a four-star recruit and the No. 62 overall prospect by the On3 Consensus. He committed to North Carolina in Nov. 2019, but never panned out as a starter in Chapel Hill.
During UNC's run to the 2022 NCAA Tournament championship last March, Johnson averaged 5.0 points and 2.3 rebounds in 11.3 minutes per game while shooting nearly 62 percent overall. However, he was never able to take a significant leap in production the following season. Johnson's best stretch with the Tarheels was during his junior year in 2022-23 when he put up per-game averages of 4.1 points and 2.7 rebounds in 16.0 minutes on 38.7 percent field goal shooting.
Objectively, Johnson is not the caliber of talent that Kentucky is expected to target in the portal, but there appears to at least be some interest. Calipari plans to meet with each of his players from this past season individually during the coming week to talk over their decisions to stay or go. Once all of those decisions are made, we should have a much clearer idea of which portal prospects UK is realistically targeting.
Discuss This Article
Comments have moved.
Join the conversation and talk about this article and all things Kentucky Sports in the new KSR Message Board.
KSBoard