WATCH: Highlights from Kentucky and Saint Joseph's overtime thriller
Exhale, BBN. It took overtime, but Kentucky improved to 4-1 with a 96-88 win over Saint Joseph's. Not only did the Cats take home the Wildcat Challenge crown, they won a close game against an opponent who refused to go away — without all of their seven footers.
What Kentucky's lineup looks like when Aaron Bradshaw and the rest of the big men take the floor remains to be seen, but the Cats' first stress test at home taught us several things. One, this team is not beyond freshmen moments; however, DJ Wagner is capable of stepping up and being that guy. Wagner and Tre Mitchell both finished with 22 points, and a combined 16 in overtime to lift the Cats to a must-win. Wagner also had a career-high six assists.
Reed Sheppard didn't score and struggled at times defensively tonight, but finished first in efficiency at +16. He had five steals, four assists, four rebounds, and three turnovers in 25 minutes. Justin Edwards also played well after struggling in recent games, finishing with 12 points (4-6 FG, 2-3 3PT), 3 rebounds, an assist, a block and a steal.
Those are good things, but tonight also showed that Kentucky has work to do on defense and at the free-throw line. The Cats were 18-27 (66.7%) from the charity stripe tonight, with several crucial misses late in the second half.
Got thoughts? Continue the conversation on KSBoard, the KSR Message Board. New members can try 1 month for $1.
More Kentucky News and Views on the KSR YouTube Channel
Kentucky Sports Radio has expanded its coverage of the Wildcats in the most ridiculous manner possible on our YouTube Channel. Here you will be able to find interviews with coaches and players, as well as commentary from the KSR crew. From Rapid Reactions following big events to our lengthy lineup of live shows, subscribe to the KSR YouTube Channel to stay up to date on everything happening around the Big Blue Nation.
Monday: Mark Stoops Press Conference & Rapid Reaction
Monday, 8 PM: KSR Football Podcast
Tuesday evening: Interviews with Liam Coen and the offense
Tuesday, 8 PM: Sources Say
Wednesday evening: Interviews with Brad White and the defense
Wednesday, 8 PM: 11 Personnel
Thursday Afternoon: Pigskin Preview
Thursday evening: Final comments from Stoops after practice
Friday night: Kroger KSR Game of the Week recap, highlights
Saturday: Postgame Press Conferences, Interviews, Rapid Reaction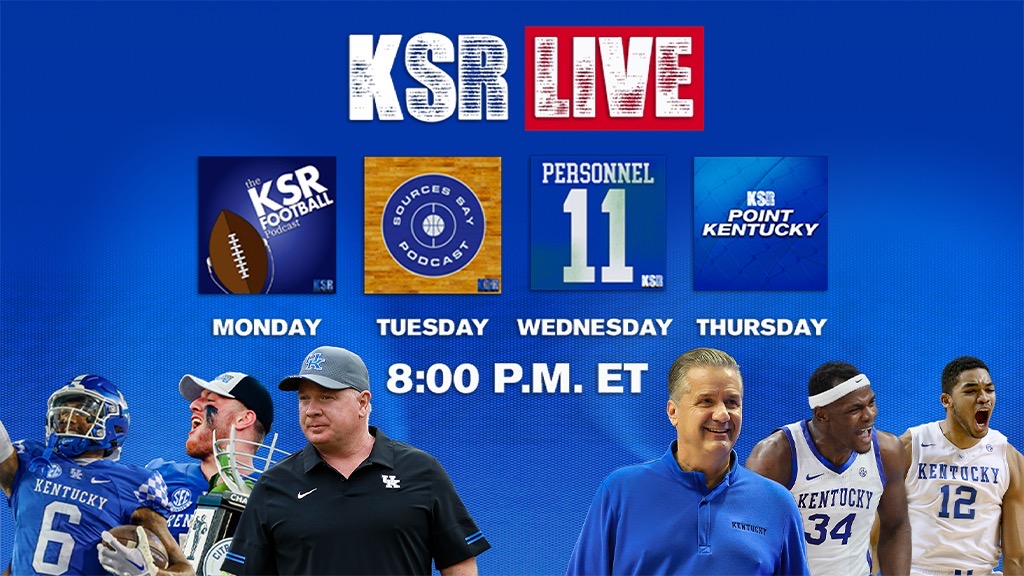 Discuss This Article
Comments have moved.
Join the conversation and talk about this article and all things Kentucky Sports in the new KSR Message Board.
KSBoard