Kentucky is now on prowl for No. 2 seed at SEC Tournament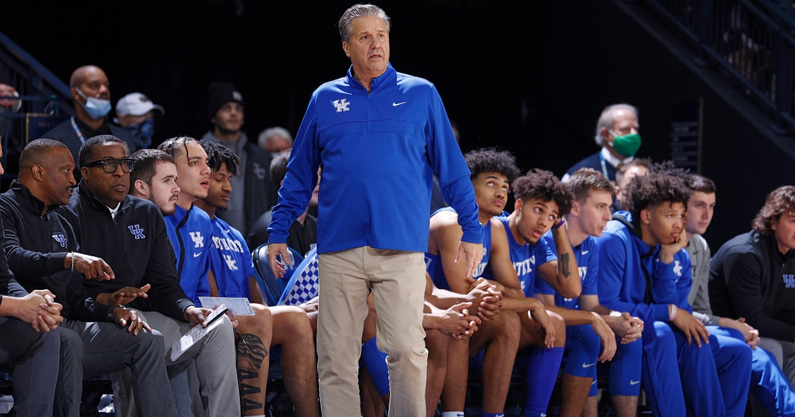 We are in the last week of January, and conference title races are heating up throughout the college basketball landscape. However, the race seems to be over in the SEC following Auburn's 80-71 win over Kentucky on Saturday.
Thanks to a very favorable schedule, Bruce Pearl's team seems like a lock to claim their second SEC regular-season title in the last five years.
Despite most teams just playing 7 of 18 conference games to this point in the season, Auburn is in great shape. The Tigers own head-to-head victories against both Kentucky and LSU with no return trip on the schedule for Baton Rouge or Lexington. Auburn does have to go to Tennessee on Feb. 26, but other than that KenPom has Bruce Pearl's team as a favorite in every remaining game.
The Tigers have a puncher's chance at running the table in the SEC.
Due to Kentucky being two games back in the loss column and not owning a head-to-head victory over Auburn, the Wildcats will have just one SEC crown in the last five seasons. However, there is still a lot of season is left.
Kentucky now finds itself in a chase to lock up that No. 2 seed to open play on Friday night when the SEC Tournament rolls around in March.
Potential competition
Since it's so early in the season, the conference standings in the SEC are about as clear as mud right now. Mississippi State and Texas A&M join Kentucky with two losses with Alabama, Arkansas, and Tennessee all having three setbacks. Meanwhile, LSU has dropped three consecutive conference games and is now 3-4 in SEC play after starting the season with 15 wins in 16 games.
There are still a lot of unknowns, but it is a fair assumption to expect the cream to rise to the top.
Despite the recent losses, LSU still sits at No. 11 overall at KenPom with the No. 1 defense in college basketball. Luckily for Will Wade's club, the Bayou Bengals have a very favorable schedule coming up with seven consecutive SEC games against sub-50 competition. The Tigers could come to Rupp Arena on Feb. 23 with a lofty ranking.
Down on Rocky Top, Rick Barnes' squad collected consecutive wins since the beatdown against Kentucky. Tennessee is at No. 13 at KenPom but the schedule has some challenges. The Vols still have to travel to No. 39 Arkansas with that big Auburn game at Thompson-Boling Arena. UT also hosts Kentucky on Feb. 15. There are some landmines to get through, but this is still a top-four team in the conference.
Elsewhere, Alabama still has a very difficult slate, and Texas A&M could be starting to come back to earth after a very soft schedule to begin the season.
For Kentucky, the Wildcats will be battling two recent SEC champions for that very important second spot at the SEC Tournament to avoid the dreaded after-dark tip on Friday night in Tampa.
NCAA seeding matters more
In recent seasons, it seems like the conference title race and the postseason tournament has lost some luster. NCAA Tournament talk takes up most of the oxygen, and seeding seems to be all that anyone cares about.
While conference championships still matter and should likely hold some more weight, the seeding is the most important in the end for the Big Dance in March.
For Kentucky, John Calipari's program needed a strong conference slate to help build their resume.
After loading up on a bunch of Quadrant 3 and Quadrant 4 games to begin the year, Kentucky is now getting some more chances to play some top-level competition in conference play. Saturday's road trip to Kansas will serve as another big opportunity.
Even without a league title, the Wildcats could push for a No. 2 seed and might even be able to get to that No. 1 level if the team can get hot over the last month or so of the season. There are a ton of Quadrant 1 opportunities remaining.
There is still plenty to play for in 2022.