Kentucky shares practice highlights 100 days away from the season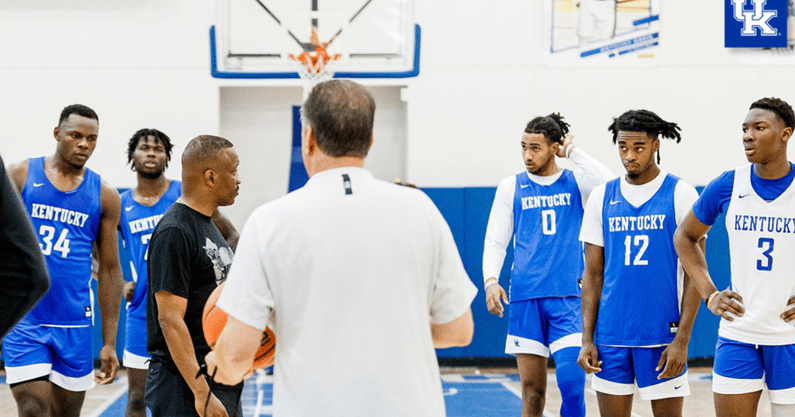 The Bahamas trip is just 10 days away, but the official 2022-23 Kentucky basketball season is set to tip off in 100 days.
To get fans ready for the year, the Kentucky video team put together yet another highlight compilation from practice to post on social media. The clips include dunks, 3-point makes, blocks, lifts in the weight room and John Calipari coaching in the Joe Craft Center. Playing over the video? A speech from Coach Cal stressing the importance of meeting the program's demands for excellence.
"It's really important for the kids that they see this is Kentucky. This is bigger than any one of us. You're playing for a state and a fanbase. You have to train so that you're ready every day, you can't just say, 'I'm going to come in here every day.'
"I think they know my respect for this program. My job is to keep this thing rolling for the fans that are there, the coaches who have coached here and the people who are involved in this program. It's you and it's us coaches. That's the phenomenon we're trying to deal with.
"This is what makes us different. This is why this isn't for everybody."
Goosebumps.
It's the latest in a string of content released by the Kentucky video team this offseason, specifically in the form of practice highlights.
Who's ready for basketball season? You won't have to wait long for your first real glimpse of the Wildcats.
Kentucky will play four games from August 8-14 at the Grand Hyatt Baha Mar resort in Nassau, Bahamas. The Wildcats will match up against the Dominican Republic National Team on Aug. 10, a professional team from Mexico on Aug. 11, the Carleton University Ravens (Ottawa, Ontario) on Aug. 13, and the Bahamas National Team on Aug. 14.
Check out the complete schedule:
Wednesday, August 10: 7:00 p.m. EST vs. Dominican Republic U22 National Team
Thursday, August 11: 7:00 p.m. EST vs. Monterey Tech (Mexico)
Saturday, August 13: 6:00 p.m. EST vs. Carleton University (Canada)
Sunday, August 14: 12:00 p.m. EST vs. Bahamas National Team
Games will be broadcast live on SEC Network.
It's about that time, BBN.