Kentucky comes up short in 77-68 loss to No. 9 Kansas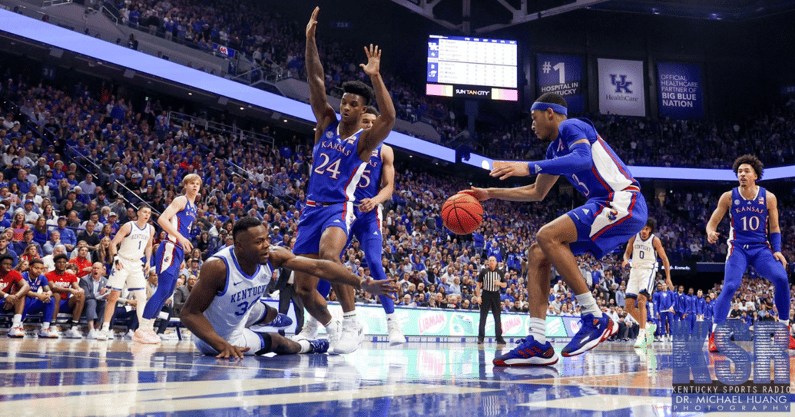 The Rupp Arena crowd was at its best, but the Big Blue Nation couldn't cheer their squad all the way to the win.
On Saturday night, the Kentucky Wildcats (14-7; 5-3 SEC) came up short against the No. 9 Kansas Jayhawks (17-4; 5-3 Big 12), falling by a final score of 77-68. Both sides shot 49 percent overall from the field, but UK couldn't overcome a poor offensive performance in the first half. Only four offensive rebounds and zero second-chance points also plagued the 'Cats.
Four different Kentucky players finished in double-figures, led by 18 points, nine rebounds, and four assists from Oscar Tshiebwe. Cason Wallace and Jacob Toppin chipped in 14 points each while Antonio Reeves contributed 10 of his own. Kansas was powered by an incredible night from All-American candidate Jalen Wilson, who finished with 22 points and eight rebounds.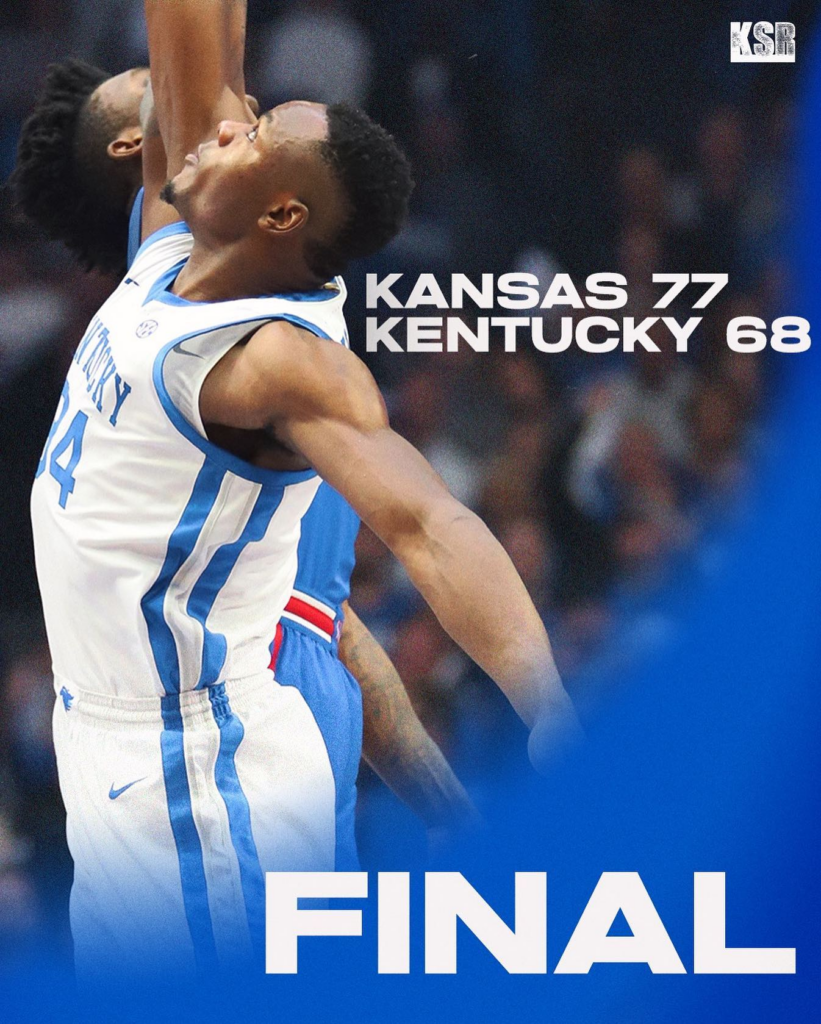 Behind the roar of 20,000-plus, Kentucky got off to a fuel-injected start, breaking out to an early 9-4 lead just four minutes into the contest. The 'Cats were running up the court at will, powered by a pair of fastbreak buckets from Chris Livingston.
But Kansas regrouped and quickly settled in. Both sides began to score at a high rate with the pace gradually picking up. Midway through the opening half, the Jayhawks held a slight 21-20 advantage and slowly ballooned it from there as the 'Cats began to stall on offense. Two fouls on both Toppin and Tshiebwe didn't help Kentucky's cause either, as Kansas took a 41-34 lead into the locker room.
Despite shooting over 55 percent overall from the field in the first half, UK was 0-6 from behind the arc and just 4-11 from the free-throw line with zero offensive rebounds. Defensive breakdowns in the pick-and-roll especially hurt Kentucky as Kansas converted went 11-12 on dunks and layups. Toppin and Livingston led the way for the 'Cats with eight points apiece 20 minutes into the night.
Out of the break, Kentucky kept the score close, but couldn't quite get over the hump. Kansas maintained a small lead throughout the beginning of the second half. UK managed to make it a one-point game at the 11:55 mark thanks to a Wallace triple, but the Jayhawks had an answer once again, immediately pushing its lead back to six.
As time continued to run off, Kansas continued to knock down big shot after big shot. Back-to-back triples from the Jayhawks made it 70-64 in favor of KU at the under-four-minute media timeout. Tshiebwe hit a pair of free throws out of the short break, but more timely buckets from Kansas — particularly Wilson — made it 75-68 with under two minutes to go.
There would be no comeback as Kentucky fell 77-68 in a high-energy battle, snapping the team's four-game winning streak and ending Kansas' three-game losing skid.