Kentucky signees stress patience with current Wildcats: "Every team has to go through adversity"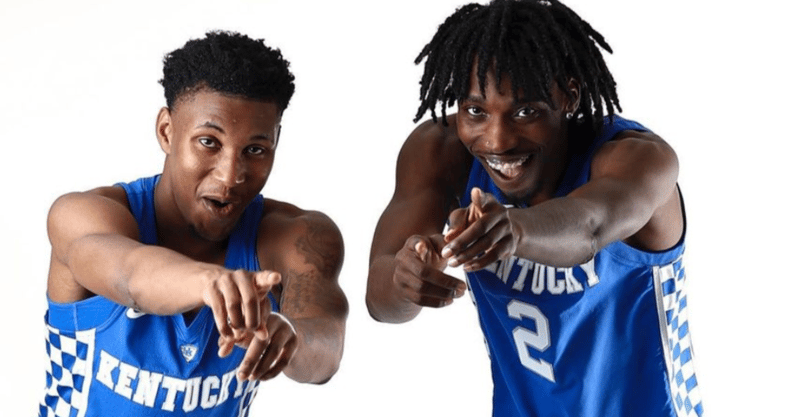 Kentucky hit rock bottom last week, suffering a deflating 71-68 home loss to South Carolina, widely considered the worst team in the SEC. The Gamecocks had previously lost by 22 points to Colorado State, nine points to Davidson, 19 points to Furman, 24 points at George Washington, 14 points at UAB, eight points to East Carolina, five points at Vanderbilt and 43 points to Tennessee.
No matter the Wildcats' offensive struggles and toughness concerns, even the regressing defense, all of it was irrelevant. The talent difference between the two programs simply wasn't close. It's why Kentucky was favored by 20 entering the matchup. Yet somehow, some way, a loss.
The reactions were about what you'd expect. A team with national title hopes entering the year now sitting at 10-6 overall with no quality wins and a resume that reflected one missing the NCAA Tournament. Follow that up with a trip to Knoxville to take on No. 5 Tennessee, a team with the best defense in college basketball and playing as well as anybody? Yikes.
How do the Wildcats respond? By putting together their best performance of the season — shorthanded, at that — earning the 63-56 upset win. Considering where things were going into the trip and how they were leaving, it's fair to say it was a season-altering victory. A blowout loss kills what little hope there was left for a potential turnaround. Pull off the rivalry win on the road? You can at least start dreaming again, especially with a stretch of winnable SEC games coming up and the opportunity for a statement win vs. No. 2 Kansas at home on Jan. 28.
The wheels were wobbly, but thanks to the win at Tennessee, they didn't fall off completely. And the future Wildcats noticed.
"It was a great win," Kentucky signee Reed Sheppard told KSR this weekend at the Hoophall Classic in Springfield, Mass. "The program needed that win, Coach Cal needed that win. They pulled it off and it was unbelievable."
Sheppard actually watched the first half in the airport waiting for his North Laurel team to board the plane to head to the prestigious event. When his flight took off, he couldn't see how the game finished. As soon as he landed, though, his first move was to check the score. And he was impressed with the result.
"When I saw it, I was like, 'Here we go, they're back,'" Sheppard added. "They just need to keep it rolling."
For five-star wing Justin Edwards, he needed the win for personal reasons. As a recruit, he strongly considered Tennessee and will be the first to admit he nearly committed there before John Calipari swooped in and stole him late. He needed bragging rights in the rivalry battle.
"It was good because I was going to go to Tennessee," Edwards said. "So yeah [laughs], that was a big win."
Top-10 recruits DJ Wagner and Aaron Bradshaw enjoyed the win before their Camden Panthers took the floor later Saturday evening. Their messages focused on the team's long-term goals, not losing faith in the Wildcats after a slow start to the season.
At the end of the day, they trust their future coach to get the job done by year's end.
"I was definitely watching the game, it felt good to see them win. I was happy. I've got faith in them," Wagner told KSR. "I feel like everybody's got to go through adversity, every team has to go through adversity. They just hit a bump in the road, and now they're back on track. I wasn't really worried."
"They just had a game vs. Tennessee that I watched, it was a good win," Bradshaw added. "… We're good, seriously. At the end of the day, it's not where you start, it's how you finish."
The restlessness is understandable, especially with how things ended last season and the pressure for a run in March at an all-time high. Fans want to win, and they want to win now.
Sheppard sees that passion as a positive, what separates Kentucky from the rest of college basketball. The four-star signee wants to play for a fanbase that puts winning above all else. And he's confident this team has what it takes to get there.
"They're the best fans in the world no matter what," Sheppard said. "They want to win, just like anybody. Everybody wants to win. When you're not winning as much — Kentucky fans, they're used to winning and they're not winning as much right now. So of course they're getting upset. But they'll be fine. Kentucky is going to keep getting better and the fans are happy now that they've won. It'll all be OK."
Edwards agrees. The early struggles are what they are, but it's a long season and the Wildcats have the pieces necessary to put it all together when it matters most.
"We're going to be fine. That's it," Edwards told KSR. "We are going to be good."