Kentucky Softball Closes Weekend With Win Over Texas A&M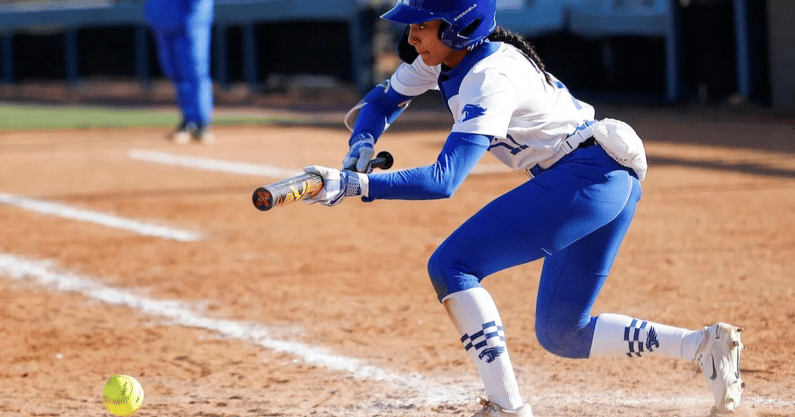 After a rough start to the weekend, No. 11 Kentucky softball rallied back with a big 10-2 win over No. 24 Texas A&M on Sunday afternoon at John Cropp Stadium in Lexington, KY.
After Friday's series opener was postponed due to weather, Saturday became a doubleheader between the two SEC schools. Kentucky lost game one in demoralizing fashion, 14-13, before coming out flat in game two where the Wildcats were run-ruled 10-0 in just five innings.
But UK was able to stave off a sweep from Texas A&M in game three. Junior pitcher Stephanie Schoonover started on the mound Sunday for the 'Cats, coming out strong in the top of the first as she held the Aggies to no runs.
Going into the bottom of the first, graduate student Kayla Kowalik was up at the plate. Not only did the defense start strong for the 'Cats, but the offense did too. Kowalik immediately hit a single to get on base. From there, it was officially on for Kentucky.
Up next was junior Vanessa Nesby, who also reached base to give UK two runners on with no outs. Junior star Erin Coffel came up right after to advance both runners after she hit a single herself.
With the bases loaded, senior Rylea Smith reached on a fielder's choice, which allowed Kowalik and Nesby to get home. Still with no outs in the bottom of the first, the 'Cats were already up 2-0.
Lorsung continues to thrive on offense
Junior Grace Lorsung, who has been a surefire hitter for UK so far this season, singled to make it to first.
Next up with the bases loaded once again, junior Meeko Harrison singled, which brought Coffel and Smith home to make the Kentucky lead 4-0 still in the first inning. It didn't end there, either.
Thanks to a RBI single from freshman Karissa Hamilton, the 'Cats increased the lead to 5-0. With Harrison and Hamilton still on base, sophomore Taylor Ebbs homered to center field to give Kentucky a commanding 8-0 lead before Texas A&M could even get to the second inning.
Eventually, the Aggies finally got its last out of the first and headed back on offense.
Unfortunately for Texas A&M, Schoonover and Kentucky's defense continued to dominate in the second and third innings, holding the Aggies to zero runs scored. But the Texas A&M defense also did its job in the second and third as UK had no luck with their bats.
Going into the fourth, Schoonover thrived from the mound, continuing Kentucky's shutout as the 'Cats led 8-0.
No comeback for the Aggies
In the bottom of the fourth, Kentucky's bats were revived by Nesby as she reached first on a single. Smith also reached base which advanced Nesby.
Lorsung continued to be a surefire offensive weapon for UK as she hit a triple down right field which allowed Nesby and Smith to score, making it a 10-0 game.
Shortly after in the top of the fifth, UK's defense started with two great outs but the Aggies were staring down a mercy rule and did not want to go down so quickly without a fight. With two outs, Schoonover gave up a two-run homer which put the Aggies on the board to make it a 10-2 game in favor of the home team.
On a 3-2 count Schoonover, gave up a single which put one on first for Texas A&M. However, after giving up the single, Schoonover got the last out at first, giving the 'Cats a much-needed, 10-2 run-rule victory over Texas A&M to finish out the weekend series 1-2.
Looking ahead, Kentucky will take on the in-state rival Louisville Cardinals on Wednesday at 6:30 p.m. at John Cropp Stadium.