No. 15 Kentucky softball falls in opening game of 2022 SEC Tournament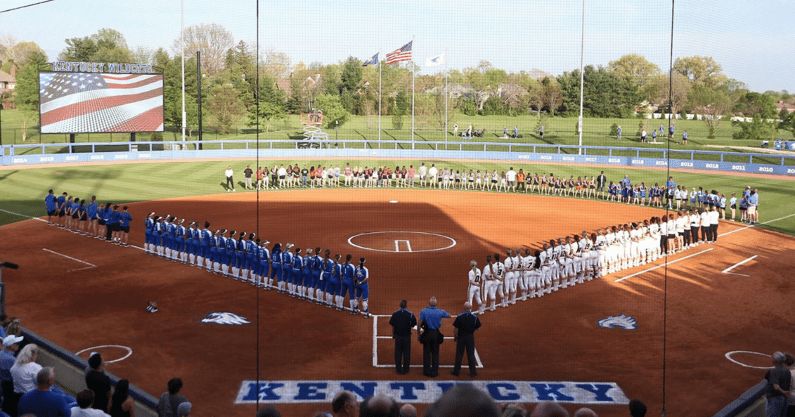 The No. 15 Kentucky softball team had their SEC Tournament run cut short tonight by the host Florida Gators. The 'Cats, seeded No. 4 in the tourney, fell 9-3 to the No. 5 Gators.
EARLY PITCHING STRUGGLES KILL KENTUCKY'S CHANCES
Florida's offense wasted no time starting this one. The Gators loaded the bases thanks to a single and a pair of walks, setting up a dangerous spot for starting Wildcat pitcher Tatum Spangler. Spangler couldn't find her way out of the jam and ended up walking another Gator batter, driving Florida's Kendra Falbey home.
Miranda Stoddard took the mound shortly after. The Gators managed to hit a 2 RBI single off Stoddard before she could close the inning, giving them a 3-0 lead.
Luckily, the Wildcat offense had some early spark as well. Lauren Johnson homered to right field in her first at-bat, making a nice dent in the Florida lead. The Wildcats couldn't put anything else together, though, and went to the second inning down 3-2.
Florida wasn't letting up, though. Senior Charla Echols hit a 2 RBI double with one out, making it 5-2. After that, the Wildcats tried yet another pitcher. This time, they went with sophomore Stephanie Schoonover. The Gators hit a single to left field to make it 6-2 before Schoonover could end the inning.
UK's Emmy Blane hit a two-out solo homer to left field in the bottom of the second to cut it to 6-3, but that's all the 'Cats could manage. Schoonover dug in in the top of the third, handing the Gators their first scoreless outing. Kayla Kowalik ended the inning with an impressive out at second base.
The score would remain 6-3 the next two innings. After struggling out of the gate, Schoonover eventually found her groove – for a while, at least. She racked up five strikeouts in her 4.1 innings pitched but fell into a rut in the top of the sixth. Florida's Hannah Adams hit a double to left-center to score Falby. Minutes later, Adams crossed home herself after a Kentucky defensive error.
Head coach Rachel Lawson then turned to yet another Kentucky pitcher to try her cards. Alexia Lacatena entered the circle next but also struggled against the hot Gator batters. Skylar Wallace hit a homer off Lacatena on her second pitch of the game, extending the UF lead to 9-3.
Kentucky turned to Sloan Gayan to take the mound next – the fifth Kentucky pitcher to take a shot. Gayan allowed a single up the middle from the first batter she faced, but doubled down and ended the inning with no more damage. The game ended 9-3.
The NCAA Softball Selection Show is Sunday night at 7 p.m. You can watch on ESPN2.