Kentucky Special Teams: The Good, The Bad and The Uncontrollable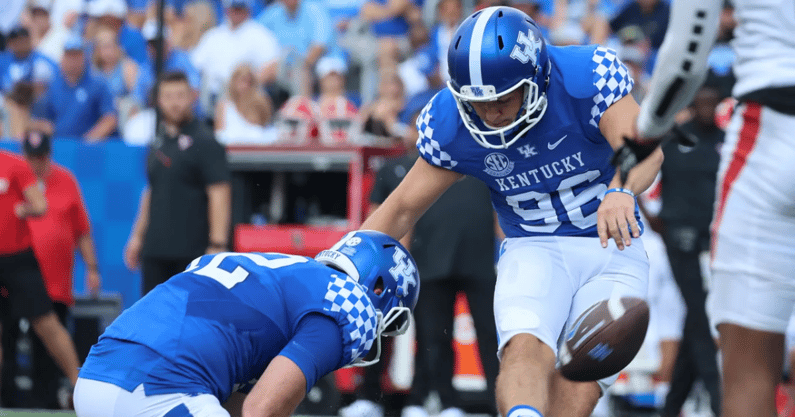 "Kentucky's special teams stink." That's not exactly fair. In fact, Mark Stoops is quite happy with how most of his special teams units (what he calls the 'core four') have performed through five weeks.
"It's a difficult question for me to answer because if I say pleased with my special teams, y'all would laugh at me and put headlines in the news," said Kentucky's head coach.
However, critical errors in other phases have been crippling and unfortunately, there's not a whole lot any of the coaches can do to fix it.
Kentucky's "Core Four" Special Teams Star
Mark Stoops may not have been the first to coin the term "core four," but Kentucky defines it as such: kickoff, kickoff return, punt and punt return. Each of those departments has been excellent through five games.
Colin Goodfellow averaged 51.5 yards per punt against Ole Miss. Chance Poore has 21 touchbacks on 31 kickoffs. Tayvion Robinson has one punt return for 50 yards. Barion Brown has taken one kickoff to the house, and almost took two more to the end zone against Ole Miss, tallying 164 return yards last Saturday.
"The core four… pretty darn solid. Pretty impressive," Stoops said Monday. "We have two blocked punts. Kickoff return has a chance to go to the house every time, I mean it's pretty hard to do, and kickoff coverage has been damn good. I think we had one, maybe in the YSU game that spit out a bit. There's phases of it that are as good as we've ever had.
"Then there's the snapper, the kickers and holders."
A 'Banged Up' Longsnapper
Kentucky missed a 39-yard field goal attempt on the Wildcats' second drive of the game. A PAT was blocked and another was mishandled, resulting in zero points.
"We need to do what we do. Our guys have done that thousands of times correctly, snapped, held and kicked very good. That Saturday is not good, kind of embarrassing and so we got to get those things cleaned up and do the routine," said Stoops.
Kentucky's head coach revealed longsnapper Cade Degraw has not been 100% healthy. Backup longsnapper Clay Perry has played for the UK special teams in the last three games, but Stoops does not believe he's at fault for the second missed PAT.
"I thought that was more on the hold on the on the extra point. It was a fraction low. We do that all the time. You gotta make that, you just gotta get it set it like we always do."
Subscribe to the KSR YouTube Channel for complete coverage of the Cats, including press conferences, post-practice reports, exclusive interviews, and original shows.
Can't Coach up the Kicker
When a position player makes a mistake, coaches will let them hear about it. They cannot take the same approach to special teams players, particularly placekickers. Matt Ruffolo is one of the most accurate kickers in school history. When he misses, like he did Saturday, Mark Stoops can't give him an earful.
"He hit the kick good. You know, hit it good, it came a little left. It was very gusty — I think you guys all felt that out there — it was very gusty and I thought he hit a good kick," said Stoops.
"I don't want to overreact to that. What am I going to tell him? 'Kick the damn ball through the upright.' We're only allowed so many coaches, you know what I mean? It's not like a golf person can have an expert. I'm not allowed to have somebody here to teach him the mechanics of that."
Kentucky ended the game trailing by three when the Wildcats turned it over in the red zone. If push came to shove in the final minute, Mark Stoops was ready to roll out Ruffolo to send the equalizer through the uprights. He still has confidence in his placekicker.
"You don't want one thing to get in your mind and creep in with these guys. They've done it, they've done it well and you gotta put it behind you and move on."