Spring Rundown: Young Kentucky players must grow old at wide receiver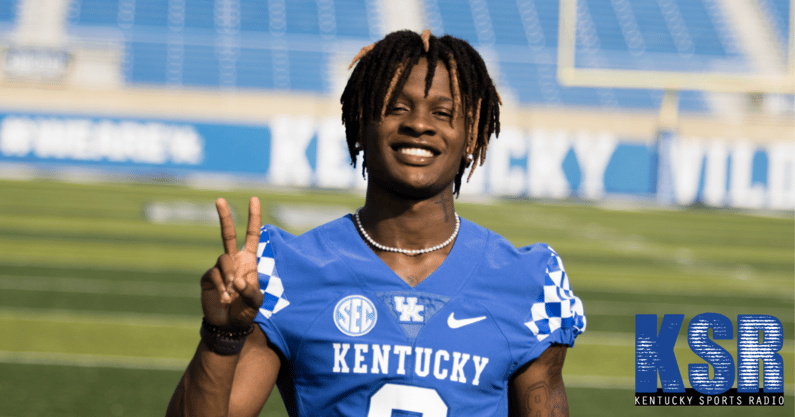 All things are pretty much established at quarterback and running back for Kentucky football, but the same cannot be said at wide receiver.
Scott Woodward enters his second season as the position coach in Lexington and he'll join forces with new offensive coordinator Rich Scangarello as the Wildcats look to create the best plan possible on offense. A part of that is finding the correct wide receiver rotation. Kentucky has a plethora of options, but there is a fair amount of unproven talent on the roster.
KSR is now going to dive into the wide receiver position that is set to have 13 scholarship players on the roster in the fall, but not one that is a lock to be a starter at the moment.
State of the room
Last season, Nebraska transfer Wan'Dale Robinson played over 700 snaps for the Wildcats and was the clear No. 1 target for quarterback Will Levis. However, Robinson is headed to the next level, and only one returning wideout played more than 200 snaps last season.
DeMarcus Harris heads into his redshirt junior season with 26 career receptions and the ability to play both the X and Z spots. To replace Wan'Dale Robinson, Kentucky brought in Virginia Tech transfer Tayvion Robinson and the senior is expected to be the offense's top guy out of the slot after recording over 100 receptions in three seasons in the ACC.
Both Harris and Robinson are proven to some point with legitimate playing experience as veterans. The rest of the room cannot say that.
As newcomers, Chris Lewis and Chauncey Magwood played sparingly in 2021. Super senior Clevan Thomas Jr. returns from injury, but the South Florida product has not played a ton. Tae Tae Crumes and Earnest Sanders are still unknowns.
That gets us to the youth.
In the spring, a pair of former high school teammates will team up and their early development could be critical to the position. Dekel Crowdus was forced to miss last season with a knee injury, but the redshirt freshman has big-time speed and a chance to be a vertical weapon in schemed-up shot plays. Dane Key enrolled early after signing with Kentucky and the Lexington (Ky.) Frederick Douglass product can give the offense an answer at X receiver.
More help is coming in the summer when Alabama transfer Javon Baker and top-100 recruit Barion Brown join the fold along with Jordan Anthony and Brandon White. However, Kentucky must develop young talents Crowdus, Key, Lewis, and Magwood because the Wildcats will likely need a couple of them to play significant snaps in a complementary role this fall.
Most to prove
Chris Lewis (redshirt freshman) and Chauncey Magwood (sophomore) are entering year two in the program, but this is a pretty substantial spring for both. Why is that the case? Kentucky has recruited very well behind them.
Magwood is expected to be a slot receiver full-time, and the Wildcats just added Tayvion Robinson from the transfer portal. If able to seize a rotation spot in the spring, that could turn out to be his full-time spot as a junior in 2023. However, Jordan Anthony, Barion Brown, and Dekel Crowdus are all other wideouts who could also play that position. Magwood has a window of opportunity now.
For a very long time, Kentucky had difficulties finding true X receivers on the recruiting trail. There were many recruiting misses, but that is a thing of the past now that Kentucky has a new offense to sell.
Chris Lewis was the first big add, but he was quickly followed by both Javon Baker and Dane Key. When Baker arrives in the summer, it's very likely a starting spot will be his. Meanwhile, Lewis will have an intense battle with newcomer Key as both look to carve out a spot in the rotation heading into the season.
The recent recruiting success is creating some legitimate competition in the wide receiver room and that will end up having a very positive effect when the team takes the field for games in the fall.
Wild card
Dekel Crowdus is a name that most Kentucky football fans have been familiar with for a while now, but the redshirt freshman can easily get lost in the shuffle. He shouldn't because Crowdus has a unique skill set that the offense is desperately looking for.
Since Jeff Badet left the program for Oklahoma following the 2016 season, the Wildcats have not had a true vertical threat that could create separation and make plays down the field. Wan'Dale Robinson did many great things, but he did not have long speed to get open deep.
Crowdus has that and could develop into a deep threat for Will Levis in 2022. After impressing in fall camp last season, don't be surprised if the healthy second-year receiver makes a jump and becomes a big part of the offense in 2022.
Spring prediction: Tayvion Robinson emerges as expected WR1
One of the most attractive parts of the Sean McVay/Kyle Shanahan offense is the ability to highlight a slot receiver as a true No. 1 threat. Cooper Kupp (Los Angeles Rams) and Deebo Samuel (San Francisco 49ers) were just that for their teams last fall. Liam Coen was able to force-feed and highlight Wan'Dale Robinson last year. Now Rich Scangarello inherits a proven slot weapon.
Despite an iffy quarterback situation, Tayvion Robinson posted good numbers at Virginia Tech and flashed the ability to make some explosive plays. The transfer will live up to that reputation during spring practice and will exit April as the No. 1 target for Will Levis. Scangarello has building pieces at quarterback and running back, but the new play-caller also has a guy at slot receiver.