Kentucky sends statement in 28-point thrashing of Tennessee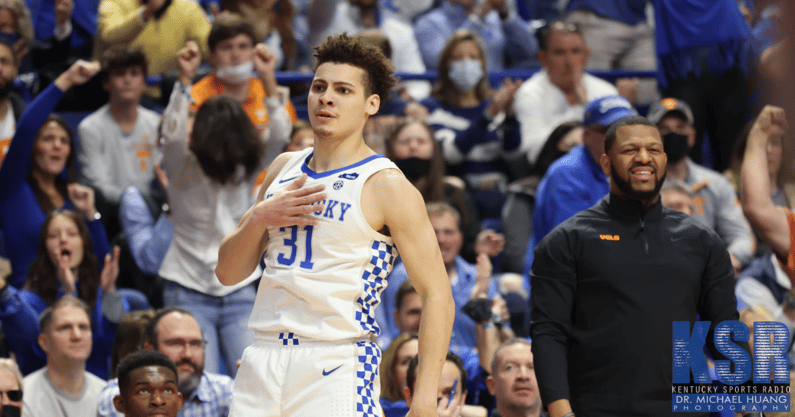 Somewhere up there, Joe B. Hall is smiling.
Kentucky didn't just beat Tennessee this afternoon; they demolished them. The Cats' 107-79 win over the No. 22 Vols came at a critical moment. Not only did it give Kentucky's SEC standing and NCAA Tournament resume a needed boost, it sent a statement to the rest of college basketball that the Cats can be a contendor in March. Also, you can't lose on the day Joe B. Hall died — especially to the Vols. God wouldn't allow it.
It really did feel as though the stars aligned for a very special day at Rupp Arena. It's been a while since we've felt this way, so let's revel in it.
An elite offenisve performance
Kentucky's 107 points are the most scored by the Cats since the 2017-18 team put up 107 vs. Illinois-Chicago on Nov. 26, 2017. Kentucky's 67.9% shooting today is not only the best of the Calipari Era, it's the best for the Cats since the December 2000 win over Indiana. It's the most for Kentucky against an AP Top-25 ranked team since scoring 107 points vs. Vanderbilt on Jan. 4, 1994. Kentucky scored on 46 of 69 possessions for 1.55 points per possession, a season high. These are just silly numbers.
It's also one of the most impressive offensive performances this season. According to Jared Berson, Kentucky is just the second team to shoot better than 65% from the field and 60% from three against a Division I opponent this season. UMBC did it earlier this year against American University, but Kentucky did it against a defense ranked No. 2 in KenPom. As a result, the Cats have catapulted to No. 4 in KenPom's offensive efficiency ratings. When you add in Kentucky's 95% rate from the free-throw line, they are the first SEC team to post a 60%-60%-90% game in a conference in the past 25 years, per ESPN Stats & Info.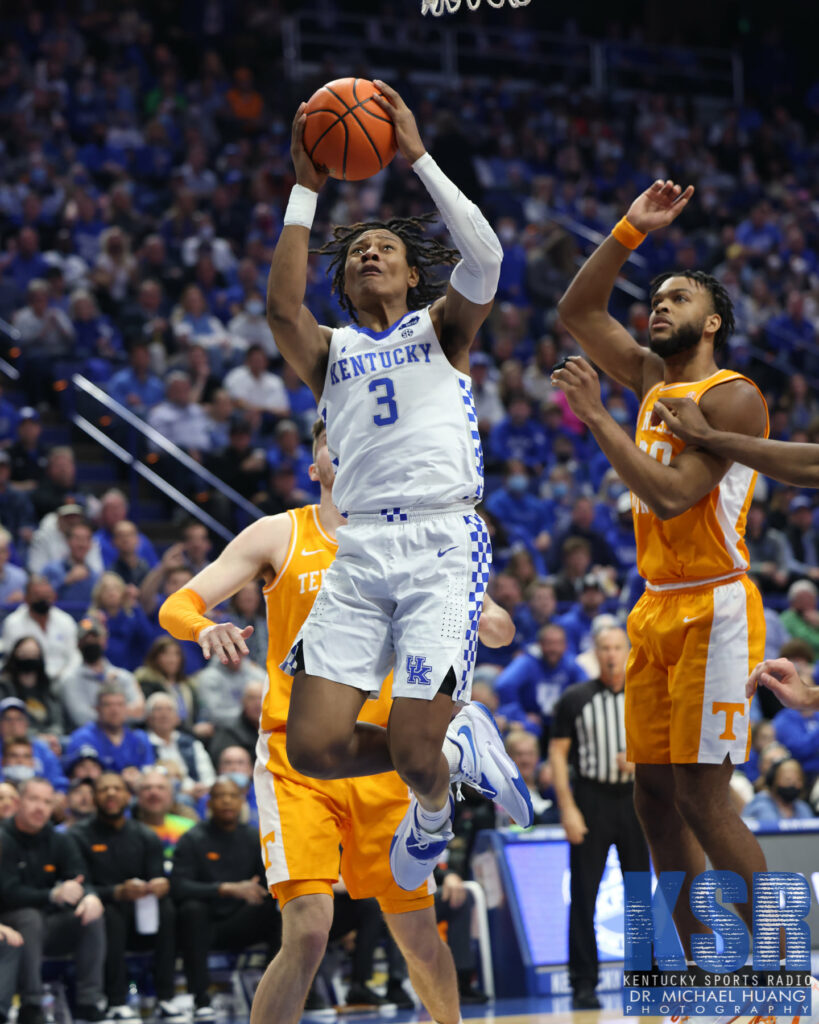 TyTy Washington brought it in a big game
Of course, a big part of Kentucky's offensive explosion came from the quiet, sure hands of its freshman superstar. TyTy Washington had a career-high 28 points to go along with five assists and three steals. He shot 10-13 from the floor, 2-4 from three, and a perfect 6-6 from the free-throw line. TyTy's been impressive all season, but if you were to nitpick, he hasn't brought it against good competition. Washington only had nine points in the loss vs. No. 9 Duke, six points in the loss at Notre Dame, and five points in the loss at No. 21 LSU. Tonight, he sliced and diced the No. 22 Vols, looking every inch a lottery pick.
Fun fact: TyTy has made his first shot of the game in 11 consecutive contests. He is averaging 16.2 points, 4.5 rebounds and 4.9 assists while shooting 56% in Kentucky's 14 wins. As TyTy goes, the Cats go.
Sahvir Wheeler is back and so is the speed
Kentucky did just fine in Sahvir Wheeler's absence; in fact, you could argue it did the Cats a lot of good. With TyTy at point, Davion Mintz got more minutes and blossomed into the ideal sixth man. I'll write more about that in a minute, but with Wheeler back, Kentucky clicked into a new gear. He finished with 21 points (8-10 FG) and eight assists today. Wheeler's speed and peskiness on defense gives the Cats another dimension. TyTy broke the Kentucky assist record with 17 vs. Georgia, but the Cats are their best version of themselves with Wheeler running the show.
Kellan Grady's transition threes are game-changers
Ever since John Calipari told Kellan Grady that to stay in the game, he had to shoot the ball, the grad guard has been on a roll. Grady had 16 points, including four threes, vs. Tennessee. His back-to-back threes at the beginning of the game helped the Cats jump out to a 12-5 lead. Grady has scored eight or more points in 10 straight games and is averaging 14.9 over the last eight games. Rupp is never more silent than when he pulls the ball up and releases. That collective intake of breath is only matched by the chorus of cheers as it drops through the net. If he wasn't there already, Grady has entered the realm of Doron Lamb, Devin Booker, Jamal Murray, and Malik Monk when it comes to knowing it will go in when he shoots.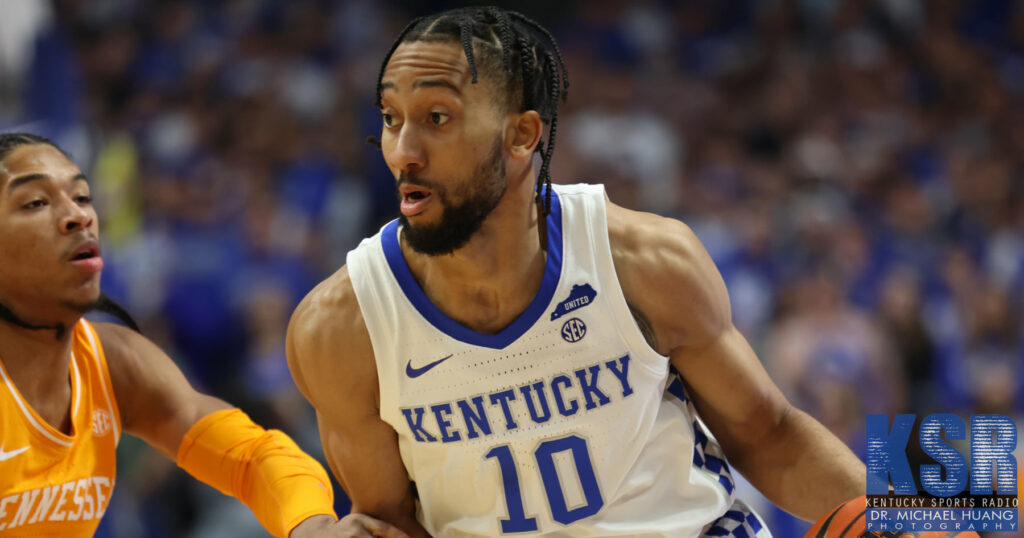 Davion Mintz: the perfect sixth man
Davion Mintz is a rolling bowling ball of momentum. Today, he had 10 points and 2 assists in 20 minutes of action. He was 2-3 from three-point range, bringing his total from the last four games to 13 of 23 (56.5 percent). In the last five games, he's averaging 12.8 points. If you're looking for an ideal sixth man, he's it right now.
"I thought Davion was great today," John Calipari said after. "Great. Great."
Another fun stat: Kentucky's four guards — Sahvir Wheeler, TyTy Washington, Kellan Grady, and Davion Mintz — accounted for 75 of the Cats' 107 points. Combined, they were 27-36 from the floor, 9-16 from three, and a perfect 12-12 from the free-throw line. I like my guards.
All this happened on a "quiet" night from Oscar
The most impressive thing about today's win may be that it happened on a relatively "quiet" night from Oscar Tshiebwe. Oscar had nine points and 12 rebounds, just shy of what would have been his 13th double double. Only three of his rebounds were on the offensive glass, proof of an incredibly efficient shooting performance. With the guards firing on all cylinders, Oscar didn't have to take over.
"We really can't rely on Oscar [Tshiebwe] all the time to try to carry us in big games," TyTy Washington noted. "A lot of other guys really have to step up as a whole, and we all pinpoint that and feel like that's what we did today, and we executed."
It stopped the Tennessee streak in its tracks
Today's win was also important in the history of the Kentucky-Tennessee series. It stopped the Vols from getting their third straight in Rupp, a streak that hasn't existed in 100 years. Kentucky's 107 points are the most scored ever vs. the Vols in the series and the 28-point margin of victory is the biggest since the Cats' 29-point victory (74-45) in the 2010 SEC Tournament. That REALLY has to make Joe B. Hall happy. I'd be lying if I said John Fulkerson's zero-point, zero-rebound performance didn't make me happy too.
It feels like Kentucky Basketball is really back
The pandemic was hard on everyone, but it was a particulary tough time for Kentucky Basketball. The 2020-21 season was one of the worst in program history and the program mourned the loss of two of its own, Ben Jordan and Terrence Clark. The 2019-20 team was poised to do great things in the NCAA Tournament, but those dreams were cut short by COVID. There were flashes of fun in previous years, particulary the 2016-17 De'Aaron Fox/Malik Monk/Bam Adebyo team's run to the Elite Eight. However, I think many fans would agree that Kentucky Basketball hasn't really felt like Kentucky Basketball since the 2015 Final Four run.
Let's be clear: I'm not comparing this team to that one. That would be both untrue and unfair. But, Kentucky's rout of Tennessee on a day when the team, the fans, and the program really needed it got the old feelings stirring. It's hard not to root for this cast of characters and seeing Rupp Arena rock again is just good for the soul. We'll see what happens with this team, but knowing they're capable of days like today makes you long for March.