Kentucky staying consistent with 5-star wing KJ Evans following offer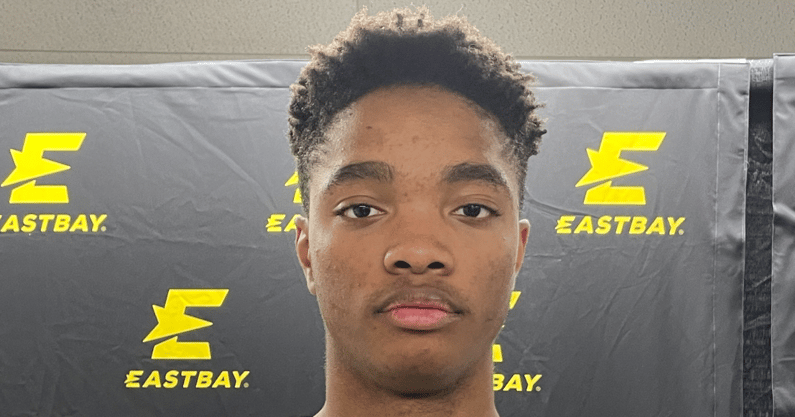 Kwame "KJ" Evans Jr. was one of several big-name recruits who came to Lexington during the fall and left with a scholarship offer from Kentucky. That offer came back on Nov. 6, and Evans has continued to hear from the Wildcat coaching staff ever since.
Evans is a five-star recruit from the class of 2023, ranked as the No. 2 overall player in the On3 Consensus. Clocking in at 6-foot-8, 190 pounds, the junior at Montverde Academy (FL) is a bundle of unlimited basketball potential. Evans is participating in the HoopHall Classic up in Springfield, MA, which is taking place this weekend and features the biggest names in the country. His debut in the showcase was on Saturday, where he posted three points, five rebounds, one assists, one block, and one steal in just nine minutes of action.
KSR was able to speak with Evans following his performance to discuss his play style and recruitment. His main contact at UK is assistant coach Orlando Antigua.
"He's a great coach," Evans told KSR of Antigua. "He's been talking to me recently a lot. Before I went there and after so he's been consistent."
The five-star wing also talked about his official visit to Kentucky back in November.
"Lexington was nice because the people that were there, they knew before that I was coming in there. That was cool, they actually kinda knew me," Evans said. "I went in the facilities. The facilities are nice. I like how they treat their players and they hold their players to a high standard, work for everything they got up there. When I went in there they had film because they played the day I came down there and the film was spotting what the players needed to do."
Evans is widely viewed as one of the premier prospects in all of high school basketball without having shown all that much for Montverde. But there's a good reason; he's stuck behind a starting five that consists of five future Power 5 players. Evans is biding his time learning underneath several five-stars and an incredibly well-respected head coach in Kevin Boyle, who has been at Montverde since 2011.
Boyle, who knows Evans' game better than anyone, says a breakout is imminent.
"I think KJ is gonna be a high-level pro at some point," Boyle told KSR. "He's almost 6-10 now, he handles the ball… He shows he can shoot the ball, he's lanky and long on defense, so he's a guy that's almost like a Tayshaun Prince… Long, lanky, and I think he's gonna get better and better, and I think he'll be a good player if he went to Kentucky or wherever.
"He'll blow up next year where he averages 17 (points) a game and his confidence will grow. He's such a good kid and humble. He's not maybe as aggressive as he could be right now, takes a back seat, but all the sudden it's gonna click, and it's gonna be dangerous."
College head coaches tend to agree, as well. It's why Evans already holds a Kentucky offer and several other high-profile offers. He's also hearing a lot from Auburn recently, along with the likes of Texas (where his Montverde teammate Dillon Mitchell is a signee) and Oregon. Professional options are beginning to reach out as well.
What Evans brings to the floor is a unique level of versatility. As his head coach said, Evans is lanky and long. His physique is a skill in its own. He is fully capable of bringing the ball up the floor, knows how to find his shot, and inflicts a presence on defense. His length allows him to do things that other recruits simply don't have the attributes to pull off.
"My strength is shooting and making defensive plays. Making plays," Evans said. "I pride myself on making plays, impacting plays, that's what I'm good at. Shooting the ball, I can dribble the ball a bit, that's what I'm okay at but I'm getting better at it."
Kentucky is clearly near the top, if not at the peak, of Evans' shortlist at this moment. He was impressed with his campus visit and the academics that UK can offer. Despite obvious intentions of making a quick leap to the NBA, he was adamant that education will play a role in his decision. Evans wants to make sure he can set himself up for life after basketball.
The basketball factor is also a pretty convincing argument.
"Blue Blood, the pedigree, the players that they get there," Evans said of what draws him to UK. "The type of player like me who are built like me and want to get better and stronger go there and then go to the league."
Another one of Evans' teammates, Skyy Clark, is a class of 2022 commit for the Wildcats who is playing his first year at Montverde. That connection there has helped bridge some relationships between Evans and UK. Clark has been in Evans' ear about what Kentucky can offer.
We'll see if ends up working in Kentucky's favor.