Kentucky stuck in Oxford overnight, Calipari focused right where he is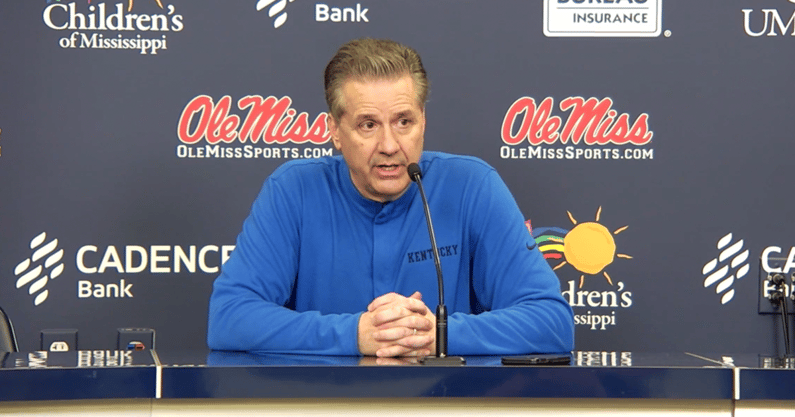 With an ice storm in Oxford and a winter weather advisory in Lexington, the Kentucky Basketball team plane is grounded and the Wildcats will spend another night at Ole Miss after defeating the Rebels in ESPN's late game Tuesday night.
In a near-midnight press conference from The Pavilion, Calipari said, "We gotta stay. Is there a place I can get a pizza tonight?"
(His options are very limited, per KSR's Google search for pizza in the area.)
On Wednesday, the team will drive two hours to catch a flight home to Lexington. Jack Givens estimated a 3 PM arrival time at LEX, much later than the team typically returns from away games. The weather is to blame for the overnight delay, but John Calipari's morning routine will add a few extra hours to the stay.
"We're going to have a meal. I told them we can't leave until 10:30," Calipari explained. "Why is that? Because I have to go to an 8:30 mass and then I'm going to get a workout in, and then we'll leave when I'm done.
"When you're the boss, you can do that kind of stuff," he added.
"This is like I'm back at UMass in my early years… you get on a bus and you go two hours to get on a plane to go home."
Kentucky is at home on Saturday, so the flight delay should not have a drastic impact on the players (if they're allowed phone time at the hotel).
Speaking of airplanes…
Also from Calipari's postgame press conference at Ole Miss, John Huang asked about "landing the airplane" with this team, borrowing an old Cal-ism about some of his past teams' progress.
Calipari interjected, "It's way early. What we're trying to do is, alright, one game, who's next, let's win the next game. That's all I'm worried about… I'm staying focused right where I am."
You can watch Calipari's entire press conference right here. Or watch Oscar Tshiebwe fly like a plane below: