Kentucky's chemistry, versatility already on display in summer workouts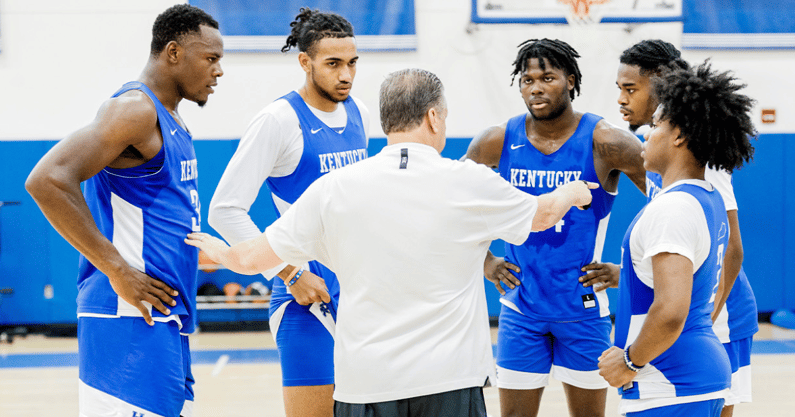 In less than two weeks, we'll get our first glimpse of the 2022-23 Kentucky Wildcats in the Bahamas. Today, assistant coaches Orlando Antigua and Chin Coleman sat down with reporters to share their early impressions of the new squad. Even though it's just the summer, both are pleased with how the team is coming together, priority number one of this bonus head start to the season.
"[Fans are] going to see — what's surprising will be the chemistry," Antigua said. "The chemistry, especially with the new guys, how the veterans have really embraced them."
"Having a lot of that experience back has been positive for us," Coleman said. "Our guys all know what it is, know what to expect so it's kind of been cool in that sense to coach a veteran group with really good newcomers. These guys are all adapting well [to] each other."
Oscar Tshiebwe, Sahvir Wheeler, Jacob Toppin, Lance Ware, and Daimion Collins return from last year's team that went 26-8, along with CJ Fredrick, who missed the season due to injury. Coming in are Illinois State transfer Antonio Reeves and freshmen Cason Wallace, Chris Livingston, and Adou Thiero. The team is allotted ten practices to prepare for the four exhibition games in the Bahamas. With a team projected to be one of the best in college basketball this season, Antigua and Coleman know that every second matters.
"We've got a group of guys that are experienced, older, mature with an influx of really talented young guys and obviously with Antonio [Reeves] and even with CJ [Fredrick] coming back now and having to get that all to mesh and gel this early is going to be important," Antigua said. "These trips help with that. These trips help keep the big picture in mind, long term, which is to be feeling and playing great as you get into January, February, going into March."
"Just having more time in the summer," Coleman said of the benefit of the Bahamas trip. "Having played four games before you play an actual game. It's four exhibition games. The thing about it is, exhibition games during the season are huge…Those are really good dress rehearsals for you before you play that first game so we will already have four games under our belt until we play."
"Unique" Versatility
Chemistry is obviously important, but when it comes to playing style, what should fans expect from the Cats this year? Antigua said that Kentucky's ability to play so many different styles could be its biggest strength.
"I like how fast we play. I like how we have multiple guys that can play different positions. We can go really big, we can go really small, we can go really athletic, we can go really physical. I think that versatility is something that's very unique. I'm excited to see how we can play around with those toys."
The Bahamas will provide the perfect opportunity for the coaching staff to tinker with different lineups.
"This trip is huge for the chemistry building, team bonding, and to allow us as a staff to try some things that we want to try to tweak when we get back in the fall," Antigua added. "Cal is a master at understanding and getting a feel for his teams in terms of when we need to push or we need to back off to bring them along. We'll obviously make some adjustments in the fall and not start off as early as we normally would in a year we're not traveling."
A "Breakfast Club" is already forming
In the 2011-12 season, Michael Kidd-Gilchrist famously started "The Breakfast Club" by recruiting teammates to join him in the gym for early workouts. Add this team to the list of others that have followed suit.
"There's a group that goes at 7 a.m. in the morning," Coleman said. "We call them the Breakfast Club. We have about four or five that have been in that group."
"Our guys are taking advantage of the culture and working extremely hard to the point where some guys have to dial back a little bit because some guys are working out three times a day, four times a day."
Coleman attributed part of that work ethic to players attending satellite camps with NBA players before returning to campus.
"They kind of brought back that hustle to our spring training, our summer training, so it's been great. It's been great to see guys compete, who's the first in the gym, who's the last out of the gym. There's an inner locker room competition."
File this under "Things you love to hear in July."