Kentucky will have 10 super seniors on roster in 2021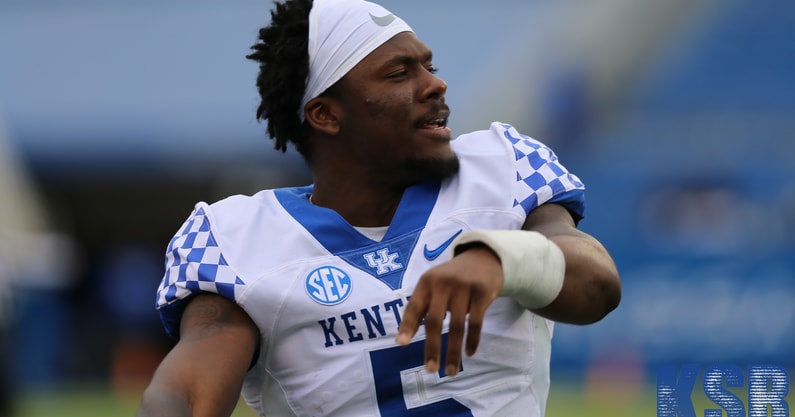 Thanks to the COVID-19 season in 2020, the NCAA granted an additional year of eligibility to any FBS football player. College football is now entering the second season of the super senior in 2021.
Last fall, that paid off significantly for the Wildcats as Luke Fortner returned to school and became one of the top centers in college football. Meanwhile, Josh Ali was back and was a very productive No. 2 option behind Wan'Dale Robinson in the passing game.
In 2022, Kentucky will again have some important extra year eligibility players back with nine super seniors on the roster. Each could play a big role on the field.
— Tyrell Ajian: A former top-200 recruit per the On3 Consensus in the class of 2017, Ajian has started 21 games over the last two seasons and finished last year with 46 tackles. The veteran will play a key role in Kentucky's rebuilding secondary as the pass defense needs to make a big jump forward this fall.
— Collin Goodfellow: The punter out of Cleveland (Ohio) St. Ignatius joined the program in 2017 as a walk-on and is now back for year six after some time spent in the transfer portal this offseason. Goodfellow averaged 45.9 yards per punt last season ranking third in the SEC and is expected to be a starter again in 2020.
— Ramon Jefferson: A late addition to the roster, the FCS All-American announced his commitment to Kentucky on Tuesday. Jefferson has played at three schools — Maine, Garden City Community College, and Sam Houston — playing in some big games with stakes along the way. The efficient runner will join a deep position as Kentucky now has an insurance policy if Chris Rodriguez Jr. must miss some games this season.
— Jacquez Jones: The former Ole Miss transfer is entering year two in Lexington after leading Kentucky in tackles (86) last season. Jones is entering his fifth year in college, and the 233-pound veteran will open the season as the starter at Mike for a deep off-ball linebacker group.
— Tashawn Manning: The Apopka (Fla.) Wekiva product is entering his final season of college football after spending time at Auburn. Manning left the spring as Kentucky's starter at right guard and has high expectations entering the year. The 330-pound veteran has a chance to develop himself into an NFL Draft pick.
— William Nalty: A walk-on out of Louisiana, Nalty has played in 16 career games at Kentucky with most reps coming on special teams. The veteran will have another role in 2022 in kick coverage.
— Matt Ruffolo: A former walk-on out of Kettering (Ohio) Archbishop Alter, Ruffolo is now in year six at Kentucky, but this will be his third year as the starting placekicker. For his career, the veteran is 26 of 32 on field goals as the specialist has brought consistent accuracy to the kicking game.
— Keidron Smith: The third one-year transfer added by Kentucky this offseason, Smith comes over from Ole Miss where he spent the last four seasons. The versatile defensive back never missed a game playing for the Rebels and should take the starting cornerback spot opposite of Carrington Valentine this year.
— DeAndre Square: The Detroit (Mich.) Cass Tech product has started 35 consecutive games for the Wildcats and could become a three-time captain for the Wildcats this season. Square has produced 19.5 tackles for loss in his career showing some playmaking skills. The fifth-year senior will be the leader of Brad White's defense this fall.
— Jordan Wright: Speaking of playmaking, the South Florida product has logged 15.5 tackles for loss, 12 pass breakups, and four forced fumbles in his career quite often being the top havoc producer on the Kentucky defense. However, Wright missed four games last year with an ankle injury and decided to return for an extra year in 2022. The EDGE player could be due for a special season if everything comes together.