Kentucky target Ian Jackson emerges as "alpha" at U17 USA Camp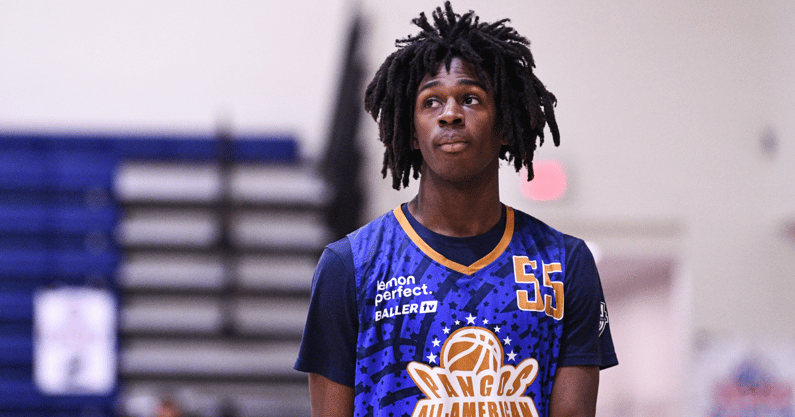 One of Kentucky's top recruiting targets in the class of 2024 has been singled out as a top performer at U17 USA Basketball Camp in Colorado Springs.
The U17 committee trimmed the training camp pool of players down from 35 to 18, then again to just 12 total. Of the players making the final cut? Five-star guard Ian Jackson, who emerged as the "alpha" on the roster, says On3's Jamie Shaw.
"Monday's competition level was high, with five-stars diving on the floor, chasing down blocks, and strong finishes, through contact at the rim," Shaw wrote this week. "With some of the country's best on the floor, competing to represent their country, Ian Jackson emerged as the alpha. His aggressive two-way play was apparent from the opening of practice to the closing whistle.
"Jackson is a 6-foot-5 wing from New York (NY) Cardinal Hayes. On3's No. 2 player in the 2024 class will be firmly in the conversation for the No. 1 spot for our next update. Nothing is guaranteed; however, his play during the open sessions here has been eye-opening."
Jackson is seen as a consensus top-three player in the junior class and firmly at the top of Kentucky's wish list at the guard position. The five-star prospect was the first player to receive a scholarship offer when the contact period opened last week.
"(The offer) feels great. Like a dream come true," Jackson told KSR.
Jackson previously told KSR it was an offer he was waiting for, as Kentucky was one of his favorite schools growing up.
"It would mean a lot," Jackson told KSR at Pangos All-American Camp in Las Vegas this month. "It would definitely mean a lot, knowing they were one of my dream schools growing up. That's a school I've been looking forward to going to, hopefully going to. That would mean a lot to me."
What's the appeal of Kentucky? The opportunity to play for Calipari and develop into a pro. 
"I would be able to play for John Calipari," he said. "There's a lot that he knows about making a pro and he would help me do what it takes to become a pro."
Don't discount a potential jump to 2023 either, he tells KSR. Jackson says it's a move he's considering, with a decision coming after his junior season.
"That's definitely something I've been thinking about," Jackson told KSR. "I'm not going to say a definite yes or no, but it's something I'm considering. If it would happen, it would happen after my junior year. That's when I'd make it happen."
Jackson is at the top of the priority list for Kentucky. Can the Wildcats land the two-way guard talent?