Kentucky target Xavier Booker discusses recruitment, rise in rankings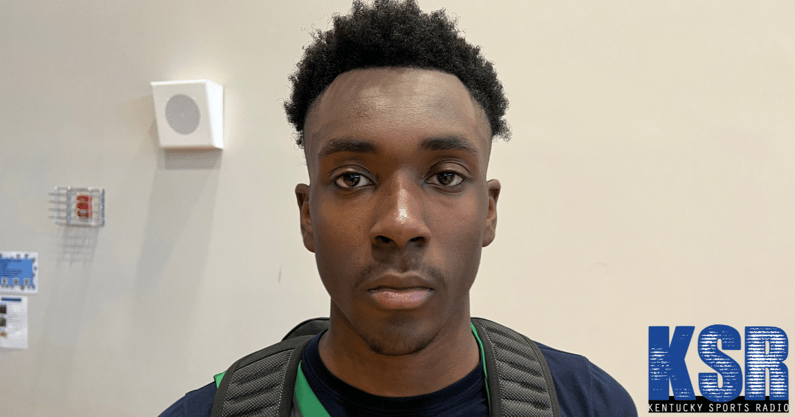 2023 five-star forward Xavier Booker has exploded in the rankings, jumping from fringe top-100 status all the way into the top 10. Standing 6-foot-11, 215 pounds, the Cathedral (IN) star is one of the most skilled and versatile bigs in high school basketball, earning offers and interest from seemingly every high-profile school in the nation.
Among them? You guessed it, the Kentucky Wildcats, who have begun ramping up contact in recent weeks, led by John Calipari and Orlando Antigua.
The top-10 prospect participated in the Titans-Rockets Summer Shootout in Shelbyville, Kentucky this weekend, where UK assistant K.T. Turner was in attendance to see him play. Booker spoke with the media after his first game, where he provided an update on his recruitment and his recent rise in the rankings, among other topics.
Check out the complete conversation below.
---
How have you improved over the last few months?
Definitely shooting. Just getting stronger in the weight room, being more aggressive around the rim. Continue to block shots, things like that.
What are your thoughts when you see coaches on the sidelines?
Just continue to keep playing, playing like they're not there.
Louisville is ramping up interest, they're here watching you. What's that relationship like?
I've heard from Kenny Payne I think once so far. Not much of a strong relationship, but I'm looking forward to building one with him.
Coach (Mike) Woodson is here with Indiana, as well. What do you like about the Hoosiers?
Really just the atmosphere, I feel like I'd fit in perfectly there. I have a good relationship with all the coaches, the academics are really good. I like their coaching style, playing style. I can definitely see a fit there.
What is your relationship like right now with Kentucky?
As of right now, I'm just continuing to talk to Coach Antigua, Coach Calipari, continue to build my relationship with them. Hopefully I can get up there for a visit soon.
Have you decided on your final junior visits?
I'm trying to, my schedule is just really busy. I probably won't have time to. I'm going to Ohio State for my first senior one the weekend of September 3rd. They play Notre Dame for football.
What do you like about Kansas?
Really just the fit, their history, really built a resume of great players like Joel Embiid. I really like their coaching style, my relationships with all their coaches.
There's talk that Michigan State is the leader in your recruitment. What do you think about the Spartans?
Really just the relationship I have with Coach Izzo. I have a really good relationship with him, he actually FaceTimed me during Game 6 of The Finals while he was at the game. I have a good relationship with the coaches and I like their play style. They compare me to Jaren Jackson a lot. I can see the fit there.
What is the best fit for you as a school?
Just somewhere I can fit in from every aspect. Athletically, obviously, somewhere I can fit in with their play style and I have a good relationship with the coaches. Also the academics, somewhere I know I'm getting a good education that can set me up later on in my life when I'm done playing basketball.
Is all the media attention something you're getting used to?
Yes definitely (laughs).
Where do you think this attention came from with your rise in the rankings?
Honestly I just want to keep on growing, keep surrounding myself with a group of people who encourage me to be great, push me. That's all I care about, for sure.
What kind of feedback are you getting right now from coaches about the versatility in your game?
They want me to keep on doing it. For one, the weight room is the main thing, continue to get stronger over time. Everything else is coming, so I've just got to keep working.
What position do you see yourself playing at the next level?
Definitely the three or the four. I just need to keep on developing my ball handling, making sure it's tight. I'm working on my passing, as well. And defending guards out on the perimeter.