Timely stops will be critical for Kentucky to slow down Tennessee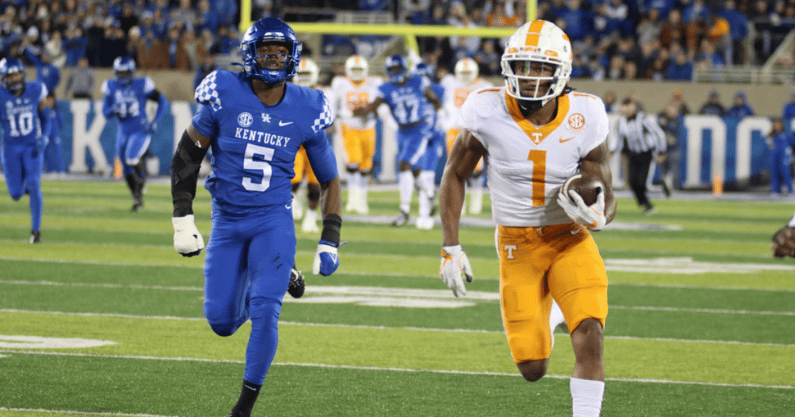 Hendon Hooker or C.J. Stroud? Jalin Hyatt or Marvin Harrison Jr.? Ryan Day or Josh Heupel? Take your pick between Ohio State and Tennessee as to who has the top offense in college football this season.
With a 7-0 record and playoff aspirations, Heupel's second Tennessee team will enter Saturday's game with Kentucky at Neyland Stadium putting up a fiftyburger per game (50.1) and a passing offense that leads college football in yards per attempt (11.4) and completions of 30-plus yards (27). Mark Stoops and defensive coordinator Brad White will have a big challenge this weekend.
The fact of the matter is that it is very hard to simulate what Tennessee does on offense because their spread scheme is very unique.
"They have a very good scheme that's unique to them with the splits that they have and the space. They're doing a really nice job of subtle change-ups off their routes," Stoops told reporters on Monday. "You might be anticipating one thing, but with the space that they have, they are creating some deep shots."
"It's almost impossible for your scout team to simulate anything as fast as they do or execute like they do. We did last week, and we'll continue to do some this week with good against good with our offense giving us some fastball and just getting our cleats in the ground, execute calls, the urgency of communicating, and getting lined up and just playing ball."
You rarely ever hear of college football teams going good-on-good in preparation for a conference game. However, Kentucky has the benefit of the bye week heading into this critical SEC East showdown, and the Cats are looking to gain any advantage possible in game prep. Regardless, creating stops will be difficult against Tennessee.
The Vols are going to move the football on any defense in college football. For the Cats, the defense must find a way to create timely stops.
"You gotta be able to make big stops when you have to because ultimately this team's going to move the ball, and they're going to go fast, and they're going to move the football," Stoops said. "You have to try to get some stops. They are extremely efficient in the red zone."
"They're going to move the football. You gotta be able to get quality stops."
As in every football game, there will be a few critical plays that determine the outcome. For Kentucky's defense, the Cats must find a way to win their fair share of battles on both third and fourth down. It could make the difference in an outright upset win or a double-digit loss. At the end of the day, it could come down to winning in isolation.
"It's really important for us to not beat ourselves number one in trying to do too much," Stoops said. "Just getting a body on a body and competing. It's going to be a lot of one-on-one situations that we have to step up and win."