Kentucky vs. Tennessee: National Media Predictions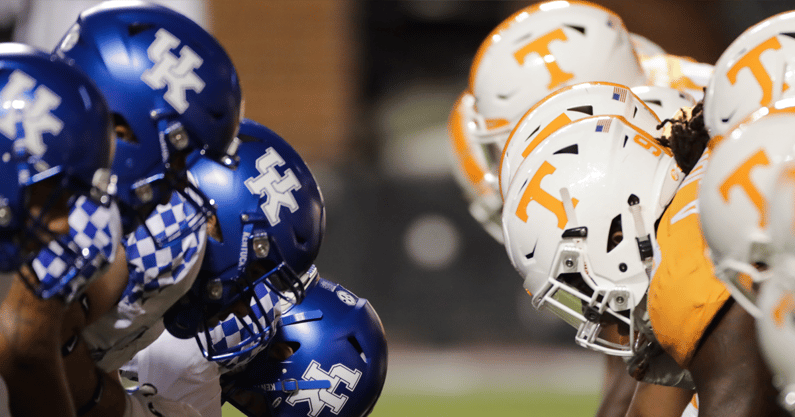 No. 19 Kentucky vs. No. 3 Tennessee is one of the biggest games of the week (the biggest to everyone outside of the Big Ten). Currently, the Vols are an 11.5-point favorite. At 7-0 with wins over Pitt, Florida, and Alabama, Tennessee has a shot at the playoffs and a massive game vs. No. 1 Georgia on the horizon. If the Cats can slow down Hendon Hooker and the nation's top offense, they can spoil a dream decades in the making and flood the Tennessee River with tears.
As we do each week, let's see what the national media is saying about the game. As you might expect, almost every expert is going with the Vols, but Kentucky covering the spread is a trendy pick.
Van Pelt's pick: Kentucky (+12)

OK, now we get to the night games — it's dark outside on Halloween weekend and it's about to get super spooky because going against Tennessee is a horror show. But human nature is powerful and who's that coming down the track? A mean machine in red and black. Next week the Vols get Georgia. And while they know Kentucky is far from a trap game, seems like this might be a lot to be laying in this spot. We'll take the road double-digit dogs, who are actually Cats.

SVP: 6-2 all time when picking Kentucky
No. 19 Kentucky at No. 3 Tennessee: Kentucky has one of the best defenses Tennessee will face this season, but my biggest concern here is whether the Wildcats can score enough points to keep up. I've seen it too many times in matchups like this. Yes, good defenses can slow a great offense down, but they can't outright stop them, and you need an offense that can keep up. I'm highly skeptical that Kentucky can.

The Wildcats rank 71st nationally in success rate, 62nd in explosive play rate, 62nd in expected points added (EPA) per play and 94th in red zone efficiency. That's not good enough. Not against the Vols. On the other side, while the Vols' offense is the show, its defense has been solid. Tennessee ranks 10th nationally in success rate against the run, meaning Kentucky may not be able to lean on its offensive specialty. Furthermore, Tennessee ranks 17th in pressure rate defensively, while Kentucky's offensive line ranks 116th in pressure rate allowed. It's hard to find the area Kentucky can exploit in this matchup, and that makes taking them to cover the spread difficult. Tennessee 38, Kentucky 24 | Tennessee -12
Wait a minute, the third-ranked Volunteers are less than two-touchdown favorites at home against a Wildcats team that is one-dimensional on offense by necessity? That doesn't make any sense. The Volunteers force virtually every game into a shootout, and the Wildcats don't have the offensive firepower to keep up despite the hype surrounding quarterback Will Levis and his NFL Draft potential. Hendon Hooker will make another Heisman Trophy statement as the Vols roll on Rocky Top. Pick: Tennessee (-12.5)
Against The Spread

Straight Up

CBS Sports Cover 3 Podcast: Tennessee
Josh Pate: Tennessee to win, Kentucky to cover

Even though he picked Tennessee to win in his staff picks, Myerberg went with the Cats to pull off the upsets in USA Today's bold predictions column.
Kentucky drags Tennessee into a rock fight and pulls off a shocking upset as a double-digit underdog. The Wildcats can counter the Volunteers' unstoppable offense with quarterback Will Levis and running back Chris Rodriguez, who combined for 434 yards of offense in a recent win against Mississippi State. But the key to the upset will be on defense, where Kentucky ranks second in the SEC in yards given up per game, fourth in yards per play and first in passing touchdowns allowed. As surprising as the upset would be, Kentucky is equipped to win this sort of game by limiting possessions and winning on third down. — Paul Myerberg
Low didn't give a prediction but included Kentucky vs. Tennessee in his preview of the top games of the weekend. Here's what he said about the Cats.
Kentucky (5-2) was off last week, which should ensure that quarterback Will Levis will be as healthy as he has been since suffering a turf toe injury against Ole Miss on Oct. 1 and missing the next game against South Carolina. Levis threw for 372 yards and three touchdowns last season against Tennessee. One of Kentucky's chief problems this season has been protecting the quarterback. The Wildcats have allowed 26 sacks in seven games.

Levis will need to hit some big plays down the field against a Tennessee defense that is ranked 130th out of 131 teams in pass defense (329.7 yards per game). But the Vols have been stout against the run. They're giving up just 90.8 yards per game on the ground, tied for eighth nationally. That's where Chris Rodriguez Jr. comes in for Kentucky. He is a tough runner between the tackles, excellent after contact and can help shorten the game for the Wildcats if he is able to get it going against Tennessee's D.

In Kentucky's 27-17 win over Mississippi State two weeks ago, the 224-pound Rodriguez ran the ball 31 times for 197 yards and two touchdowns.
Like Low, Connelly just previewed the game. Tennessee's offense is the talk of college football, but Connelly likes how Brad White's defense matches up.
Maybe the most interesting battle of the weekend will take place when Tennessee has the football. We know about the upside the Vols bring to the table: Quarterback Hendon Hooker is second in Total QBR and either first or second in the current Heisman odds, and slot receiver Jalin Hyatt is suddenly doing things we've never seen before (last two games: 13 catches for 381 yards and seven touchdowns). Plus, another star receiver, Cedric Tillman, is expected to return from injury. The run game is good at moving the chains, and the offensive line prevents almost all negative plays. This is head coach Josh Heupel's dream offense. But Stoops and Kentucky coordinator Brad White have crafted a defense, and an overall system, that seem designed specifically to stop the Vols.

The Wildcats don't let quarterbacks scramble. Hooker is one of the most precise scramblers in the country — while he prefers to throw, he ranks 18th nationally in scramble attempts per game and fifth in scramble yards. About once per quarter, he steals a first down that extends a drive. That adds up. But Kentucky allows only 12.7 scramble yards per game and held Florida's Anthony Richardson (third overall) to just 4 yards. Richardson appeared a bit banged up in the game, but Kentucky roughed him up when he was outside the pocket.

They create efficiency without risk. They don't blitz much (82nd in blitzes per dropback), focusing instead on filling passing lanes and playing devastating zone defense. Zone defense can be construed with a bend-don't-break approach, but Kentucky doesn't bend much. They're 11th in passing success rate allowed and 10th in raw QBR allowed, and they have allowed just six passes of 30-plus yards all season (14th). Maybe Hyatt & Co. are capable of just running past anyone at this point, but Kentucky contains passing games as well as anyone.
Kentucky QB Will Levis is the more highly regarded NFL draft prospect, yet I have considerably more confidence in Vols star Hendon Hooker. Levis effectively spelled out at a news conference that the Wildcats' plan is to string out long drives to keep the ball away from Tennessee's offense, but the Vols score so quickly I'm not sure that matters.

Tennessee 41, Kentucky 27
Pick: Tennessee -12.5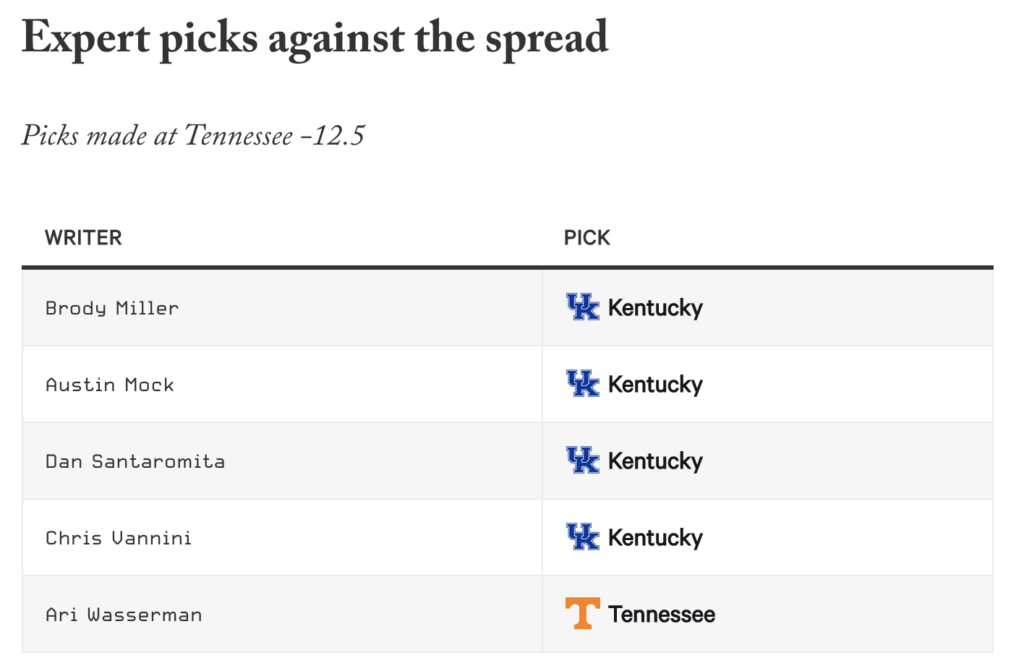 The Wildcats have a top-10 defense (16.4 ppg), and Will Levis had an extra week after returning from an injury. Pitt and Florida kept the Vols under 40 points with the help of a rushing attack that cleared 140 yards. Kentucky will do the same with Chris Rodriguez Jr. Tennessee won 45-42 in a wild one last year, and Hendon Hooker engineers another memorable victory at Neyland Stadium. 

Pick: Tennessee wins 38-26 but FAILS TO COVER the spread. 

Kentucky is a problem.

Everyone will be focusing on what's next with Tennessee's massive date against Georgia, but UK will bring something a little different with its style. It'll be enough to hang around and make everyone freak out a bit, but …

The lack of a Wildcat pass rush will be an issue.

Hooker is deadly enough when he's in a groove, but give him time to let the downfield plays to develop and forget it.

It's going to be a 60-minute fight, but the Vols will get out alive with two good fourth quarter scoring drives.

And then it'll be on to Athens.

Tennessee 30, Kentucky 26
Line: Tennessee -12.5, o/u: 63.5
ATS Confidence out of 5: 3
Kentucky vs Tennessee Must See Rating (out of 5): 4
Your turn.