Inefficient shotmaking is holding Kentucky back in big games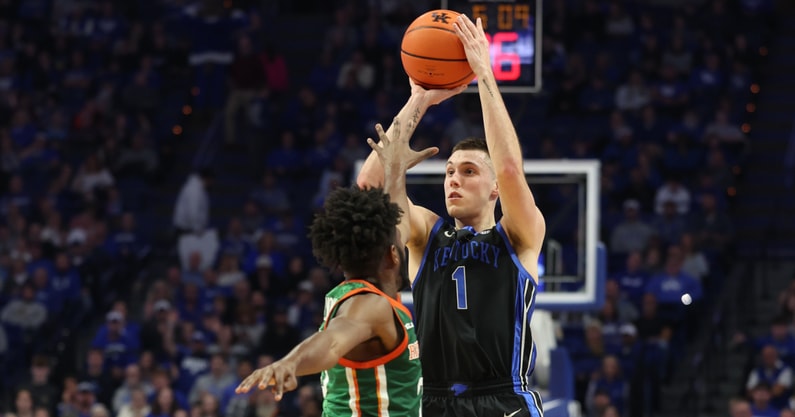 Kentucky has played 14 games this season against power conference competition plus Gonzaga. After the home loss to Kansas on Saturday night, the Wildcats have fallen to 7-7 with an ugly 2-4 mark in non-conference play. This is the No. 1 reason why Kentucky is flirting with the NCAA Tournament bubble.
What is going wrong in these games?
After Saturday, it's becoming blatantly obvious that the Wildcats have a plethora of defensive issues. Kentucky is now No. 61 in KenPom's adjusted defensive efficiency ratings and this would be the program's lowest finish since 2013. However, there are also major issues on offense. Most notably it comes from perimeter shooting.
Despite ranking No. 65 nationally in three-point field goal percentage (36.2%), the shots do not fall when Kentucky needs them the most. In the last two offseasons, Kentucky added CJ Fredrick (Iowa) and Antonio Reeves (Illinois State) to address the roster's shooting concerns. The two off-ball guards in the Benny lineup are having a hard time finding their shooting stroke in big moments.
Let's take a look at the three-point shooting data from games against top competition.
CJ Fredrick: 24.1% (13/54) on 5.4 shots per game (10 games)
Antonio Reeves: 32.9% (23/70) on 5.0 shots per game (14 games)
At Iowa, Fredrick was a 48.9 percent three-point shooter in Big Ten play in 2021. At Illinois State, Reeves was a 38.5 percent three-point shooter on 5.9 attempts per game in 2022. But those results simply are not translating at Kentucky.
In games against lower-level competition, Fredrick is 16 of 38 (42.1%) from distance. Reeces is an even better 23 of 49 (46.9%) from downtown. That efficiency is just seeing a major drop off in big games.
The good isn't showing up when Kentucky needs it the most. The Cats have work to do on the defensive end, but this offense has top-10 potential if the perimeter shotmaking becomes more consistent.
At some point, Kentucky is going to need both Fredrick and Reeves to make some big shots in games with stakes to close the year. But time is starting to run out at this point.