Kentucky to retire jersey in Mike Pratt's honor on Feb. 4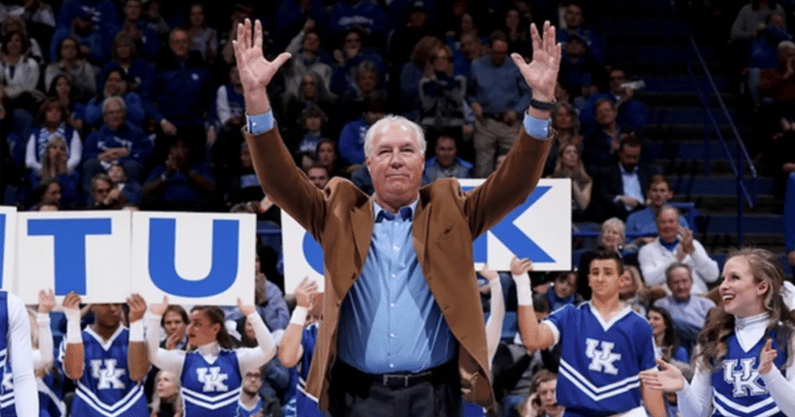 A Kentucky basketball legend will be joining a long list of program greats in the rafters of Rupp Arena.
The late, great Mike Pratt, who passed away back in June, will have his jersey retired as a player, coach and analyst on February 4 when his beloved Wildcats take on the Florida Gators at home. The University of Kentucky announced the special honor on Monday.
"It is with great pride, great excitement and tremendous emotion that we have an opportunity to raise Mike's name to the rafters of Rupp Arena and retire his jersey," UK Athletics Director Mitch Barnhart announced Monday evening. "His time as a player, his time as a coach, his time as an analyst on our network for decades and his love for Kentucky, he accomplished all of that. What a tremendous man who loves Kentucky and Kentucky basketball and served this program and this Commonwealth incredibly well.
"It's a great, great honor to be able to share with the family and our fanbase the ability to shrine Mike one step further by raising his jersey in the rafters. … It's for very, very special individuals and it is a very special honor."
Pratt passed away at the age of 73 following a three-year battle with cancer. He spent two decades serving as Kentucky basketball's color analyst for the UK Sports Network alongside Tom Leach. Before then, the Dayton, OH native played for the Wildcats from 1967-70 and led the team to an overall record of 71-12 and 48-6 in the SEC. He finished his career scoring 1,359 points, good for 26th in program history, while also earning All-SEC honors as a junior and senior, along with All-America honors his final season in Lexington.
"I'm so happy the university is rewarding him," Kentucky head coach John Calipari said Monday. "It's amazing, we're all so happy for Mike. You don't want to talk about it because you get emotional, you wish it happened while he was alive, but it's happened and you know he's looking down on this and he's got a big smile."
Pratt was inducted into the UK Athletics Hall of Fame in 2009, joining a long list of legends to come through Lexington. Now, his jersey will permanently hang inside Rupp Arena.
"It didn't make my day or my week or my month. That made my year because he certainly deserved it," Kentucky basketball legend Dan Issel, a former teammate of Pratt, added. "The recent generation will remember his work on the radio for the last 20 years, but Mike was a heck of a player. Mike deserves to be in the rafters even if he never picked up a microphone. He deserves to be in the rafters, he was that good, a good, good player. I'm just so happy. I just wish it happened while he was still here."
Mark your calendars, BBN. Feb. 4 vs. Florida will be a game you'll want to attend.