Kentucky Track & Field will send 34 Wildcats to NCAA Preliminaries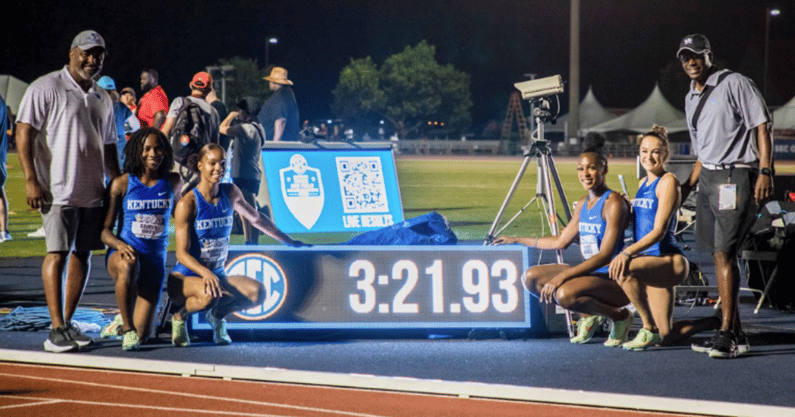 Kentucky will be well-represented in Bloomington, IN next week.
It was announced on Friday that a total of 34 Wildcat track and field athletes — 19 women and 15 men — will participate in the upcoming 2022 NCAA Division I Outdoor Championships East Preliminaries. The event will begin on May 25 and run through May 28.
Kentucky is coming off a solid outing at last weekend's SEC Championships, particularly on the women's side, headlined by star senior runner Abby Steiner. The 'Cats earned 12 total medals, nine coming from the women.
The east preliminaries include the top 48 athletes out of the eastern region, with the top 12 in each event advancing to the NCAA Championships in Eugene, OR. The same rules apply to the west preliminaries, which is being held in Fayetteville, AR.
Below is a full list of the athletes expected to participate for Kentucky, including the events they will hope to qualify for.
Women:
Shadajah Ballard – 100m, 100m hurdles, 4x100m 
Perri Bockrath – 3,000m steeplechase 
Karimah Davis – 200m, 4x100m, 4x400m 
Areti Filipidou – discus 
Sophie Galloway – triple jump 
Jade Gates – hammer throw 
Jenna Gearing – 800m 
Tori Herman – 1,500m, 5,000m 
Alexis Holmes – 400m, 4x400m 
Darci Khan – 100m hurdles 
Molly Leppelmeier – shot put, discus, hammer throw 
Deanna Martin – 800m 
Dajour Miles – 200m, 4x400m 
Megan Moss – 400m, 4x400m 
Masai Russell – 100m hurdles, 400m hurdles, 4x400m 
Jenna Schwinghamer – 800m 
Abby Steiner – 100m, 200m, 4x100m, 4x400m 
Siobhan Szerencsits – pole vault 
Annika Williams – long jump 
Men:
Tai Brown – 110m hurdles 
Logan Coles – hammer throw 
Keaton Daniel – pole vault 
Brian Faust – 400m, 4x400m 
Rodney Heath Jr. – 100m, 4x100m 
Lance Lang – 100m, 200m, 4x100m, 4x400m 
Kennedy Lightner – 200m, 4x400m 
Rahman Minor – high jump 
Beck O'Daniel – 400m hurdles 
Matt Peare – pole vault 
Jacob Smith – 200m, 4x400m 
Josh Sobota – shot put, discus 
Robbie Springfield III – long jump 
Dwight St. Hillaire – 400m, 4x100m, 4x400m 
Kenroy Williams – 400m hurdles