WATCH: Kentucky's coordinators, players talk Vanderbilt win
Mark Stoops talks Kentucky football win over Vandy
Kentucky is 4-0 after the 45-28 win over Vanderbilt, but Liam Coen made it clear that while he's frustrated with some execution errors on offense, he's also not going to apologize for winning an SEC road game.
"We'd love it to all look like the first few drives," Coen said in his postgame press conference. "We'd love to. But [Vanderbilt] coaches too. They play too. And they're not horrific. It's not like they're the worst team in the country, right? They're a decent team. An SEC football team. And we went and beat them on the road."
That said, Kentucky's offense still has some kinks to work out, especially in the running game. Devin Leary was not satisfied with his SEC debut. Ray Davis was just happy to get the win over his former team and move on to what's next: Florida.
Defensively, the Cats were cleaner, actually scoring 14 points thanks off two pick-sixes by Maxwell Hairston. Brad White was mostly happy with his unit, especially for limiting Vanderbilt to a field goal after a turnover by Devin Leary at the Kentucky 16-yard line.
"I was proud of how we came out in the second half. I was proud of the stand there to just force a field goal after a turnover. It could have been a momentum swing. Obviously, there are really some good things we can draw on as a defense but we still haven't played a complete game. It's nice. You're sitting at 4-0 and you haven't played a complete game on defense yet."
More comments from the defense below, including D'Eryk Jackson talking about his interception and lateral to Maxwell Hairston, and Hairston reflecting on a big day. He's the first player in Kentucky Football history with two pick-sixes in a single game.
Got thoughts? Continue the conversation on KSBoard, the KSR Message Board. New members can try 1 month for $1.
More Kentucky News and Views on the KSR YouTube Channel
Kentucky Sports Radio has expanded its coverage of the Wildcats in the most ridiculous manner possible on our YouTube Channel. Here you will be able to find interviews with coaches and players, as well as commentary from the KSR crew. From Rapid Reactions following big events to our lengthy lineup of live shows, subscribe to the KSR YouTube Channel to stay up to date on everything happening around the Big Blue Nation.
Monday: Mark Stoops Press Conference & Rapid Reaction
Monday, 8 PM: KSR Football Podcast
Tuesday evening: Interviews with Liam Coen and the offense
Tuesday, 8 PM: Sources Say
Wednesday, 1 PM: Stoops' comments from the SEC Teleconference
Wednesday evening: Interviews with Brad White and the defense
Wednesday, 8 PM: 11 Personnel
Thursday evening: Final comments from Stoops after practice
Thursday, 8 PM: Point Kentucky, KSR's new Volleyball Show
Friday, Noon: Pigskin Preview
Friday night: Kroger KSR Game of the Week recap, highlights
Saturday: Postgame Press Conferences, Interviews, Rapid Reaction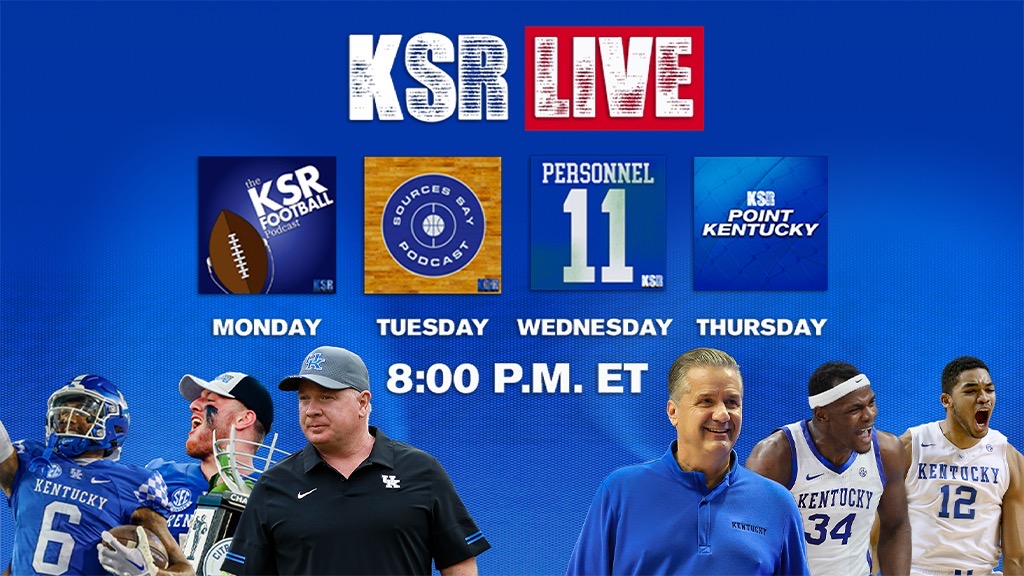 Discuss This Article
Comments have moved.
Join the conversation and talk about this article and all things Kentucky Sports in the new KSR Message Board.
KSBoard