Kentucky VB takes down Florida on Senior Day, wins 5th straight SEC title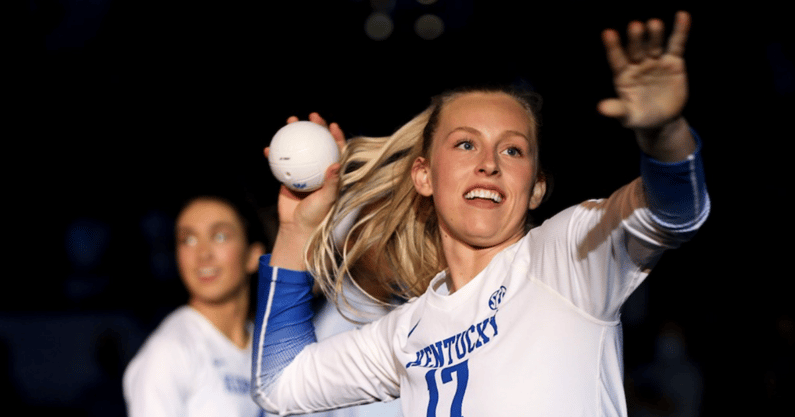 This year's version of Kentucky Volleyball might not be the favorites to repeat as national champions, but after winning its fifth consecutive SEC title on Friday, dreams of back-to-back trophies don't sound all that far-fetched.
The No. 8 Wildcats (23-4, 16-1 in SEC) took easy care of the No. 20 Florida Gators (20-7, 14-3 in SEC) earlier today, sweeping its intra-conference rival 3-0. Kentucky won both the first and second sets by a score of 25-22 before polishing off UF in the third set, 25-20. With the win in hand, UK has clinched at least a share of what is the program's fifth straight SEC championship.
UK has won 21 consecutive sets dating back to a 3-0 sweep over South Carolina on Nov. 5.
Kentucky and Florida will face off again on Saturday to close out the regular season. If the Gators are to beat the 'Cats tomorrow and Mississippi State beats Auburn later on Friday, then UK and MSU will share the SEC title. A Kentucky win over Florida on Saturday would give the 'Cats sole ownership of the title, regardless of what happens with Mississippi State.
On Saturday, the Wildcats were led by senior Alli Stumler, who was honored during pregame Senior Day festivities. The All-American recorded a team-high 18 kills in addition to her six digs. Sophomore outside hitter Madi Skinner was not far behind her with 12 kills of her own. Star freshman setter Emma Grome was excellent once again with 36 assists and eight digs.
Fellow Kentucky seniors Cam Scheitzach and Lauren Tharp were also honored before the match. Tharp added seven digs and three service aces for the 'Cats.
Kentucky Volleyball has won outright SEC titles in 2018 and 2020 while sharing the title with Florida in 2017 and 2019. In a conference once dominated by the Gators (24 titles in program history, including 18 in a row from 1991-2008), the tides are turning in UK head coach Craig Skinner's favor.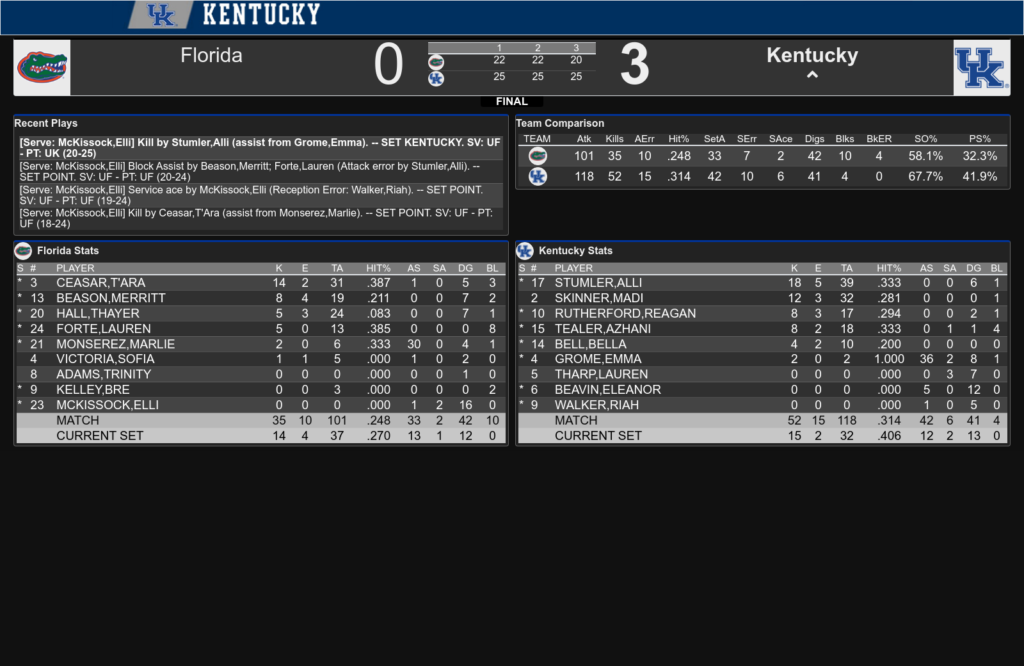 Saturday's regular season finale between UK and UF will air at 1 p.m. on the SEC Network+, ESPN3, and the ESPN app.