Kentucky Volleyball annihilates Georgia in 3-0 sweep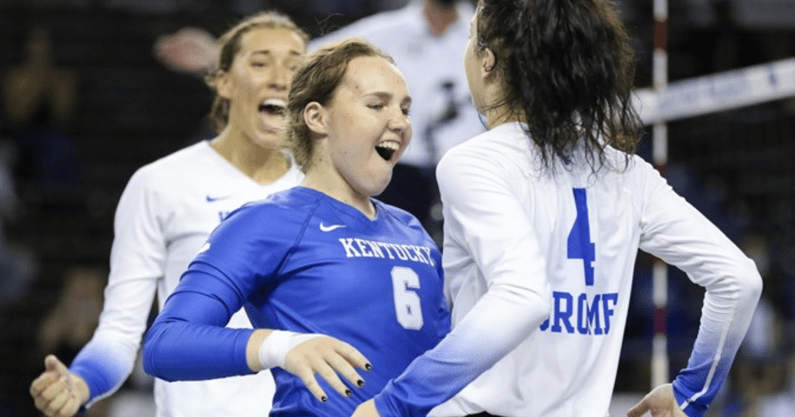 The no. 7 Kentucky Volleyball team took care of the first of its three games this week, smashing Georgia three sets to none in a game they never trailed. After splitting games at South Carolina last weekend and dropping two spots in the rankings as a result, the 'Cats came out Wednesday with a reminder that they're still the top dogs in the SEC.
Here's how it went down:
First Set
Kentucky broke Georgia's serve right off the bat and sailed to a 4-0 lead with Eleanor Beavin at the stripe. That lead became 7-1 as Azhani Tealer and Alli Stumler each had a pair of early kills. Stumler got on the board early and kept her foot on the gas in one of her best performances of the year.
UK never really looked back after winning seven of the first eight points and proceeded to bury the Bulldogs in dominant fashion. A six-nothing run later on really broke the game open at 23-8 and a tipped kill by Madi Skinner a few moments later gave the 'Cats a first-set victory 25-10.
Second Set
Kentucky got on top early and never relinquished the lead in this set either, but at least Georgia put up more of a fight in round two. UK slowly built its lead up and kept it at about five or six until Emma Grome came through with a kill and a block to push the lead to eight at 21-13. Georgia got a point back right afterward but a 4-0 Kentucky run ended the set for good at 25-14.
Third Set
As we've seen so often with Kentucky (and I'm sure they aren't the only team), they took a 2-0 lead into the third set and let their guard down just a little bit. The intensity was the same through 10 points as UK led 8-2 but the Dawgs rallied to quickly cut it to one, 11-10.
Madi Skinner and Alli Stumler came through with kills on the next three points to regain a four-point lead. From there, the lead remained around five as the teams traded points but Skinner and Stumler came up big once again to slam the door late in the set to secure a 25-18 victory to wrap up an impressive 3-0 win.
Stats & Recap
Craig Skinner is a perfectionist coach and even he will have trouble finding much wrong in Kentucky's route of Georgia. The attack was typically strong as Stumler and Skinner carried the load, recording 15 and 13 kills, respectively, while leading the 'Cats to a .416% hitting percentage — their highest mark of the season!
While it was the best statistical offensive performance of the year, Wednesday night may also have been Kentucky's most impressive defensive performance. Particularly, Lauren Tharp and Eleanor Beavin flew all over the court for digs and made excellent passes throughout the night.
Tharp finished with a team-high 14 digs and Stumler was right behind her, recording 13 to make it a double-double for her on the night.
And UK freshman setter Emma Grome added eight digs along with 39 assists to keep the attack humming.
All around a terrific performance in response to the split down in Columbia. And we are far from finished with volleyball action this week. If you missed the Georgia game in Memorial, don't fret, you can catch these seventh-ranked 'Cats in action Saturday at 4 p.m. vs. Texas A&M and 2 p.m. against the Aggies again on Sunday.