Kentucky Volleyball: Press conference notes ahead of Bluegrass Battle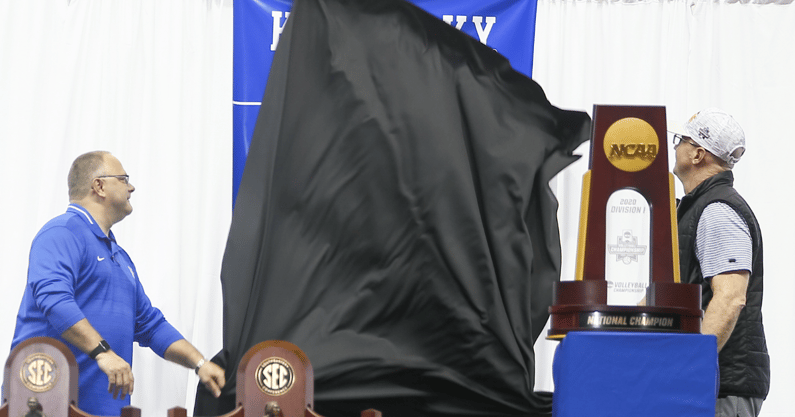 Kentucky Volleyball Coach Craig Skinner got a chance to speak to the media Thursday afternoon to preview this weekend's Bluegrass Battle. In this upcoming event hosted at Memorial Coliseum, the 3-0 and third-ranked Wildcats will face Northern Iowa (7:30 p.m. Fri.), Creighton (10:30 a.m. Sat.) and USC (7:30 p.m. Sat.).
Catch up on everything Coach Skinner had to say below:
Hanging the Banner
The Kentucky Volleyball team will hang its 2020 National Championship banner on Friday night just before their game vs. Northern Iowa. Fans can arrive at 7:20 p.m., 10 minutes before the 7:30 start time, to watch Skinner and the team hang a new banner.
There are also rumors of a virtual visit by one of last year's seniors to welcome home their new title pennant. So come on out!
Skinner said he was "so excited for our players and families to be a part of that, and [it will] be a special night for all involved."
On his defense
During last Thursday's media session, Skinner said this year's Kentucky Volleyball team may have the best group of defensive players in the history of the program.
I asked him if last weekend's performances reinforced that sentiment. He quickly responded, "Yes. We dug some balls that I was very impressed with. Very promising."
As elite as his defensive unit is, Skinner added, "also, amazingly, a lot of things we didn't do well defensively, so hopefully we can iron those things out this weekend and next."
Whew. Sure seems like this defense has some serious potential.
Emma Grome's first impression
Of course, one of the prominent storylines of the Kentucky Volleyball season is how freshman setter Emma Grome develops as she steps into a role occupied by the program's GOAT for the previous four seasons.
So far, Skinner is impressed.
"Her composure was really good. Didn't get flustered if something didn't work or a set that wasn't working. She just moved on to the next play. She has great vision, great reaction time. Her athleticism is very good."
Grome will boost that great defense as well: "She's also very good defensively. You're gonna see her dig some balls that a lot of setters can't because of her athleticism and speed."
He finally added, "she has a good demeanor about her that makes people around her feel comfortable."
Sounds like Kentucky has another great setter in Emma Grome.
Preventing Injuries
The Kentucky Volleyball team has typically been lucky to avoid major injuries to its player. However, freshman Jordyn Williams is already out for the year with a torn Achilles and redshirt sophomore Bella Bell missed the first weekend with an ankle injury.
In such a physically demanding sport with such extraordinary athletes, injuries are going to happen, but there is a bit of strategy to limiting the chance.
On injuries, Skinner said: "Injuries certain happen in our sport, and the majority of them happen when they land. They're jumping [and] touching over 10 feet and landing repeatedly, so we train landing a lot."
Going back to last year, Avery Skinner suffered a nasty ankle injury when landing in one of the first games of the season. And she was out for months.
Skinner mentioned that "Jordyn's doing great. She's obviously in a tough situation being a freshman and not being able play the sport she loves this year. I just met with her this morning and she's in a very good place. Our team has been unbelievably supportive."
Team Vaccination
When asked last week, Skinner said that the Kentucky Volleyball team did not have 100% of the program vaccinated with at least one shot.
This week, he revealed, "everyone on our program and team has had their first shot."
New Teraflex Floor
Kentucky Volleyball will debut a brand new Teraflex floor to go along with the Championship banner. Here we Skinner's thoughts on the new canvas:
"Very thankful for a special friend of the program to be able to have a new floor for us to compete on. State-of-the-art Teraflex floor that you see in the Olympics. So appreciative there."
Take a look:
If you're interested, below is everything Coach Skinner had to say on Thursday.