Kentucky Volleyball sweeps Dayton, advances to 2-0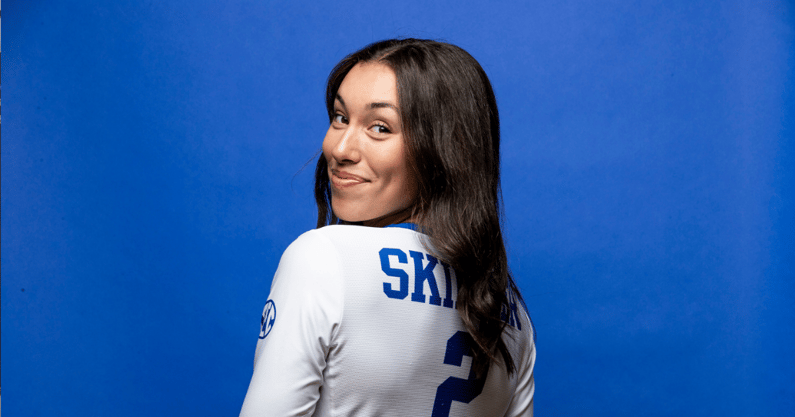 Six sets up, six sets down for the Kentucky Volleyball team on Friday. The reigning National Champions took care of Dayton in the second act of their season-opening doubleheader to advance to 2-0 on the young season.
The Volleyball 'Cats faced the home team Dayton in their second of three games as part of a multi-team event hosted by the Flyers. Much like the morning match with Texas State, Kentucky breezed to an easy 3-0 victory.
Sorry for the delay in reporting. Most of the KSR staff was busy listening to Ryan Lemond scream at Devon Key and AJ Rose during the 15th-anniversary party last night. Anyway, here's how it went down.
First Set
The Kentucky Volleyball team never trailed in this set and had their foot on the pedal from start to finish. They got out to a 3-0 lead, which became 11-4, then 19-7, with the 'Cats dominating the Flyers out of the gate 25-10 to take set no. 1
To no surprise, the set ended with five straight Riah Walker serves. If you missed yesterday's recap, check out her absurd statistical performance at the service stripe.
Second Set
UK got out to another 3-0 lead (with Walker serving, of course) but Dayton competed better in the middle set. The Flyers kept things within two at 8-6 but fell apart shortly after that.
A pair of kills by sophomore hitter Reagan Rutherford and a pair of aces by senior Lauren Tharp helped boost the 'Cats to a 15-8 lead ahead of the media timeout.
Walker and Emma Grome led the way, but Grome was replaced by senior setter Cameron Scheitzach for a change of pace in the back half of the second set.
Kentucky Volleyball staved off the Dayton attack and continued to a comfortable second set victory, 25-17.
Third Set
This time, Dayton kept the game within one before the Wildcats blew open their 7-6 lead. UK proceeded to rattle off a 7-1 run to double-up the Flyers at 14-7 and the rest was history.
Grome was the setter of choice throughout the third but Coach Skinner used the blowout opportunity to rotate more of his bench into real game action. The Kentucky Volleyball team did not drop off one bit with the reserves. They cruised to a 25-16 third-set victory and match sweep.
Stats & Recap
Kentucky Volleyball led a balanced attack at the net as Alli Stumler played one of her worst games in quite some time. That said, she still finished with eight kills, but it took her 29 attempts to do so, giving her a well-below-average .172 hitting%.
I'm not too worried — and I doubt Craig Skinner is either. Two of her middle blocker teammates, Azhani Tealer and Elise Goetzinger, tied her with eight kills each while Madi Skinner led the team with 10. Unlike Stumler, Goetzinger was about as efficient as an attacker can be, hitting .727% on her 11 swings.
Emma Grome continues to replace Madison Lilley as well as anyone could hope. She posted 34 assists, six digs and a pair of kills.
In the back row, Riah Walker popped with 12 more digs and three service aces. Whew, she's a player. Newbie Eleanor Beavin added eight digs. Lauren Tharp added seven. And both girls recorded a pair of aces as well.
The attack was alright given what we've come to expect, but like Coach Skinner said the other day, this team's defense is the scariest aspect at this point.
With Walker, Tharp and Beavin all manning the back row rotation, there won't be many balls hitting the floor against the Wildcats.
The Kentucky Volleyball team is back in action today at noon EST but unfortunately won't be streamed, so be sure to check with KSR later in the day to see if the 'Cats can improve to 3-0.
Check out the clips from the win on your way out: