Kentucky Volleyball destroys No. 21 Tennessee in dominant 3-0 rout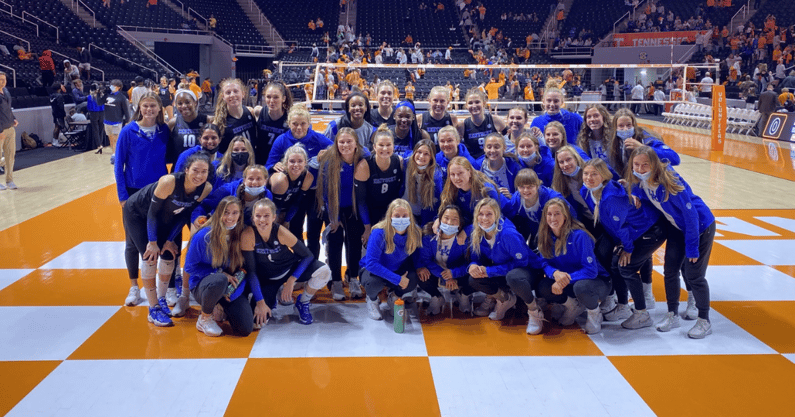 No. 5 Kentucky Volleyball is hitting its stride. On the road against the SEC's second-best team, 21st-ranked Tennessee, Craig Skinner's club destroyed the Vols for three straight sets. Without Madi Skinner nonetheless, who was out with a non-COVID illness.
Here's how Kentucky's best performance of the season went down.
First Set
With Skinner sidelined, Kentucky used two players to help replace the sophomore hitter. Riah Walker assumed Skinner's back row possessions while freshman hitter Erin Lamb got her first stint of meaningful SEC action filling in place of Skinner in the front.
UK's back-row trio of Walker, Lauren Tharp and Eleanor Beavin started the 'Cats off strong at the service stripe. They helped carve out an early 7-2 lead. Consecutive kills by Alli Stumler, Azhani Tealer and setter Emma Grome made that a 10-3 lead as Kentucky put Tennessee's throat underneath their foot immediately.
Tennessee tried to climb back into the set, but couldn't muster more than two points in a row until the score was out of control. However, the Vols came to life when Kentucky got up 23-12 and scored a 4-0 run. But kills by Lamb and Stumler silenced UT for good in the first. 'Cats take it 25-17.
Stumler had seven kills in the first and Lamb had five, equaling a blistering first-set offense for Kentucky.
Second Set
Tennesee didn't immediately roll over in the second. The Vols actually led through the midway point and used an 8-1 run to turn a 10-6 UK lead into a 14-11 UT lead. But Kentucky didn't panic. Instead, Coach Skinner called a timeout and helped his girls regroup.
Out of the break, eight of Kentucky's next nine points came via a kill as Lamb and Stumler continued their domination of the Volunteer defense to bring it back to a tie.
However, things changed after the score was knotted at 19 all. With Riah Walker taking over the serve, Kentucky blanked Tennesee to finish the set, relying on three kills from Stumler and two from Bella Bell to slam the door on the second set, 25-19, taking a 2-0 set lead.
Third Set
Kentucky and Tennessee feuded closely throughout the first half of the third set despite the 'Cats recording just one kill in their first six points. UK had the Vols frazzled as they committed error after error in the third set to gift wrap Kentucky a run of points.
By the second half of the set, both teams were playing better offensive volleyball and the match found some flow, though Kentucky held a consistent two or three-point lead. A pair of kills by Bella Bell broke the lead open to four at 18-14 with two more kills from Tealer extending it to five a few moments later.
Tennessee was able to cut the lead back to three at 22-19 but an Erin Lamb kill and a Maddie Berezowitz ace gave UK the chance at match point, which, of course, Tennessee erred on to give the Wildcats the third-set victory, 25-19, and a 3-0 ranked road sweep.
Stats & Recap
Kentucky has played and beaten higher-ranked teams this season. But they haven't done so in this fashion; sweeping a ranked team on the road and not allowing the opponent to reach 20 points in any of the three sets. Just sheer dominance. Might I say, a little reminiscent of last year's champs?
No doubt Kentucky's best performance of the year all the way around. Normally, Craig Skinner likes for his team to hit above .300%. Against Tennessee, they hit .407%. Without Madi Skinner too, who's been their best hitter in 2021.
Part of the credit has to go to Erin Lamb. She filled in extraordinarily in her first game of consequential playing time as a true freshman. She hit at an absurd .550% and finished second on the team with 12 kills. Wouldn't expect her to play over Skinner once she returns. But, she may battle to take Reagan Rutherford's spot after the strong showing.
The team's leader in kills vs. the Vols was Alli Stumler, who had one of her more efficient nights of the season, scoring 15 kills on .371% hitting while adding seven digs.
Kentucky's blockers also came through on the attack. We've come to expect strong production from Tealer, who finished with 11 kills at above-.400%, but Bella Bell led the team in blocks and hitting percentage at .600%. She finished with four blocks and nine kills on one of her better days as a Wildcat.
The freshman cogs, Eleanor Beavin and Emma Grome, were effective as usual, with Beavin leading in digs with 14 and Grome racking up 45 assists in just three sets.
Overall, just an absolute shellacking from Kentucky on the road against a Tennesee team that's ranked 21st in the polls and 9th in RPI. Heck of a resume-booster as the NCAA Tournament grows closer.
The win moves fifth-ranked Kentucky to 16-3 overall and 9-0 in the conference. The 'Cats are done for the week but continue their season on the road next week on Thursday and Friday vs. South Carolina. Both of those games will take place at 7 p.m. on the SEC Network+