Kentucky Volleyball loses devastating match in fifth set vs. Louisville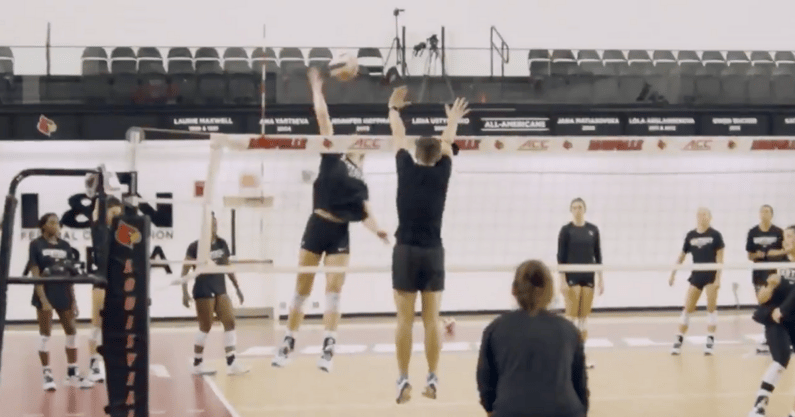 Folks, I'm exhausted. The two-and-a-half-hour marathon that was the Louisville vs. Kentucky Volleyball game ended in devastating fashion for our Wildcats. Let's get straight into it.
Kentucky Volleyball came out fairly dominant in the first set. Alli Stumler and Madi Skinner had little trouble with the esteemed Louisville defense as they helped the Wildcats sail to a 25-17 victory. It was all UK in the first set.
In the second set, Kentucky's dominant attack practically vanished. Louisville's freshman libero Elena Scott was on top of the UK attacks and the Cardinal blockers made life much tougher on the young 'Cats. UofL prevailed in the second, 25-20.
The third set looked much like the second as the Cards jumped out to a quick 13-5 lead. But the Kentucky Volleyball team battled back and cut the lead to one at 18-17. However, that was as close as the 'Cats got with Louisville finishing off the third, 25-22.
The 'Cats kept that comeback mentality alive in the fourth. Louisville scored the first point of the fourth set, but Kentucky quickly took the lead 2-1 and never looked back. Eventually, Kentucky won the set 25-20 behind a handful of kills from Alli Stumler, which set up a monumental fifth set.
This was where Kentucky Volleyball let a golden opportunity slip away. Both teams traded points early and the 'Cats were able to nab a 9-7 lead as the set drew closer to a finish. But that was the last point UK scored.
Louisville ran off seven straight points to end the fifth set 15-9 and win their first match vs. Kentucky since 2012. Just heartbreaking.
Still, credit this young team. They went point for point with a much more veteran top-five team. This is the best Louisville team in years. This Kentucky Volleyball squad, on the other hand, is littered with youth and started two freshmen in the most important roles on the court (setter & libero). This roster's best days are far ahead of it.
The loss will sting, no doubt. But Craig Skinner's group should keep their heads up. Another opportunity vs. a ranked team awaits them as no. 16 Stanford comes to Lexington for a match on Sunday at 1 p.m.