Kentucky Volleyball bounces back with 3-0 win over Marquette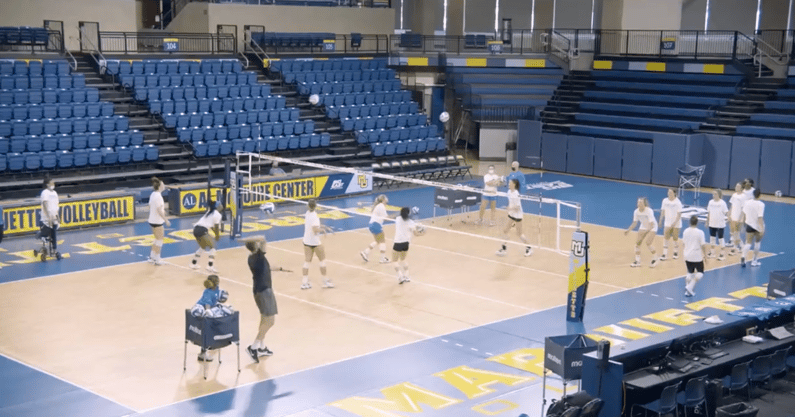 Kentucky Volleyball will leave its two-game road trip to Wisconsin with a win and a loss. Friday night, the 'Cats battled tough but ultimately fell to national title favorite and no. 2 team in the nation, the Wisconsin Badgers. Saturday night, Kentucky responded with a 3-0 victory over a (technically 26th-ranked) Marquette team to advance to 6-2 on the young season.
UK got pummeled in the first half of Friday's game, but Saturday night they hopped out to an early 11-8 lead and never looked back in the first set. The Golden Eagles maintained a tight deficit before an Alli Stumler ace put it away at 25-21. She, Reagan Rutherford and Madi Skinner were all able to get back on track in the opening set after a rough outing the night before.
Skinner and Stumler stayed hot through the second set as Kentucky Volleyball pushed the lead out to 13-9 midway thru the period.
It was Marquette who took control from there. They eventually nabbed the lead late to put Kentucky in a dangerous position down 23-21. Much like Saturday — when the 'Cats fended off three set points in a row in the third set — UK stood their ground on FIVE set points and pulled out the set victory 30-28. What a thriller. And more resiliency from this young team when they needed it most.
The third set was another close one, as neither squad allowed the other any breathing room. The lead flipped and flopped, and Marquette held the advantage at 19-18. A few plays and a couple of kills by Madi Skinner later…and Kentucky Volleyball jumped back into control 23-22.
The set dragged into extra points but Kentucky Volleyball put the Golden Eagles away 26-24 in the third to earn a hard-fought road victory sweep–against a top-25 worthy opponent nonetheless.
A nice bounce-back performance from Craig Skinner's group. You never want to see a loss on the schedule, but given the circumstances, I'd say it was a positive weekend for Kentucky Volleyball.
This week brings even more excitement. UK visits 10th-ranked Louisville for a rivalry bout on Wednesday. Then, on Sunday, 14th-ranked Stanford comes to town. Another pair of opportunities to pick up massive wins for Kentucky Volleyball. Should be a hoot.
Come on out to the Stanford game too! Memorial will be rocking.
Check out some highlights on your way out too: